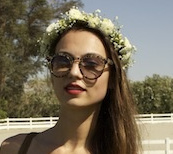 Coachella is full of stupidly hot people. This has to do in part with the site's relatively proximity to LA, which means there's a 98% chance you'll run into a gaggle of supermodels, Vincent Gallo, or Kirsten Dunst.

Two hot girls, including Z Berg from Jjamz (right).
Coachella is full of stupidly hot people. This has to do in part with the site's relatively close proximity to LA, which means there's a 98% chance you'll run into a gaggle of supermodels, Vincent Gallo, or Kirsten Dunst. It's also because Coachella is held on the grounds of a polo field. That means that even the grass looks hot.
Glastonbury's held on a farm. Music fans at British festivals have to contend with trenchfoot, upturned port-a-potties, and mud so deep you can row a canoe from your tent to catch the next band. In Britain, if you don't bring rubber boots, you're an idiot. In Indio, if you don't wear your best threads with an outfit change for the evening, you're the sucker who's the odd one out.
Besides a butt-ton of short-shorts, here are a few of the prevalent trends we spotted at Coachella this year. In reality, it's just an excuse to post pictures of people we'd like to date.

Nude shades were definitely a thing this year.
Sunglasses
Even if it's pouring rain like it's monsoon season, sunglasses are the no-brainer at any music festival. Applicable for hangovers (and just generally covering half your face when you've had one hours sleep standing upright against the speaker stack in the dance tent), if you don't wear shades you'll probably go blind from all the light reflecting off everyone's near-naked flesh. These people know what's up.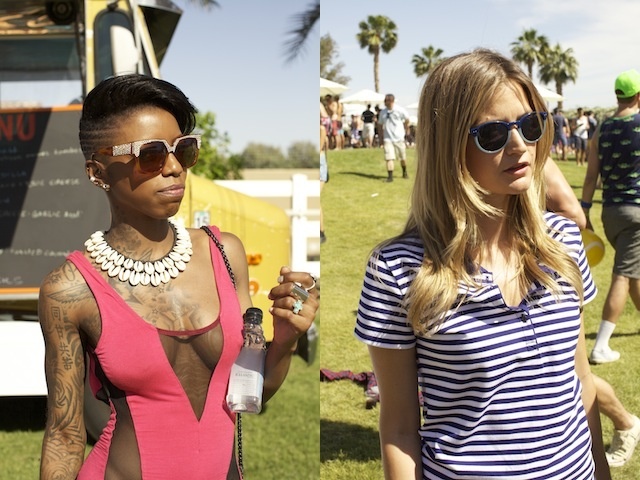 This girl on the left is overwhelmingly fierce, so much so that we feel compelled to use the word un-ironically: diamante shades, train tracks shaved into her head, and a seashell necklace for that Club Med vibe. On the other hand, the lady on the right is all about shades to shirt color coordination. She would look really good riding a bike with a basket weighed down with baguettes and brie.
Wearing cheap neon 3D movie shades while posing like you're at prom is not encouraged.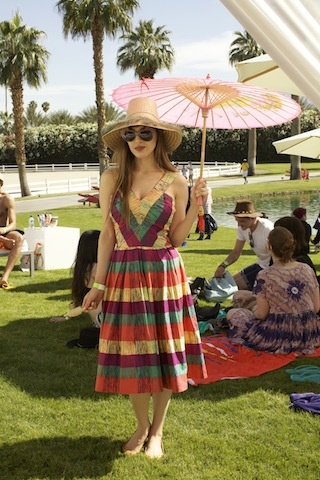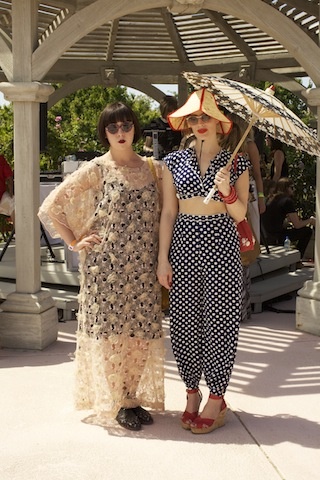 Things On Your Head
Getting burnt through your hair on a hot day is a real, actual thing. These girls were clearly conscious of this, and the fact that they don't want to look like Keith Richards thanks to sun damage. They're armed with both a hat and a sun umbrella. A parasol can be useful in other situations too, like when you need to fend off unwanted attention, or shade your friend while she pees in the open air—hey, those lines can be really long. An umbrella can also double as a walking stick to help you back to bed after your legs give way from a night of dancing in a field.
Sometimes headpieces can be used on a bad hair day or when you've lost your dry shampoo. Although we wouldn't advise wearing a headpiece made from a defenseless owl plus a fur stole, it does get cold in the desert at night. As for using a glow stick ball as a face cage, well, it's clearly the EDM take on Pinhead's look from Hellraiser.
Nothing beats this girl. Fabric Mickey Mouse ears have zero practical function, but with her black bob, blunt fringe, and circle shades, she's our Number One Coachella Dream Crush. And then we saw her again…


What! While everyone else was catching UV rays on their crunched up, winter-white toes, Number One Coachella Dream Crush was all about ankle socks and brogues, prim pleats, and that baseball hat skewed just so. Sigh.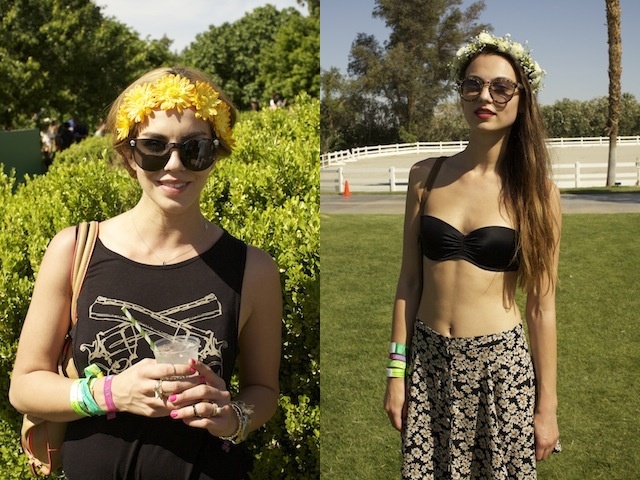 Flowers
Anyway. Flowers have been synonymous with music and dirty hippies since the Summer of Love in 67, but these girls look fresh. That one on the right probably smells like a bouquet. Bet her feet smell sweet too. Quite the feat.
Although festivals are not really about clean minimalism, it's important not to get carried away. Flowers on your shades and on your head is accessory overkill.


Swimsuits and Undone Denim
If you're not onsite at Coachella you're probably hanging out by the pool. This means that some people like to wear a swimsuit at all times, but the trick here is to make sure whatever you're wearing on your bottom half is totally unzipped. One wriggle and you're out and in the water. Either that or these people have weak bladders and all the rehydrating's got them on edge.
But if you're Alexa Chung, you know that it's way cooler to jump in the pool in your favorite Peter Pan collar dress. Also, traveling on the back of an alligator is the most efficient mode of transport. Always.
Kim Taylor Bennett is on the hunt for Number One Coachella Dream Crush. Who is she? Answers on Twitter please - @theKTB
Style Stage is an ongoing partnership between Noisey & Garnier Fructis celebrating music, hair, and style.