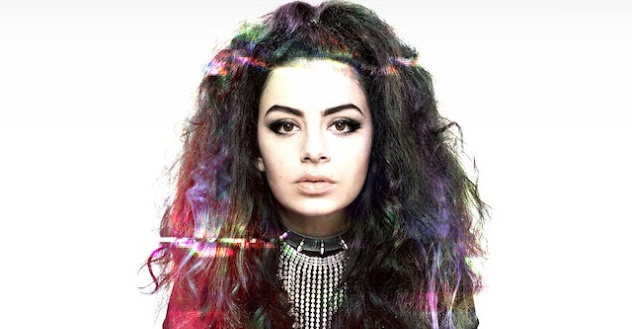 ONCE AGAIN THIS JUST GOES TO SHOW THAT MUSIC REVIEWS ARE BULLSHIT B.
WHOA HEY WHAT IS THIS? *DIPS FINGER IN AND TASTES AGAIN* I HAVE NO IDEA WHAT THIS IS BUT I KINDA LIKE IT. IT'S LIKE TWINKIE CREAM (PAUSE) I DONT KNOW IF ITS BANANA FLAVORED, AND I HATE BANANAS BUT I LIKE TWINKIE CREAM (PAUSE).
YO THIS SOUNDS LIKE CLAMS CASINO AND BJORK CO-PRODUCED THIS SHIT. I MEAN THIS IN A POSITIVE WAY. NAHMEAN I DON'T KNOW IF IT'S BECAUSE I'M HAVING A GOOD DAY? KNICKS BEAT THE CLOWN ASS CELTICS AND KEVIN GARNETT THE SOMALIAN PIRATE INTO SUBMISSION YESTERDAY. I GOT 10K FOLLOWERS ON TWITTER WHICH VALIDATES ME TO MY YOUNGER COUSINS. ALSO I'M GOING ON A THREE DAY CONSECUTIVE BJ STREAK BRUH. IT'S BEEN A GOOD WEEK SO FAR. MAYBE THAT'S WHY CHARLI XCX IS ENTERING MY EARHOLES AND BEING ENJOYED RIGHT NOW. MAYBE IF YOU PLAYED THAT ROB ZOMBIE SHIT FOR ME AGAIN I MIGHT GIVE IT A 1 INSTEAD OF A 0. PROBABLY NOT THOUGH.
ONCE AGAIN THIS JUST GOES TO SHOW THAT MUSIC REVIEWS ARE BULLSHIT B. YOU FEEL ME? CUZ WHAT IF "TYLER MCGILLIGAN" FROM ROLLING STONE WAS HAVING A GOOD DAY BEFORE HE LISTENED TO A WACK ASS ALBUM? WHAT IF THE OPPOSITE HAPPENED? LET ME TELL YOU SOMETHING MY PALS, IF MY SON WAS UP ALL NIGHT AND I HAD TO DEAL WITH THE LITTLE NIGGA UNTIL 4AM THEN AT 5AM MY WIFE TRIED TO WAKE ME UP FOR WORK AND I HAVE TO REVIEW AN ALBUM? I'D GIVE MY FAVORITE ALBUM A FUCKING -12. YOUR EMOTIONS IN THE MOMENT INFORM YOUR WORK NIGGA. SO MAYBE THAT'S WHY I'M ENJOYING THIS? OR COULD IT JUST BE THAT IT'S FINELY CRAFTED POP MUSIC? I GOTTA CALL THIS POP MUSIC CUZ I DON'T KNOW WHAT TO CALL MUSIC WHERE A WHITE GIRL SINGS OVER DANCEYISH BEATS. I DON'T KNOW IF THIS SHIT IS "POPULAR," BUT CHARLI XCX PROBABLY IS POPPIN IN "SHOREDITCH" AND "BUNTINGFORD" THOSE ARE CITIES IN ENGLISHLAND IN CASE YOU NON-CULTURED NON-TRAVELING ASS NIGGAS DIDN'T KNOW.
ANYWAY THIS IS A PRETTY GOOD ALBUM AND I'M NOT MAD AT IT. IT'S NOT MY USUAL FLAVOR OF SHIT WHICH IS VIOLENT MISOGYNISTIC RAP MUSIC ABOUT SELLING DRUGS. THIS ISN'T ABOUT ANY OF THAT, IT'S MOSTLY THIS LADY SIGHING LITTLE CUTE SIGHS OVER "AMBIENT YET PENETRATING LO-FI SONIC BACKDROPS". THAT WAS MY MUSIC JOURNALIST ASS NIGGA STATEMENT FOR THIS REVIEW. YOU'RE WELCOME. BROOKE CANDY IS ON THIS SHIT. OMG YOU SHOWED YOUR TITS THATS CRAZY, GET OUTTA MY FACE B THIS ALBUM NEEDED TO BE FEATURE FREE SO MY BOO CHARLI COULD GET HER BRITISHINE ON. BROOKE CANDY COMES ON THE TRACK LIKE "ENH! ENH! BRRREWK KYAAANDEEE" AND IMMEDIATELY MY CHARLI BONER DISSAPEARED.
I GIVE THIS 4 PILES OF DUTCHGUTS OUTTA 5 BECAUSE IT'S ONE OF THOSE ALBUMS THAT I APPRECIATE FROM AN ARTIST I NEVER HEARD BEFORE. EITHER THAT OR MY 3 DAY BJ STREAK GOT ME FEELING EXTRA COOL. PROLLY BOTH.
STANDOUT TRACK: "HOW CAN I" AND "NUCLEAR SEASONS" ARE PRETTY SKRONG JOINTS TO DO MOLLY WITH A EUROPEAN GIRL TO. ENJOY DICKHEADS. I LOVE YOUS, PLEASE PAYPAL ME SOME MONEY I NEED TO WATCH THIS MAYWEATHER FIGHT ON PPV.
The Kid Mero is slowly teaching his editor about Bachata. He's on Twitter - @THEKIDMERO