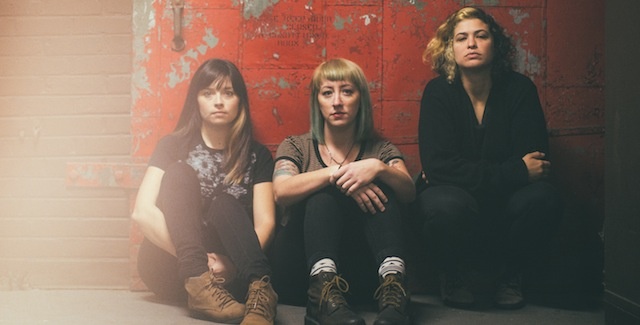 The Philly three-piece show off their progress on 'Tired Eyes' and holy lord is it good.

Photo by Jess Flynn
Cayetana will be the first to tell you—they could barely work their instruments when the band started out. But even without much musical mastery, the Philadelphia three-piece created something beautiful out of their raw skills on their debut album, 2014's Nervous Like Me. The album was distinctly catchy and full of absurdly fun hooks, with just the right amount of imperfection. Now, with more than a year under their belts, a time in which their skills have been road-tested and their chemistry honed, they have managed to make leaps and bounds as a band. It seems like Cayetana gets tighter with every show they play and their new EP, Tired Eyes, shows that progress off. Over two songs (including a New Order cover), the band slows things down just a bit, letting the cracks in Augusta Koch's voice amplify the emotion behind them. Perfectly crafted to punch you right in the feels. If this is where the band is heading for their sophomore record, then bring it on.
Listen to the EP below. Asian Man Records will do a one-time pressing of this seven-inch so you'd better grab one immediately. Cayetana is playing a release show for the record in Philly on January 23 with Mannequin Pussy and Katie Ellen (featuring former members of Chumped who will be playing their own final show in Brooklyn next month).