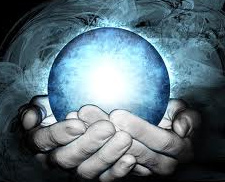 Who will save Rock & Roll? What's gonna be the next hot genre? Will Kanye West livetweet the birth of his child?
Making predictions is tricky. I'm no psychic, but if we allow ourselves to judge 2013 by the patterns that we saw in 2012, shit is pretty easy to figure out. I know that the age of information is Hell and even though we're in space we hate ourselves, so in order to progress the human race here are my predictions for music in the year 2013.
Andrew W.K. Will Save Rock & Roll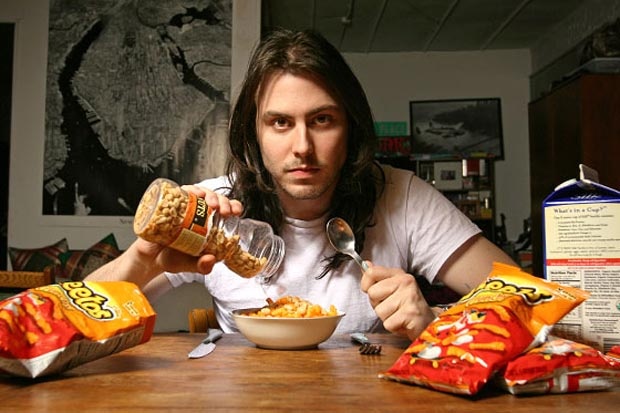 It's no secret, we love the fuck out of Andrew W.K. And why wouldn't we? He's got the ultimate positive attitude, he's genius-level smart, he's mysterious in all the right ways and he parties harder than wurtzite boron nitride. His first album I Get Wet is a top-to-bottom classic, but in recent years he's scaled his sound down out of the stadium and firmly back into weirdo territory, and weirdness is always the best. As one of the owners of Santos Party House, he's one of the patron saints of the New York City music scene, and if you've ever heard an Andrew W.K. song in your life you know what it means to want to punch through a brick wall. Meanwhile, rock radio is broken, nearly beyond the point of recognition. When the most popular band of the year is fun., whose music is "Rock & Roll" in that it is created with guitars and drums and seems to be influenced by Coldplay in some capacity but lacks important things like "soul" or "edge" or "non-terribleness." Meanwhile, Andrew's music has only gotten better with age. Less populist, sure, but he can write the fuck out of a song and can knock the world on its ass with rock at the drop of a hat. Rock & Roll needs Andrew W.K. more than it ever has, and there's not really a question as to whether he can step up to the plate and save it.
Next Hot Genre: Classical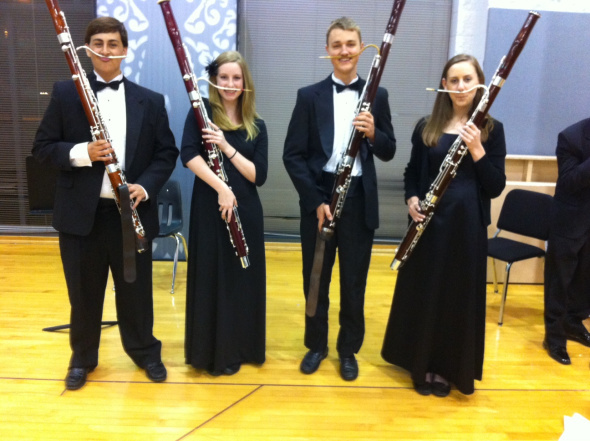 You guys, I really think it's gonna be classical music's year! I'm actually pretty serious about this. Back in the day, composers were every bit as daring, culturally decisive and downright insane as any of today's pop stars, and there's a bunch of stuff going on in the world of experimental composition that could loosely be filed under the term "Classical" that's interesting, accessible and totally not boring. Maybe it's because everybody made a big to-do about Philip Glass in 2012, but 2013 feels like Classical is gonna take the baton from dubstep and metal and become the little genre that could. And by "could" I mean "gets embraced widely and written about by people who have no business writing about it who accidentally warp public perception of a beautiful, nuanced genre," but whatever.
Next Hot Social Network: Pinterest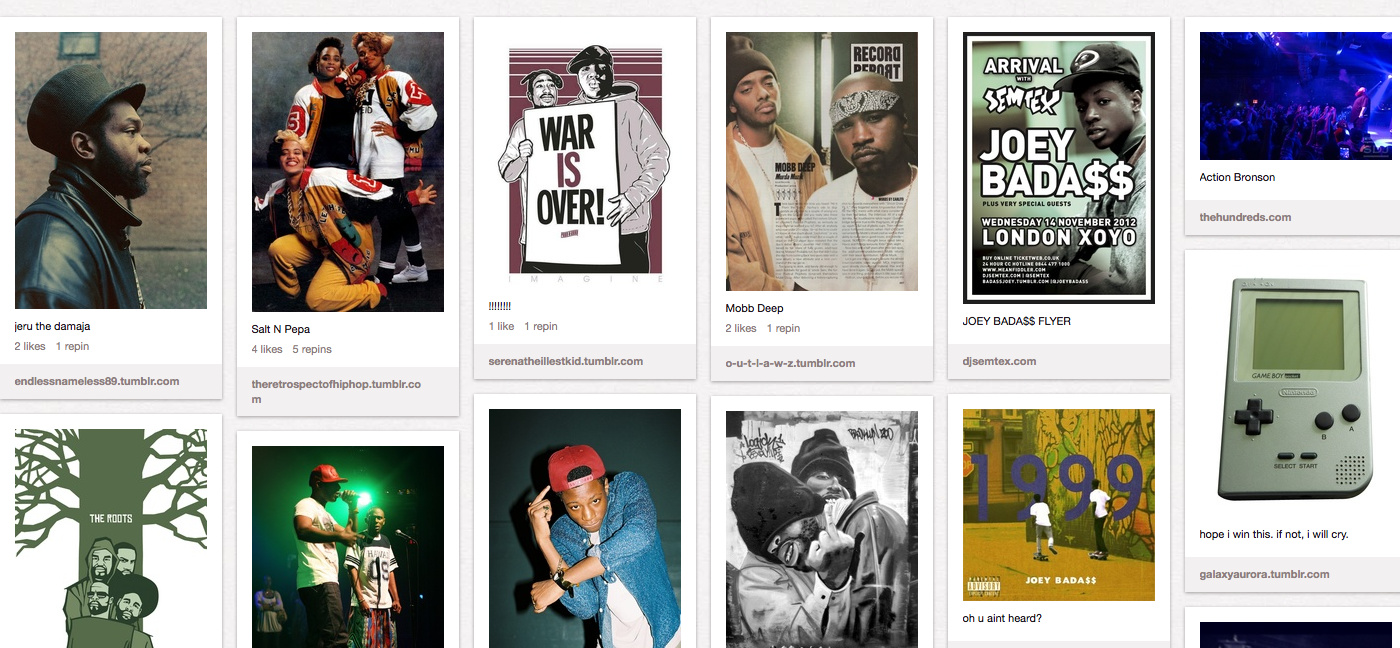 I'm mainly calling this one because E-40 has a Pinterest and he Pinned (Do you capitalize the verb tense of Pinterest? God damn it I hate the future.) a picture of a book called "Good Dog Carl." He has 308 followers, so maybe Pinterest's big year as a hip-hop-as-fuck social network is yet to come. Maybe some corporation will figure out how to put ads on SnapChat or something.
Rappers To Watch In 2013
I've got a bit of a New York bias because I live here, but I think you should pay serious attention to Deniro Farrar, Issue, Young Scooter, Antwaan, Shy Glizzy, Bodega Bamz and Fl1rtmorris. You've probably have heard of some (or all, I'm really not that great a "tastemaker") of those rappers, but as of now they haven't really "broken" in the way that their every move isn't being reported on by the music media yet. At least one of these dudes will get one million dollars from some record label, even if I have to form a record label and give one of them a million dollars myself just to make my prediction come true.
Juicy J Will Suffer Some Sort Of Drug/Acohol-Related Bodily Harm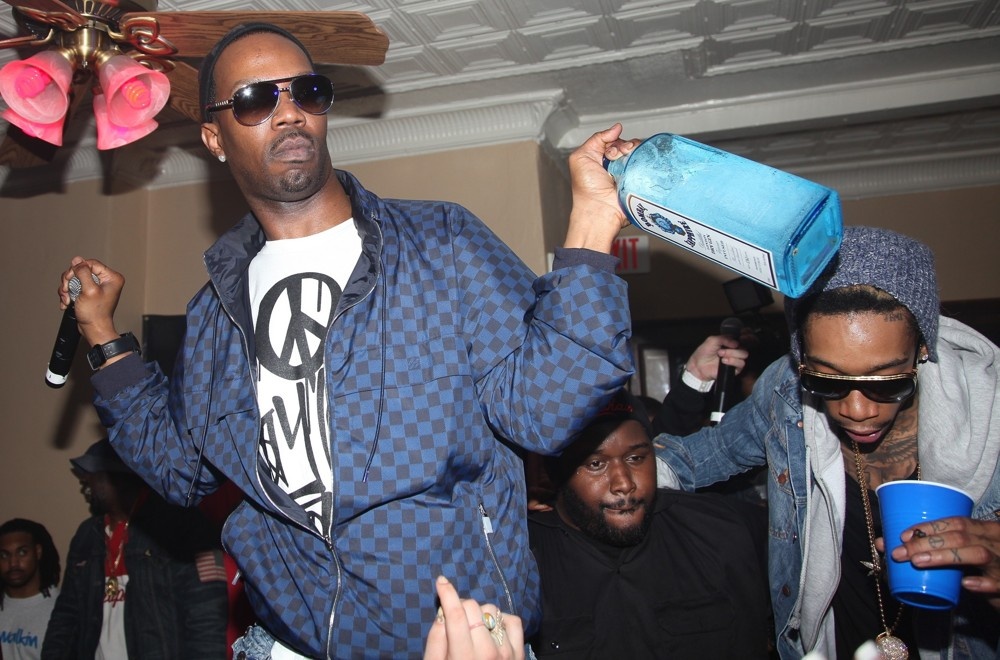 My reasons for this prediction are self-evident. In related news, Juicy's J's inability to say no to ratchet pussy has him officially selling thongs on his website.
The Scanning Technology That Reads Your Dollar When You Put It Into A Vending Machine Will Improve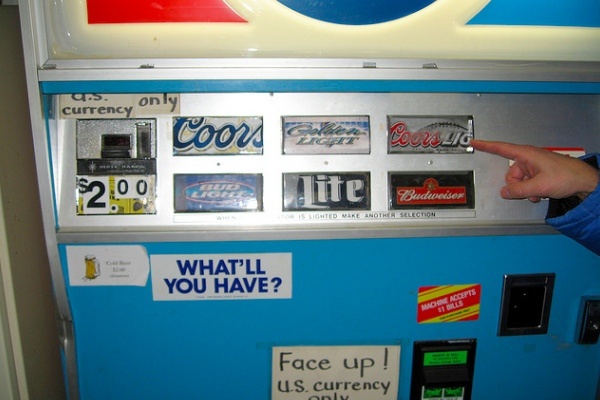 This has nothing to do with music but this is something we should all focus on this year because those little dollar-scanny things are a pain in the ass.
Electronic Producers Will Start Getting More And More Production Work In The Realm Of Hip-Hop
Skrillex has a beat on the upcoming A$AP Rocky album, Rustie is working with Danny Brown on his upcoming album, and on a low-key tip Hudson Mohawke has been doing some of the best high-profile hip-hop production in recent memory. As rap beats trend maximalist, guys who throw everything but the kitchen sink into their beats are going to start seeing much more work. It'll be a bonus awesome thing if Grime finally gets the three months of genuine American popularity it deserves, because Grime MC's jump on crazy-ass beats all the time and absolutely ooze personality and therefore deserve our attention. Here, listen to three Grime songs. Good, now you can pretend to know what you're talking about. Plus listen to this which a re-make of this and features Wiley just rapping "Doodoodoodoodadadada" and calling it a verse because he's that nice like that.
Kanye West Will Livetweet His Baby's Birth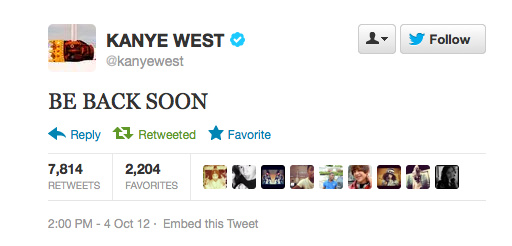 You say no to oversharing, Kanye West can't.
Drew Millard maintains an Internet Presence on Twitter - @drewmillard