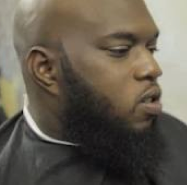 Philly Freezer smells perfect.
"Yo, that's a cool beard man," were the first words out of Freeway's mouth when we linked up this weekend, causing the first words out of my mouth to be nothing because the Philly rap veteran had left me speechless. Anyone with a passing interest in hip-hop and/or beards knows that Free has been holding it down with one of the best in the game (apologies Rozay, but that thing is too shiny) for years. So, a beard big-up from this man is serious high praise. Once I regained my composure, the former Roc-A-Fella soldier and I chopped it up about his upcoming album Diamond In the Ruff, hooking up with old Roc dudes, his facial hair (obviously), and how the hell he manages to smell so good.
Tell me about the new record.
The album is titled Diamond In The Ruff. The reason I titled it that is because my career is symbolic to a diamond. You know the process a diamond has to go through before it can actually shine. It's going to be mined and shipped and cleaned and polished and the end result is this beautiful thing. My life is symbolic of this too, I started from the bottom and have been through hardships just to get to where I'm at now.
Where does this album stand in the Freeway catalogue?
I think it's a couple notches above my last album. The ultimate goal is to get better with every project and this one shows a lot of growth and maturity. I'm bringing different flows and telling stories. I just didn't fall victim to what everyone else is doing these days. You get an album now and it's just a bunch of songs, people aren't going to get anything out of it.
You're doing some dates with Memphis Bleek and Young Gunz. How did that come about?
Me and Bleek been brainstorming and trying to make this happen for a while now. It's me, the Young Gunz, and Memphis Bleek. So it's all of us on the bill and naturally we're going to try and bring the Big Homie out (Ed: that's Jay-Z you ding-dongs) for at least a couple stops. We're so excited, just as excited as you are. Nah, we're even more excited about this than you.
Like, me and Bleek got a couple records that we haven't performed that people would love to see like "Night Shift." We're gonna go in!
If I could see "1-900-Hustler" live I could die happy.
Man, I do that at my own shows, but you know what? That would be crazy to do Hustler with Bleek!
I had been planning to come in here and talk about beards, so I'm glad you mentioned mine when I walked in. Now, I love my beard.
Man, I love my beard too! I don't think I've shaved since I was 16 or 17. Listen, my girl that I'm with right now when we first got into this relationship she'd get mad and say that she was going to cut my beard off when I was sleeping. She don't threaten that anymore. Isn't that crazy? Who's gonna try and cut your beard off in your sleep!
Do you have a daily upkeep for yours?
I shampoo and moisturize with olive oil.
Whoa. Like straight-up olive oil?
Haha, no an olive oil-based moisturizer and then I'll go get lined up at the barbershop. You gotta keep it fresh.
I told a friend I was coming to interview you today and he told me I had to ask about how you smell so good. I thought he was messing with me, but you do smell amazing. What's the secret?
I wear body oils. I can't give away all my secrets but let's just say they're imported from Saudi Arabia. There's a store from Philly that has them. I found these oils when I visited Saudi Arabia last and then I came home and searched everywhere. Couldn't find them in New York or Philly and finally found a shop in Philly carrying them. I also like to throw a little of that James Bond No.9 cologne in the mix too.
What made you start wearing them? Why not just rock deodorant and some cologne or whatever?
Man it's just a good thing. Women feel comfortable when a man smells good. It makes them panties just wanna go off.