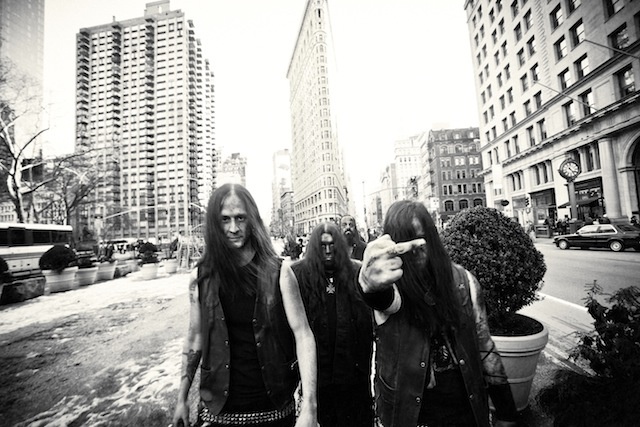 Hail Death! Starting now, until late May and into July and beyond
Many may identify NYC's Black Anvil as black metal, but just like the city that birthed the band, their approach is a bit of a melting pot. Clearly hardcore/punk enters into the mix (subliminally or no) per their background, but elements of death metal, thrash, and several other genres enter into the equation that is a Black Anvil. Never has that been more apparent than on their newest effort HAIL DEATH.
Due on May 27 via Relapse Records, Black Anvil's latest effort is produced by Government Issue/Jawbox/Burning Airlines member J.Robbins, who normally sits in with bands that lean punk and indie. The result is a bright, melodic yet venomous new effort that never stays faithful to genre, yet grabs you by the throat and won't let go. Check out the opening burner "Still Reborn," streaming for the first time below.
NYC black metal team Black Anvil invite you to HAIL DEATH on July 20 at Saint Vitus in Brooklyn! The Noisey-presented date will see the ex-members of Kill Your Idols, None More Black, Sheer Terror, Cro-Mags and more play their new LP in full, backed by support from Psalm Zero, Fantom Warior and Yellow Eyes. Tickets are on sale.