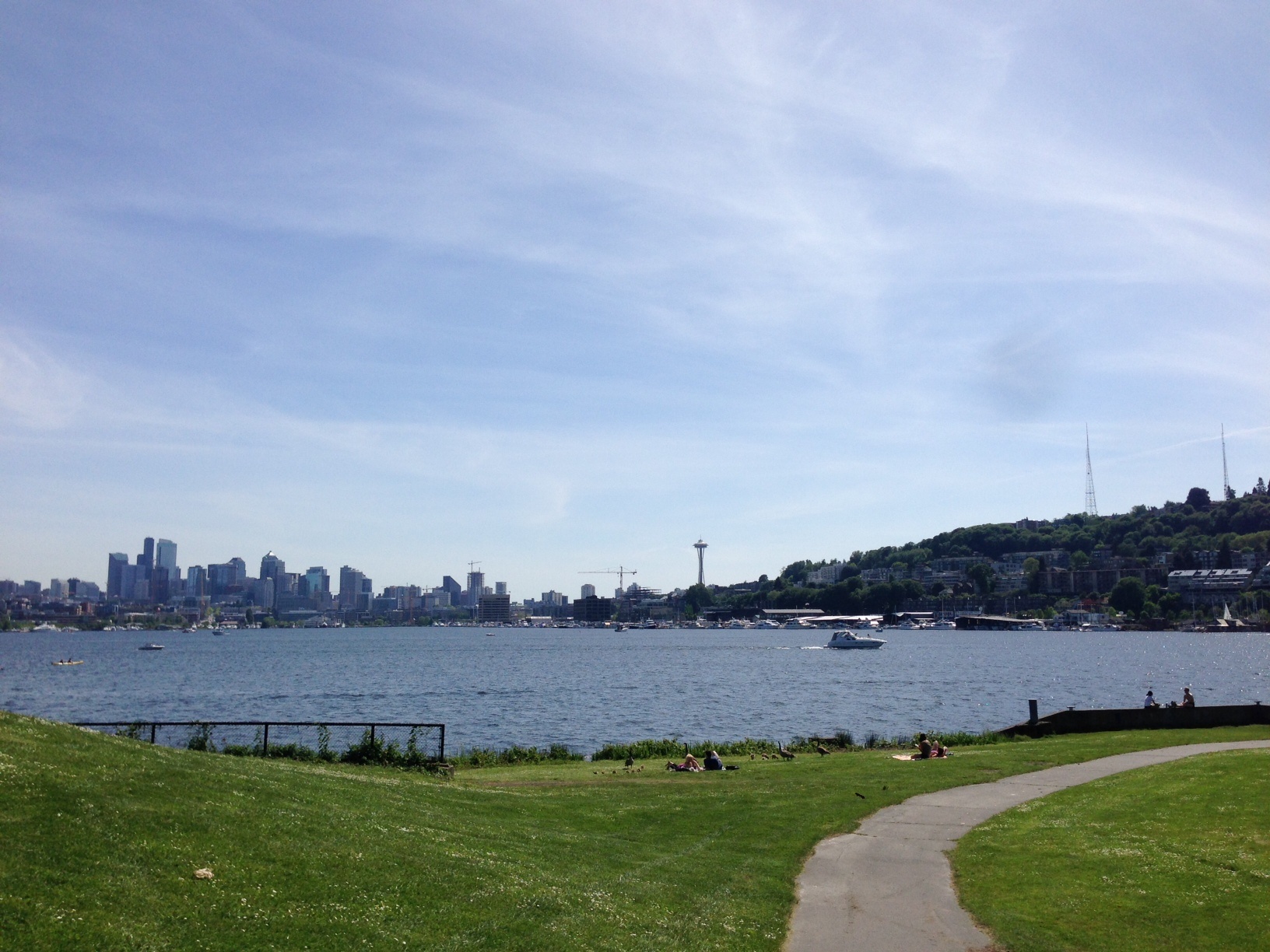 Going to Seattle? Dunno where to go? Here's Ben Gibbard, La Luz, and Tacocat's Seattle must-sees.
As part of this new Noisey series, Made in America, in which we travel to 10 cities finding out about different music scenes, we're asking all the artists we talk to tell us where to hang out and here's the Seattle edition, as curated by Ben Gibbard, Tacocat, and La Luz. Scroll down to see where they recommend and why.

TACOCAT'S RECOMMENDATIONS:
Three fourths of Tacocat hanging at Linda's.
BARS:
1. Linda's Tavern
707 E Pine St, Seattle, WA 98122
The best place for hanging around all day long. Start with Brunch (Bree works there and might be your server) and mimosas, stay for grilled cheese and cheap beers later. And a patio in the summer!
2. Bait Shop
606 Broadway E, Seattle, WA 98102
Lelah work's here and she always brings us super sweet plastic mermaids in all our drinks. The Painkiller frozen cocktail is legit.

3. Unicorn
1118 E Pike St, Seattle, WA 98122
The decor is totally bananas—like a circus on acid—plus they have a cool basement bar called the Narwhal that does shows and has pinball machines lining the walls.
RESTAURANTS:

4. Thai Tom
4543 University Way NE, Seattle, WA 98105
Whenever we are in the University District, this is the most essential stop—the Thom Kha soup is incredible. It's worth the wait.

5. In the Bowl
1554 E Olive Way, Seattle, WA 98102
It's all vegan/vegetarian thai food that is all delicious. We recommend an appetizer called Melting Culture (it looks like cat vomit, but it tastes like world peace).
6. Bimbos
1013 E Pike St, Seattle, WA 98122
Good burritos and the best people work there. Plus you can just stumble down the stairs and meet more friends for drinks in the Cha Cha basement!

VENUES:

7. Chop Suey
1325 E Madison St, Seattle, WA 98122
We had our record release here! They book the best shows—it's hands-down the best venue on Capitol Hill. They also just opened the Dragon Lounge in the front for sweet DJ nights and smaller shows.
8. Black Lodge

Can't say too much about this one, but it's the best DIY venue ever.

9. Sunset Tavern
5433 Ballard Ave NW, Seattle, WA 98107
A really fun medium/small venue across town in Ballard. There's also a pizza place in here called Flying Squirrel.

STORES:
10. Sonic Boom Records
2209 NW Market St, Seattle, WA 98107
They always have super sweet deals and display, plus we played our record-release in-store show here!

11. Easy Street Records
4559 California Ave SW, Seattle, WA
Easy Street's the best, plus they were doing a pop up shop at Sasquatch and the super awesome staff made sure Brody from the Distillers signed my record!

12. Value Village
1525 11th Ave
This thrift store is right next to Emily's work at the Stranger and across from our practice space, so if we need any last minute costumes or weird accessories we can just pop in!
PLACES OF INTEREST:
13. Cal Anderson Park
1635 11th Ave
The best place for park drinking and sunning yourself in Seattle's 3 months of sun.
14. Spruce Haus
1010 E Spruce St
It's our punk house that all the Tacocats have lived in at some point.

15. ZAPP (Zine Archiving and Publishing Project)
1634 11th Ave
This is an enormous collection of 'zines that are archived and so awesome to look through. The collection used to be at the Richard Hugo House, but now it lives at the Seattle Art Museum.
------
LA LUZ'S RECOMMENDATIONS:

La Luz at Twilight Exit.
BARS:
A. Eastlake Zoo Tavern
2301 Eastlake Ave E, Seattle, WA 98102
Alice: The Zoo has been there since the mid-70s and it's a giant wooden palace filled with fun things and dark crevices. And YOU KNOW it's got ping pong.
B. Bait Shop
606 Broadway E, Seattle, WA 98102
Lena: It's the local Capitol Hill spot, it's got a locals only vibe, and excellent food!
C. Moon Temple
2108 N 45th St, Seattle, WA 98103
Alice: Classic dive that won't let you use the jukebox until five because they keep the news on for the locals. They've got videogames and pool and some stiff drinks.
RESTAURANTS:

D. Sunlight Café
6403 Roosevelt Way NE, Seattle, WA 98115
Shana: There aren't enough places in Seattle that serve healthy stuff without a thick gravy of pretension, but the Sunlight is straight up college-town-hippie-food and I'm into that. And they have the best waffles anywhere.
E. Rom Mai Thai
613 Broadway E, Seattle, WA 98102
Lena: These guys know me by name here, they put my band sticker on their free candy bowl AND I got them to drive me to my friend's house with my delivery order.
F. Jamjuree on 15th
509 15th Ave E, Seattle, WA 98112
VENUES:

G. Columbia City Tavern
4916 Rainier Ave S, Seattle, WA 98118
Lena: This place re-opened a few years ago and I'm so glad it did. It's a gorgeous historic venue where Ella Fitzgerald, Fats Waller, and Duke Ellington used to play back in the 40s. The sound in there is amazing!
H. Black Lodge (secret location)
STORES:
Alice: There's this weird store on 15th. I don't know what its called, but it rules because it has everything. Just a bizarre hodgepodge of stuff you need and don't need at all.
I. Lucky Vintage
4742 The Ave, Seattle, WA 98105
Alice: I always find what I need.
J. Elliott Bay Bookstore
1521 10th Ave, Seattle, WA 98122
Alice: Nerd.

PLACES OF INTEREST
K. Magnuson Park
7400 Sand Point Way NE
Shana: Seattle has lots of huge parks that have forests and beaches in them. My favorite is Magnusen because it's got a bunch of secluded meadow areas, tons of little beach coves, abandoned play fields, and zillions of blackberries.
L. Discovery Park
3801 Discovery Park Blvd
Alice: Discovery Park is my favorite park for the same reasons. That place is huge, and beautiful. And there's a lighthouse! Also Golden Gardens. Beach. Best sunset view.Oh man, and Gasworks park.
M. Pioneer Square
Downtown Seattle
Alice: My favorite part of the city is Pioneer Square. It's quirky and old and it's cool to sense more of the history behind Seattle. It's definitely also haunted!
Lena: I am also a big fan of Pioneer Square.
-------
BEN GIBBARD'S RECOMMENDATIONS:
RESTAURANTS:

1. Maneki
304 6th Ave S
2. Marjorie
1412 E Union St
3. Green Leaves
2800 1st Ave
VENUES:

4. Showbox at the Market
1426 1st Ave

5. Barboza
925 E Pike St

6. The Sunset
5433 Ballard Ave NW
STORES:

7. Wall of Sound
1205 E Pike St #1C
8. Elliot Bay Books
1521 10th Ave
9. 7 Hills Running Shop
3139 W Government Way
PLACES OF INTEREST:
10. Discovery Park
3801 Discovery Park Blvd

11. Tiger Mountain (in Issaquah)
SE 79th St

12. Frye Art Museum
704 Terry Ave
Related:
La Luz are a Gang You'll Wanna be a Part of
Tacocat on the Seattle Scene, UTI Realities, and Leotards as Chastity Belts
Episode 1 - Made in Seattle - Featuring Death Cab for Cutie's Ben Gibbard, Tacocat, and La Luz
All the behind the scenes pictures from Made in Seattle featuring Ben Gibbard, Tacocat, La Luz, and the walls of Sup Pop
Read our in-depth interview with Death Cab For Cutie's Ben Gibbard