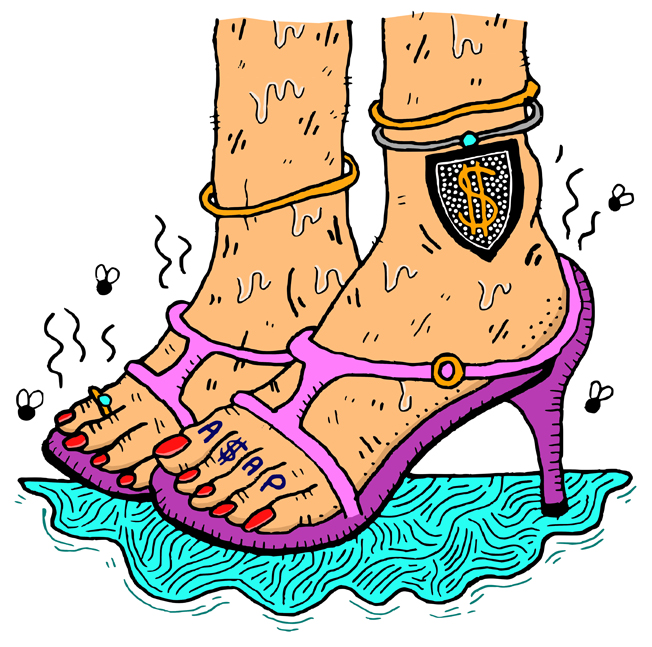 Arguing over clothes guys? Really?
Beef started in the Garden of Eden when Eve got into a beef with God over the apples he was saving on his favorite tree, God was so pissed off that he banished her and her boyfriend into the wilderness for eternity. Since then the beef between God and mankind has raged for thousands of years.
Every time you pour too much milk in your coffee and it spills over the side, that's God. Whenever you go for a piss in the middle of the night and wee all over the floor and on your own feet, yep, that's God. But this almighty God of Beef is not all bad; he also blesses us with lulz beefs between other people, that we can enjoy from behind our computer screens.
So, Beef Weekly is going to examine the beefs of today that make everyone involved (apart from us) look dumb. We're not going to discriminate between genres either, as it's not just rap that has comical beefs. Just look at Axl Rose, he hates everyone and everyone hates him. So, without further ado, what has the Beef-God served up this week?

A$AP Rocky VS SpaceGhostPurrp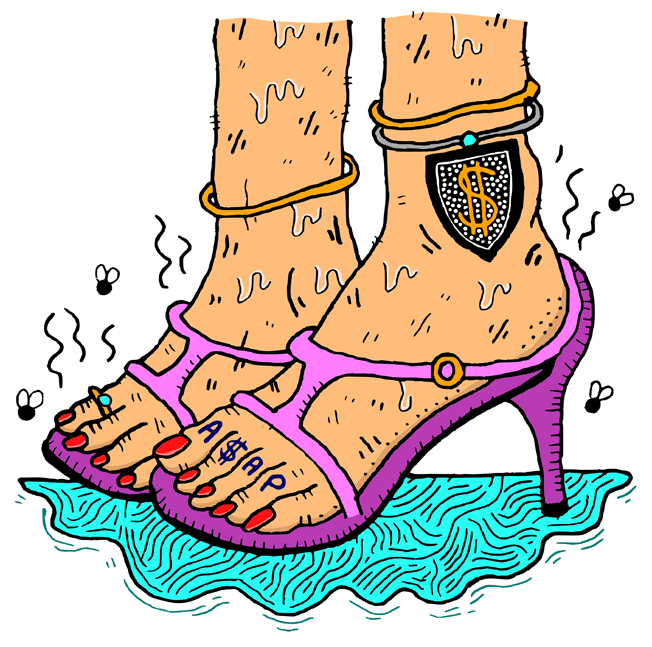 We'd might as well start this column with a rap beef and this week A$AP Rocky has been feuding with his ex-bro SpaceGhostPurrp. This beef is between A$AP Mob and SGP's buddies; Raider Klan. Freestyle raps have been flying left, right and centre as these two dudes beef-it-out, with Rocky crowbarring in this freestlye diss late last week...
But what is it all about? For starters, they have beef because both sides want to wear black. Like, SRSLY. If people were going to bitch at each other about wearing black then half of the world would be up in arms. Robert Smith would be brawling with Trent Reznor backstage at some non-descript goth festival. Ninjas would be under constant threat from Johnny Cash. The Black Album vs Black On Both Sides vs Black Narcissus. Dear God, my dad only wears black; please don't have beef with my dad.
Black aside, the beef also involves the reappropriation of Oakland Raiders iconography. Pretty stupid, I know. It's not like one of them has created a really cool logo (like the Beef Weekly logo for example) and the other has stolen it, Photoshopped it a bit and then blagged it as their own. (If anyone from A$AP Mob or Raider Klan is reading this then send me an email and I'll do you a badass new logo at an affordable price!)
But there's also the real beef, the LYRICAL beef. A$AP stands accused of stealing lyrics from SGP's song "My Enemie" and using them in his track "Goldie". Basically, A$AP raps: "And them college girls/ Write a nigga name on they toes", SGP pointing out his line, "Doing these shows/ Man I suppose/ Bitches be writing my name on they toes". A) In America, do girls write names on toes? If so, Danny Brown must love that. B) Obviously, Purrp has the right to be a little bit pissed about this; but, let's be honest with or without that lyric, Rocky's song is about a jillion times better. Is it worth the beef? The jury's out.
Until next week; beef adjourned!
Follow Sam on Twitter @sptsam