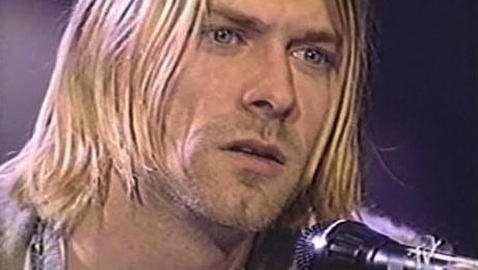 Bear with us, Kurt...
It's been a strange summer for Kurt Cobain. First, his baby girl, Frances Bean, bursts out of out of underage-dom and into the awaiting arms of millions of middle aged creepers. Then, Spin releases Newermind, their multi-artist Nirvana tribute album (um, A for effort, guys?...). Finally, governor of Utah and candidate for the 2012 Republican presidential nomination Jon Huntsman rips a killer "Come as You Are" joke at the recent Republican Tea Party debate. Basically, if Kurt hadn't already decided whether to be or not to be, he'd just be racking up arguments for the negative.
But not be be outdone by, uh, Joseph Gordon Levitt, London-based psychedelic lo-fiers Porcelain Raft take "Come as You Are", slow it to a crawl, and crank up the reverb to 11. Snag the track for free below and catch Porcelain Raft on tour with Yuck this fall!
09/27/11 Buffalo, NY – The Ninth Ward w/ Yuck
9/28/11 Pittsburgh, PA – Brillobox w/ Yuck
09/29/11 Detroit, MI – Magic Stick w/ Yuck
09/30/11 Cleveland, OH – Grog Shop w/ Yuck
10/01/11 Indianapolis, IN – Radio Radio w/ Yuck
10/03/11 Chicago, IL – Double Door w/ Yuck
10/04/11 St. Louis, MO – Firebird w/ Yuck
10/05/11 Nashville, TN – Mery Lounge w/ Yuck
10/06/11 Atlanta, GA – The Earl w/ Yuck
10/07/11 Tampa, FL – Crow Bar w/ Yuck
10/10/11 Orlando, FL – The Social w/ Yuck
10/12/11 Washington, DC – Black Cat w/ Yuck
10/13/11 Brooklyn, NY – Music Hall of Williamsburg w/ Yuck
10/14/11 Brooklyn, NY – Music Hall of Williamsburg w/ Yuck