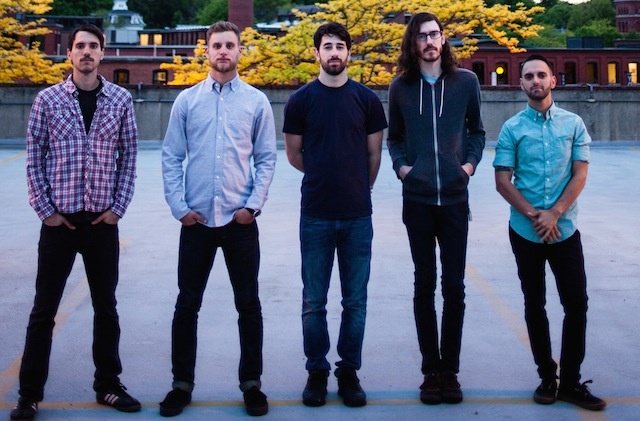 The prolific-as-hell band rides the line between At the Drive-In and all the other post-hardcore bands you love.
Aviator has been prolific, to say the least, since forming in 2009. The Boston band, which up until now has walked a fine line between emotional hardcore like Massachusetts brethren the Carrier and more theatrical punk such as La Dispute, has put out three splits (including one with Topshelf Records act My Fictions), a demo, a live cassette, a Bandcamp-only covers EP, and a five-song EP in 2011, I'm Not The Lonely One.
So it's been a long time coming that the band would release their first full length. On Head In the Clouds, Hands In the Dirt, however, the band sheds their skin and explores new musical territory enthusiastically. The end result is a beautiful record that combines the band's emotional hardcore roots with big, emotional hooks like we saw earlier this year on the Hotelier's Home, Like Noplace Is There and an experimental flair that's reminiscent of No Knife and At The Drive-In. And on "Pipe Dreams," the first track on the record, the band packs an energetic punch while vocalist TJ Copello effortlessly lectures lines like, "All that I've learned / With any certainty / Is plans are subject to change."
Head In the Clouds, Hands In the Dirt
drops August 19th via No Sleep Records. Listen to "Pipe Dreams" from the album below and
pre-order it here.
Tour dates:
8/23 - Charm City Art Space (Baltimore, MD)
8/24 - DAV Hall #66 (Hammonton, NJ)
8/25 - TBA (Brooklyn, NY)
8/26 - TBA (Pittsburgh, PA)
8/27 - Bug Jar (Rochester, NY)
8/28 - TBA (Albany, NY)
8/29 - Democracy Center (Cambridge, MA)
8/30 - Village Pizza (Bloomfield, CT)
8/31 - 242 Main (Burlington, VT)