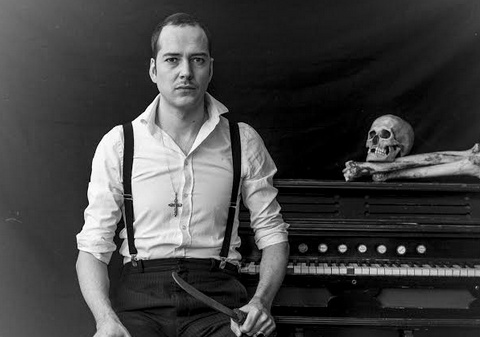 Stream the new album and read a candid interview with Kjetil Nernes about Captain Beefheart, Norwegian noise rock, and beating cancer.
One day in 2014, Kjetil Nernes, frontman of the Norwegian Grammy-winning noise-rock juggernaut Årabrot, received a call from his doctor, who informed him that he had malignant throat cancer. While some would take that as a sign to halt all band activities in the immediate future, Årabrot hit the road and powered through an entire tour before Kjetil headed in for surgery. That indomitable (if unconventional) attitude (and having the artistic prowess to match), has helped sustain the band for 15 years and counting.
Årabrot's seventh album, The Gospel, was largely developed during Kjetil's time in treatment and recovery. Informed by those experiences, as well as his interests in World War I documentaries and silent film, the record is themed around a lone warrior on a devastated battlefield whose plight is explored through a vivid, unsettling mix of art-rock, metallic noise, piano-flecked post-punk epics, blood, sex, and death. Recorded at Electrical Audio in Chicago and the band's home studio in an old Swedish church, with contributions from Ted Parsons (formerly of Killing Joke/Swans), Sunn O))))'s Stephen O'Malley, and Kvelertak's Erlend Hjelvik, among others, it is arguably Årabrot's most stunning musical achievement to date.
Noisey recently spoke with Kjetil to learn more about The Gospel and the long journey it took to create it. Check out the interview and our exclusive album stream below—the album's out via Fysisk Format on 2/26.
Noisey: It's interesting to think about Årabrot being the only heavy noise rock band in Norway for so long. How did it all evolve?
Kjetil Nernes: In 2001 we put out our first seven-inch. We've recorded and released everything we've done, so all of the records have basically been the learning process towards where we are now. A lot of bands wait to record until, I don't know, but that seven-inch was the first time I opened my mouth to a microphone, ever. In reality, we didn't start until 2004 when we met with Billy Anderson for the first record. We had no clue what we were doing, and when Billy played our songs back to us our jaws just dropped, "Wow! Are we really this heavy? Is this how we sound?" We had no clue. After that, we tried out a lot of different stuff, we changed some of the members and eventually Solar Anus became the first record that felt like it all came together.
There were definitely no bands like us in Europe. We didn't fit the metal community in Norway at all, we didn't fit the rock crew either, so we were kind of alone. In 2008, Kristian Kallevik started Fysisk Format and since then, there have been more bands in Norway that sound more like us. That feels really nice. All those years we were just some young kids trying to figure out how to put the ideas we had in our heads together. It was like we were stranded on an island with no one around.
The way you put music together is very different than some of the more "traditional" sounding noise rock bands. Is that a result of having been on your own?
I've been thinking a lot about this, and I think it's that I'm interested in a lot of different stuff. I loved the old AmRep noise rock bands, but I also grew up with Captain Beefheart, Slayer, and some of the Norwegian black metal bands. I was influenced by books and movies too. I picked up a inspiration from several different things. I just had these different elements I really loved, and I when I incorporated it into the music it sounded more interesting to me.
After winning the Spelleman Prize [Norway's Grammys] for Solar Anus, you released your self-titled record and started your EP trilogy... and somewhere during that time, you were diagnosed with cancer.
After the self-titled album I was really focused, and finally I had the material ready for the trilogy. We did the first one, Murder is Art. The year after, I finished the material for I Modi and most of the stuff for You Bunch of Idiots. We went into the studio for I Modi and did a tour with Kvelertak. In the middle of it all, I was complaining that I felt weird. I wasn't really sick, but I felt a little strange. Eventually, I went to the doctor and it was so quick. They called me up and told me about the cancer, which was in my throat at the back of the tongue. "Yeah, you have cancer. It's bad and you need to start treatment." I heard this basically the day before we started our UK tour. The final show was at Desertfest in London, and then I went straight into treatment and a crazy period through the summer. It was really terrible, but I came out of it and I am still fine. I guess the past four to five years—going from Solar Anus via the self-titled record, through the trilogy and the sickness—is summed up in The Gospel .
Årabrot was celebrated as one of the best bands at Desertfest that year. Tell me a little about playing that tour, and what it was like to write The Gospel in the period after.
Every night of that tour was like the last show ever. It was really strange. When a doctor calls and says, "you're terribly sick," it's surreal. You go into this phase where life is more vivid and more real, in a weird way. We've done so many shows through the years and sometimes it's a little like going to the factory to do a job. But with an axe hanging over your head you perceive the world differently. I remember all of the shows very well and it was crazy. That whole period after had the same feeling.
Writing The Gospel was very different from what I've done before. I felt that I was totally on top of it. I knew exactly how it was going to be, how it was going to sound, the lyrics, everything. [The illness] was like a knock-out. A wake-up call. If something like this happens there are maybe two ways of doing it. Either you give up, or else you go all in. I'm going all in. There's no way back now.
The Gospel's themes seem more personal than some of your previous records that have literature or art-inspired themes.
I never really thought about it that way, but it is true. It's very different. The whole experience was like sinking to the bottom of the ocean, you know? And then all of a sudden you're back up again and it becomes very personal. I'm still using a lot of references from movies and stuff, obviously, but it is more personal.
You did the initial tracking in Chicago and the rest back at home. When did you bring in outside contributors?
It worked out that way by coincidence, but it would never be as good as it is without them. Some are long-time collaborators like Emil Nikolaisen from Serena-Maneesh and Karin [Park], obviously. I got to know Ted because he lives in Norway. We did a week-long session in the church with him on drums that was amazing. Sonically, I wanted this record to be more British, like The Fall, or Wire, or the Stranglers, which is also why it's more vocal-oriented. A main inspiration was Killing Joke, one of my favorite bands of all time. Ted used to play drums for Killing Joke so it was just perfect. Then, by coincidence, Stephen O'Malley had a show in Stockholm. I called and asked if he wanted to come up to the church to do some guitarwork for my new record. He came up to the church and did a full drone session. The church roof almost blew off. I wonder what the neighbors thought.
What do the neighbors think to begin with?
Oh god, yeah. They've heard a lot of strange noises, but there are actually not too many neighbors around.
The Gospel is slightly minimalistic compared to the last couple of records, which is funny because for another band it wouldn't be at all. That carries over to the video for "Rebekka."
We met with Olle Lundin, our Swedish collaborator, for three or four days in the church to do some more artsy music videos. We did our last three videos at the same time and we already knew this footage would be used for "Rebekka." It's is kind of David Lynch-ian; one take and let the camera run. For me, it's weird to watch. It's my face the whole time and it was filmed right before I learned about the cancer. I can tell from watching that I was feeling strange. I'm moving my jaw a lot, which I guess adds to the eerie vibe.
If The Gospel is closure for that period of your life, what are you moving on to?
I feel like we are a proper, international-class band. It's been a learning process. Trying, sometimes with success, sometimes failure. Finally, I know exactly what I want and how to get there. I still have a lot of different ideas and I'm interested in developing the sound but I know more about how to find that gold, and that feels really good. It's been a crazy ride, these fifteen years. It's been amazing, but it's also been really tough.
What's kept you going through the tough times?
Usually I would say it's the perpetual chase or hunt to try to fill the void within, but I don't know. I have all of this stuff and I need to get it out. It's inside of me somewhere. That keeps me going. I have even more enthusiasm for this project than I've ever had. I'm really ready to go for it now.
Årabrot European tour dates:
March 2016
4th Copperfields, Stockholm, SE
5th Smedjan, Gothenburg, SE
8th Urban spree, Berlin, DE
9th Arena, Wien, AT
10th FreakOut, Bologna, IT
11th Traffic, Roma, IT
12th Lo-Fi, Milano, IT
13th L´ Usine, Geneve, CH
15th Magasin 4, Bruxelles, BE
16th dB´s, Utrecht, NL
17th Corsica Studios, London, UK
18th Lost @ B-Arts, Stoke-On-Trent, UK
19th Nice n Sleazy, Glasgow, UK
20th Brudenell, Leeds, UK
22nd Instant Chavires, Paris, FR
23rd Accueil Froid Nuke, Amiens, FR
24th The Pit´s, Kortrijk, BE
26th Iparragirre, Gernika, ES
27th Ahotsgora, Gasteiz, ES
28th Antiguos Almacenes de la Mina, Udias, ES
29th Liceo Mutante, Pontevedra, ES
30th Lata de Zinc, Oviedo, ES
31st Orbeko Etxea – Llodio, Pais Vasco, ES

April 2016
1st Ocho y Medio, Alicante, ES
2nd La Residencia, Valencia, ES
3rd Velvet, Malaga, ES
5th Inciviczone, Barcelona, ES
6th Grnnd Zero, Lyon, FR
7th Gaswerk, Winterthur, CH
8th Hühnermanhattan Klub, Halle, DE
June 2016
4th Temples Festival, Bristol, UK
Jamie Ludwig is preachin' the gospel on Twitter.