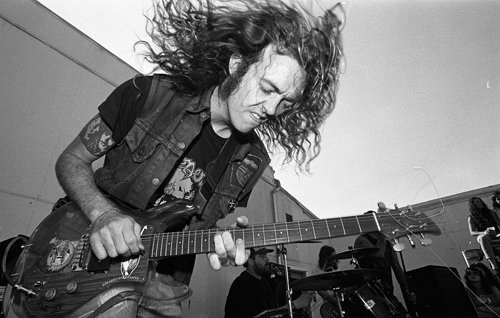 We talked guitar heroes and guitarspiration.
Every once in a while you get to talk to someone about something they absolutely love. I don't just mean that they have an affinity for it, but that they live it, eat it, drink it and then shit it just to eat the shit, so they can consume it yet again. This is a burning love causing them to radiate forth sheer excitement. It is rare indeed to meet people with this sort of passion, but if you've ever talked to Graham Clise (Annihilation Time, Witch and Lecherous Gaze) about guitars, you'll know exactly what I am talking about. Growing up in Cleveland, I was super familiar with Annihilation Time, and even caught them once or twice in town. However, it wasn't until I saw their last show that Graham's playing style really hit me. Cut to Chaos in Tejas 2009, Annihilation Time is just about to start on the Main Stage at Emos. The second they kick in, I am immediately engrossed in Graham's playing. From that point on, he has always been one of those guitarist that I will go out of my way to see live.
There is just about no bigger guitar nerd out there than Graham. Talking to him about music had all the enthusiasm of a teenager in love. It was an infectious sort of passion, one that sticks with you. Ironically, however, Graham did not start off by playing guitar. He actually found his musical roots as a drummer. Nevertheless, he didn't find his role as drummer fitting for his interests, "I was always more interested in song writing, and you don't really get a chance to be as creative playing drums. That was really the reason I switched to playing guitar." Graham didn't actually begin playing guitar until he was already 20 years old. Now I know you must now be thinking what I was thinking, but don't hang up your guitar quite yet, because, despite the fact that Graham started rather late, his dedication to the act is nearly immeasurable: "I'm constantly listening to music, and I have a lot of guitar idols, I guess. I'm pretty obsessive to the point that I will play constantly. If I don't have to be at work or I don't have anything to do, I'll just have a guitar in my hand for hours." I responded by asking Graham if he wouldn't mind listing some of his guitar idols, out of sheer curiosity. Seeming to immediately light up at the question, he asked if I wouldn't mind hearing all of them, and when I say all I mean a lot. He proceeded to blast off a list off about twenty different guitarists, citing the specific reasons they appealed to him. Ranging anywhere from his number one idol Jimi Hendrix to Rory Gallagher, Steve Jones (Sex Pistols), Captain Sensible (The Damned), Robin Trower (who Graham considers the best living guitar player) and Chuck Berry amongst many other names.
Returning to the topic at hand, Graham began explaining his evolution towards his current sound. He laughs about the first guitar he ever owned: a BC Rich, which donned an airbrushed depiction of Pink Floyd's artwork for the The Wall over the entire front. It wasn't long until Graham traded in the BC Rich for a guitar that he has owned ever since, and which he has used for almost every single show he's played: the Ampeg Dan Armstrong Custom Series. Similarly, Graham notes his holy grail amp in a rather short succession of trades ins, starting with a Gorilla practice amp and ending with the Marshall Plexi series: "Years later I got into Marshall Plexis, after trying a bunch of different shit out, and that's the one I am probably going to stick with forever." What might strike the amp aficionados out there as bizarre is Graham's preference towards the reissue series Plexis. "I had early 70s ones, and they sounded awesome but they were problematic. Marshall makes these hand-wired reissues and I think they sound better than my old ones." As a final piece of advice, Graham highly suggests replacing the output transformers in the reissue Plexis, as he finds them insufficient and cheap.
To conclude, I will leave you with Graham's pedal set-up, which gives insight into how meticulously manufactured every facet of his sound is. Graham uses a Road Rage Looper in order to allow him to utilize multiple signal paths from a signal source to a single source. This maximizes the amount of possible "channels" without needed to turn individual pedals on and off. As you can see in the photo below, Graham has two main channels: lead and rhythm. For his rhythm channel his signal is running through a Fulltone Robin Trower's Overdrive into a Boss RV-5 Digital Reverb: "I just put the tiniest amount of reverb on it, you can barely hear it, it just slightly thickens up the signal." The rhythm channel then has the ability to run into four separate loops which will either add an MXR-Carbon Copy Delay for a "slower and longer delay than the lead channel", an Ibanez Paul Gilbert Flanger, a Fulltone Deja-Vibe or a MXR Phase 90. For his Lead channel, his signal will bypass the rhythm channel running into an Ibanez AD-9 Analog Delay for a quick slapback effect. From the Ibanez AD-9, the signal runs into an Analog Man Beano Boost, which allows him to boost his high end signal for better cut through.
As a final note Graham had this to say: "I'm just kind of over having vintage equipment. [laughs] I just want something that works and sounds good." Deceptively simple, his final remarks are something of a breath of fresh air in the face of all the die-hard vintage enthusiasts out there. Here is a great player proving you don't need to play on the old and steeper priced gear to get a totally killer sound.
Catch Graham on tour with Lecherous Gaze, and check out their latest release below.
Joe Yanick is on Twitter - @JoeYanick