Hey alt-indie princess, why did you friendzone JGL?
Hello, I'm Ryan. I work a shitty day job and in between serving yuppies caramel macchiatos and wiping smeared ketchup off plates I daydream and fanboy over today's musicians. I'll probably never get to share a milkshake with Kanye West or play dress up with Lady Gaga, but I would like to be able to ask Justin Timberlake to start bringing sexy back. This column is a place for me to call out artists and spew my guts all over the inter webs.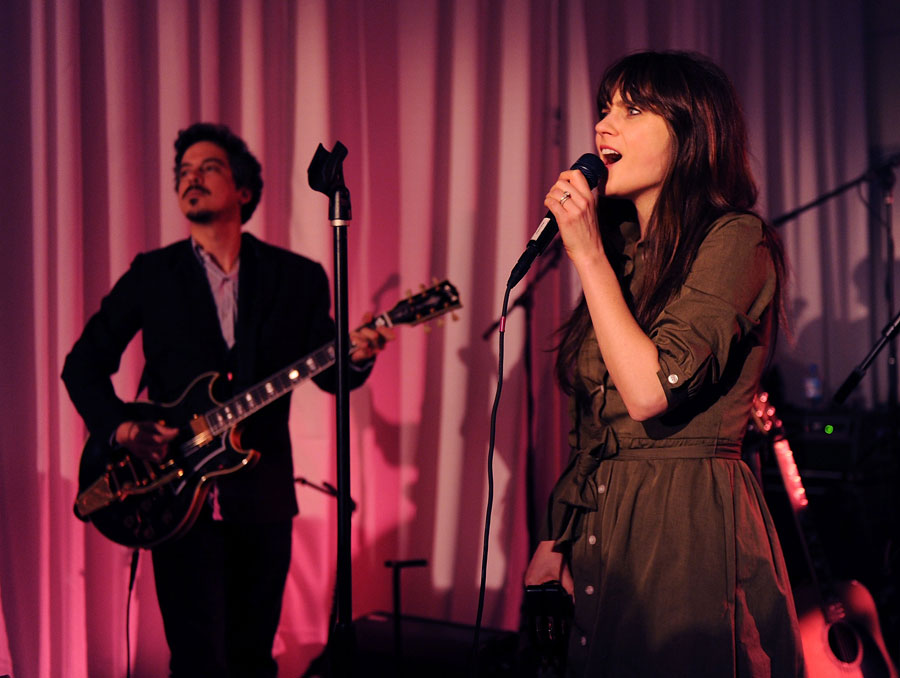 Did you know when cute girl mascot of the world, Zooey Deschanel, isn't playing around with Schmidt and the gang in New Girl, she's also a singer in super-inoffensive, cardigan wearing indie band, She & Him? The band that have probably been the soundtrack to your every Urban Outfitters shopping trip for the last two years?
Anyway, her dulcet tones reminded me of another actor-who-could-passably-be-an-OK-indie-musician, Joseph Gordon-Levitt. And it got me thinking, "fuck, wouldn't the world be a better place if Zooey Deschanel and JGL, were together?" Let me state my case.
It's probably because I'm a sad fuck and I've watched too much 500 Days of Summer with my girlfriend (one time is too much) but it's almost as if the story is true. I consistently find myself watching and rewatching the clip where Gordon-Levitt slurs out the lyrics to "Here Comes Your Man" and feel my heart shatter into tiny pieces as I wait and wish for the day to come that these two friends can exist in a real life Ikea environment, complete with cats, guitars, and Smiths records.
BUT. Alas, she married that guy from Death Cab for Cutie and shoved JGL into the dark box titled 'FRIENDZONE'. It turned out that Ben Gibbard didn't want to follow her into the dark, and they've coincidently split. Oh well. Schmidt happens. But, I want to write to you, Zooey, on behalf of Tumblr, YouTube comment sections, and the own nice (yet creepily delving into celebrity relationships) part guy of me in my head. I'd also like to play matchmaker. Why did you friendzone Joseph Gordon-Levitt?
Aww look. He loves her hair. He loves her knees. He loves the heart-shaped birthmark she has on her neck and he loves the way she sometimes licks her lips before she talks. JGL, you're a soldier for friendzoned guys everywhere and you've been hiding a beautiful voice. The way they harmonize this song makes me want to just wear a big jumper and bathe in a day full of hot chocolates and marshmallows. It's adorable and so are they.
The Offspring - "She's Got Issues"
Before she delved into the throes of cutesy dresses and kinda funny TV shows Zooey Deschanel was quite cool. She appeared in this music video by The Offspring and looked like all the girls who go to art school. As she showers, various hallucinations appear around the room, kinda of like a punky version of that scene in Elf. Without Will Ferrell. And without the elves. I'd like to imagine this is the kind of footage that Gordon-Levitt watched on the daily whilst developing this secret-not-so-secret crush.
Joseph Gordon-Levitt covering R.Kellys "Ignition"
The top YouTube comment for this video says that Joseph must have "drowned in pussy that day". I can't imagine what it'd feel like gasping your last breaths through a sea of vagina juice, but after this performance I'd certainly like to dowse him in liberal amounts of liquid love - *puts $10 in douchebag jar* - but, MAN, does he have a voice. Zooey, how can you watch this video and not fall in love? Look at that smile. Listen to that voice.
Zooey Deschanel and Joseph Gordon-Levitt - "Why Do You Let Me Stay Here?"
Oh baby. This is the glamorous 50s type visual pornography that exists in nostalgia dreams. Look at them as they two step around the hall. They could have SO much fun if they were together. Think about it. On Mondays they could play kitsch guitar covers, Tuesday could be JGLs solo performance night and Wednesday they could dance around the house to music my nan listens to. Then, they'd have a snuggle party for the rest of the week. It'd be cute. It's the type of thing I'd like to see happen. I know that making up for my lack of social relationships and the fact I sob myself silly each night to Death Cab For Cutie records by latching myself on to these guys behind cupboard doors relationship is a little creeped out, but, fuck. I'm thinking it. The internet is thinking it. Can Zooey Deschanel and Joseph Gordon-Levitt just get together already? I'm almost ready to start a match making service. We'd cater in people who like records by middle of the road indie bands, bunnies, cutie pies, and dating famous people. Here's a video from a potential first recruit.
Until then, JGL, ZDL, plz make it happen. On behalf of friendzoned guys everywhere.
Sincerely,
Ryan