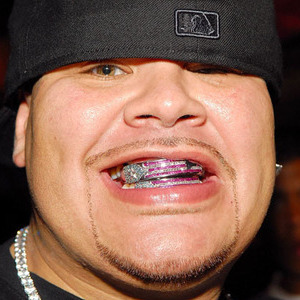 Is Fat Joe the mainstream hip-hop equivalent to Tom Petty?
As one of mainstream hip-hop's most consistent and well-selling acts Fat Joe is someone that we as fans of popular music don't talk about enough. His newest single is "Yellow Tape," a posse cut that samples M.O.P.'s "Ante Up," swapping Funkmaster Flex's barking on the original out for DJ Khaled's good-natured grandiosity and getting guest verses from Lil Wayne, A$AP Rocky and French Montana to round out the track. It's not the greatest song of all time, but it perfectly illustrates what Fat Joe does best: figure out who's the hot rapper, hot producer, hot Whatever-The-Fuck-DJ-Khaled-Does, and then work with them in a way that stays true to Joe's past as a hard-nosed New York dude who hung out with two of our greatest Bigs (Pun and L, duh) and got fire beats from Diamond D.
Joey Crack's a stylistic chameleon, and as he gets older his career has taken an arc weirdly similar to Tom Petty's--every few years you can count on him to drop an album with like three killer singles and a lot of filler, which is basically the recipe for an awesome Greatest Hits collection even if his actual catalog is kind of spotty. He even worked with Ashanti on "What's Love," which is basically the hip-hop version of Tom Petty working with Stevie Nicks (Although it should be noted that Left Eye from TLC will always be the actual Rap Game Stevie Nicks).

The thing about Fat Joe is the dude 'absolutely oozes charisma--look at these pictures from DJ Khaled's birthday party in Miami. Fat Joe is winning every single one of them that he's in. Meanwhile, in the "Yellow Tape" video he and Wayne hold French Montana up on a moving skateboard, which is the funniest. Whenever we tell our grandchildren what music was like when we were young, you bet your fucking ass we're gonna play them like ten Fat Joe songs in a row. And ultimately, cementing your place in the canon of pop music in any way you can is way more important than having an album that die-hard hip-hop heads point to as a pillar of a certain style, era or scene. So with that in mind, here are a few great moments in Fat Joe-dom.
—It's widely reported on the internet that Fat Joe was named Playgirl Magazine's Man Of The Month in May 1993. This is mind-boggling because at the time Fat Joe was a gigantic gangsta rapper whose official rap name was "Fat Joe Da Gangsta." This does not matter, because it was 1993 and shit was wild different then. Even if this isn't true, it's exactly the type of thing that people expect of Fat Joe because he's awesome like that.
—Fat Joe was pretty much BFFs with the late, great Big Pun. He paid for Pun's funeral out of his own pocket, and the pair helped increase visibility for Latinos in the hip-hop community. Here's "Twinz," which is probably the best song they ever made together.

—Fat Joe is a really good friend. When R. Kelly was in the heat of his court case, Fat Joe went to Chicago to visit him in the studio. Then R. Kelly--whose studio has lots of maps and palm trees in it--started bragging about how good a boxer he was. R. Kelly then showed him a video of him beating people up at an underground fight club. This convinced Fat Joe not to fight R. Kelly. Related: Fat Joe has made a shit ton of awesome songs with R. Kelly.
—Even today, hip-hop is still a landscape rife with homophobia--rappers routinely use homophobic slurs to denigrate each other, and if we're going to move forward as a society we have to stop using language to frame homosexuality as a bad thing. Fat Joe understands this. In an interview with Vlad TV, he pretty much deaded the entire issue. The entire thing is a pullquote, but the gist of it is that the guy asking questions is an idiot and Joe is totally cool with everyone following their bliss.
—Fat Joe is responsible for the best dance song about actively not dancing of all time. The music video features Kevin Hart, DJ Khaled and Lil Jon, because such was the drawing power of Fat Joe in 2004.
—MTV Cribs was a weird haven for celebrities to let their weird hang out in ways that it almost never got a chance to. Though it can't hold a candle to
Redman's stunner of a Cribs
segment that is so astoundingly good that it transcends "MTV Cribs Segment" and becomes a mega-commentary on the very nature of MTV Cribs, when MTV visited Fat Joe's crib he bragged about designing his own kitchen and licked one of his own shoes (it happens around
3:50
).
—I have never seen Scary Movie 3, but here is a clip of him participating in what appears to be a parody of 8 Mile from the film that someone pointed out to me on Twitter.
—Fat Joe loves the Knicks, so much that the New York Times interviewed him about it recently. He kind of made fun of DJ Khaled for being a Heat fan, which seems like a good idea. DJ Khaled is more like the Miami Heat than DJ Khaled could possibly understand.
—Fat Joe used to be way fatter than he is now. 88 pounds fatter as a matter of fact. When he lost a shit-ton of weight in 2011 he made a song called "Drop A Body" to celebrate it. It was awesome.
—Fat Joe laced his old school in the Bronx with a
computer lab with a bunch of computers in it
, which is a really forward-thinking humanitarian move.
—Everything about "What's Luv" is perfect, including Fat Joe's ad-lib of, "Put the fuckin' mic on!" before the beat drops in the song's
album version
, as well as the leather bucket hat he wears in the song's music video.
—During 50 Cent's reign of terror as the media's focal point for what "New York Rap" was, he went at Fat Joe with
"Piggy Bank."
Fat Joe survived only to put out
"Make It Rain"
and its
accompanying remix
, both of which were miles better than anything 50 was doing at the time. In "Make It Rain," Joe raps about how New York rappers shouldn't be so damn conservative and if they just switched their style up they might be able to still have hits, thereby accidentally laying out the thesis statement of his whole career.
@drewmillard, Art By @chaambler