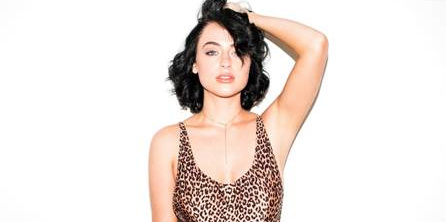 "Let's wake up naked and make out." Great plan!
Pop is so fucking good right now! Whatever Golden Age of Television! This is the Golden Age of POP! Carly Rae Jepsen, Justin Bieber, The Weeknd—all of them crushing it with songs that are unabashedly, instantaneously catchy. Songs which inspire you to make bad decisions and have a great time. Enter Alexx Mack—note the extra X so as not to be confused with the Nickelodean series, The Secret World of Alex Mack, (RIP). This Ms. Mack is an LA-based, Florida-raised, ATL-born singer who teased us half a year ago with "Bad" from her forthcoming debut EP, Like We're Famous. On that tune she came in somewhere between Katy Perry and Charli XCX.
According to Mack the songs on the EP are rooted in her own experiences. "These songs are meant to empower people, especially young females, and to allow them to not be restrained by what society's expectations are for them," she explains. "I'm at a point in my life where I value independence, growing into one's self and truly finding what makes you unique."
Above is the premiere of "Sunglasses," the second taster from said EP (out 10.9). It's a sparkling, feel free and fuck it anthem, with just the right amount of quivery synths and excitable yelping. Imagine a "Girls Just Wanna Have Fun" for 2015 and you're coming in close.
Mack had this to say about the song: "'Sunglasses' was inspired by a night out gone perfectly right. The type of night where your crush wakes up in your bed the next day. The kind of night where all your friends are under the same roof, drink in hand. The kind of party where no one is afraid to dance, no matter how crazy they look."
"Let's wake up naked and make out," she sings. Sounds like a great plan to us.
Kim Taylor Bennett is on a pop kick and her neighbors are pissed. She's on Twitter.