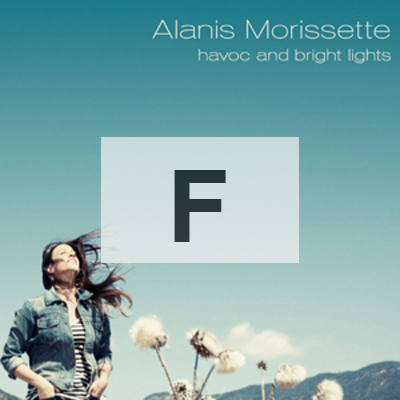 Much worse than even her detractors imagined.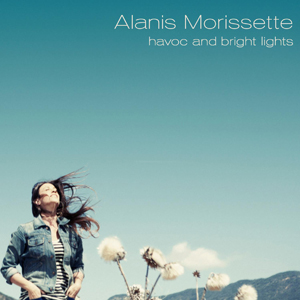 ALANIS MORISSETTE
Havoc And Bright Lights
Collective Sound, 2012
Favorites:

About that...

Flavors:

"The Kool-Aid"
RATING:
TRACK LIST:
Guardian
Woman Down
'Til You
Celebrity
Empathy
Lens
Spiral
Numb
Havoc
Win and Win
Receive
Edge of Evolution
When all those angry teens were blu-tacking Alanis next to their Leo poster, did they have any idea what they were getting themselves in for? Like all those 1930s woolly thinkers who said Hitler "at least makes the buses run on time," they could barely have predicted the hippie prig she would bloom into.
Here's Alanis on fame, in 2012: "I think fame became exciting for me in the late 90s because I could actually have it help me serve my vocationfulness."
Here's her on "now:" "I think people wanted a break from the inward-looking, quandary-esque approach and then now, not a moment too soon, I see us segueing back into a more psychological, emotional, spiritual commentary movement in music."
That's right. Alanis Morissette is much worse than even her detractors imagined. There's a song on here called "Celebrity" that, for raw insight, makes Nickelback's "Rockstars" look like "Reel Around The Fountain." Be very afraid.