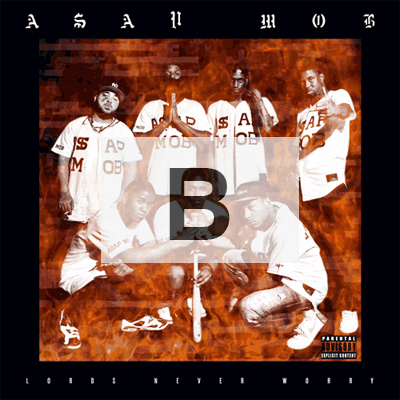 A$AP Mob couldn't give a fuck about you.
A$AP MOB
Lord$ Never Worry
Self-Released, 2012
Favorites:

"Work," "Black Man," "Jay Reed"

Flavors:

Ow My Head, Rap Snacks, Drugs
RATING: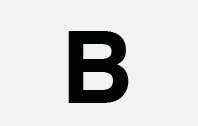 TRACK LIST:
Thuggin' Noise
Full Metal Jacket
Bangin On Waxx
Coke & White Bitches (feat. Danny Brown, Fat Trel, Gunplay)
Bath Salt (feat. Flatbush Zombies)
Persian Wine
Black Man
Dope, Money, And Hoes (prod. araabMUZIK)
Work
Y.N.R.E. (prod. araabMUZIK)
Purple Kisses
The Way It Go
Freeze (feat. Jim Jones) (prod. Clams Casino)
Told Ya (Bodega Bamz)
Underground Killa$ (feat. Raekwon)
Jay Reed
Gotham City
Choppas on Deck
What separated A$AP Rocky from the rest of the Rap Class of 2011 was not his actual rapping abilities. It was simply how polished he seemed. "Peso," his true breakout single, seemed tailor-made, not for the underground, but the radio. His post-zillion-dollar-record-deal statement, the mixtape LiveLoveA$AP, followed in a similar vein. It felt like a true statement, something that could have moved a few hundred thousand copies if it had been released commercially and had the right type of radio push. A$AP Rocky wasn't there to save hip-hop; he was there to conquer the realm of pop.
Or so it seemed. After LiveLoveA$AP's push, he embarked on a tour with his crew, A$AP Mob, providing little in the way of new music and, instead, insinuating himself within the landscape of modern hip-hop while the A$AP Mob tried to gain similar traction to that of Rocky's. Attend any hip-hop show in New York, and along with the classics by Cam, DMX, Puff et al, you're likely to hear a Rocky song or two. He's canon, at least in New York. Lord$ Never Worry represents a transitional period of sorts, one where Rocky's crew tries to assert themselves on the same level as Rocky. It's almost as if the Wu-Tang clan had released Enter The Wu-Tang (36 Chambers) on the heels of Method Man's Tical. If that had happened, hip-hop history might be completely different.
Expectations were that, with Lord$ Never Worry (the A$AP Mob tape that was released on Tuesday), Rocky and Company would continue their ascent to hip-hop's upper echelon. Expectations, we must remember, are projected upon artists, and the A$AP Mob couldn't give a fuck about you. Instead of the serving as logical progression of LiveLoveA$AP's decidedly weird-pop template, Lord$ Never Worry finds A$AP Mob mining territory that's a bit darker, a bit more distinctly New York in its aesthetic, than anything done before. If LiveLoveA$AP was the soundtrack to a million hipster coke binges, Lord$ Never Worry may very well serve as the nervy, paranoid comedown, the tape you put on after you've been to The Woods ten nights in a row only to encounter a steady stream of bullshit.
For one, there are few magnetic hooks on here, save for A$AP Nast's chanting on "Black Mane," or A$AP Ferg's near Lugeristic "Work." The songs that should ostensibly serve as the main draws on here are some of the most difficult—consider "Purple Kisses," a collaboration between Rocky and Jim Jones. It's produced by Clams Casino, providing a doubly intriguing draw—how the fuck could Clams and the Dipset Capo himself not chef up a total banger? Instead, we get perhaps the most morose song on the tape, the sedate "Freeze." It's a great song in its own way, with Jim Jones using the space afforded to him by Clams' crawling instrumental to let loose with adlibs that transcend traditional "Oh, hey, I'm saying something after the thing I just rapped!" style to an internal dialogue of sorts, as Jones responds to himself with weird dignity. "Go on trips, my miles got frequent," he raps, only to respond in the background with, "I got free flights this year." G shit, sure, but also a reflection of our times—Puff flew private, and now Jones is pushing JetBlue. Another obvious "event" song, "Coke And White Bitches: Chapter 2," is an A$AP Ant showcase at first, before guests Danny Brown, Fat Trel, and Gunplay (who in the most self-aware move in hip-hop history calls himself a "Human bath salt"), steal the show out from under him. The song itself is chorusless, with a positively nothing of a beat that sounds like something Tyler, The Creator would have created before he had major label scrill to spare. The final song that everyone who downloaded the mixtape immediately after it dropped probably immediately skipped to was "Underground," which features a typically detail-rich Raekwon verse. It lives up to the expectations thrust upon it, but just because the others don't doesn't mean they're necessarily bad.
Where the tape shines the most, however, is where A$AP Rocky isn't present at all. "Jay Reed" is essentially a latter-day rewrite of "Shook Ones, Part II," the eerie, plaintive beat of the Mobb Deep classic essentially inverted as A$AP Twelvy and Da$h manage to pull off something that's avant-garde, but retains a quintessential New York identity. If A$AP Mob is truly destined for the bright lights, it is vital that they retain this, even as they take in influences from outside regions. Hip-hop, by its very nature, is a genre with a distinct narrative, and it's impossible to progress without maintaining true to your roots. A$AP Mob seems to understand this, and so, with a little luck, their understanding of history will mean they're not doomed to repeat it.