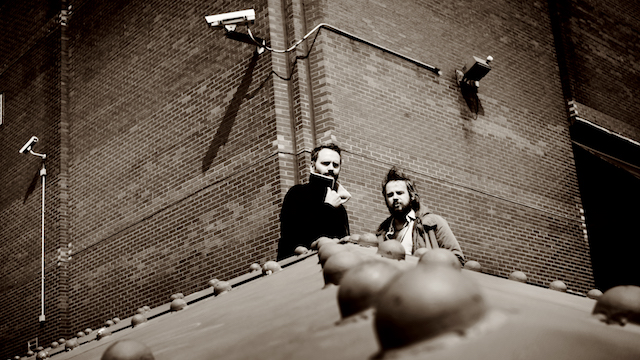 The ambient duo discuss their score for the French film 'Iris' and search for time to return to their roots.
Italy, 2007: Adam Wiltzie was playing guitar with indie rock band Sparklehorse on what would be the final tour before the death of preeminent frontman, Mark Linkous. In the audience was Dustin O'Halloran, who had just helped score Sofia Coppola's 2006 film, Marie Antoinette. The two men connected after the show. Four years later, they released a self-titled debut record as A Winged Victory for the Sullen.

"Time has a funny way of escaping us," O'Halloran told me when the duo joined me on the phone recently. Since they released their debut, Wiltzie and O'Halloran have yet to make another album that, by their measure, was truly for themselves—myriad other projects and collaborations have simply consumed all of their time. They have found bandwidth for two subsequent AWVFTS records, but both have had visual counterparts, making them reliant on the whims of collaborators and format limitations. Their second record, Atomos, for instance, was a score for a dance piece by Wayne McGregor, the seminal choreographer who's worked with Radiohead, The Chemical Brothers, and Steve Reich.
McGregor is but one of several luminaries to have enlisted their talents after hearing their music. Wiltzie recently collaborated with Jóhann Jóhannsson on his Golden Globe-winning score for the 2014 film, The Theory of Everything. O'Halloran, alongside German pianist and composer Hauschka, was nominated for a Golden Globe for his score for the lauded 2016 flick, Lion. And, after hearing Atomos, French director Jalil Lespert tagged the duo to score his new film, Iris. The score was released in January, officially becoming the third AWVFTS record. But despite its ambient tenor and skillfully developed narrative, it too presents a divergence from the creative partnership Wiltzie and O'Halloran first embarked upon. Collaborators continue to tincture the original AWVFTS sound, and even as first-rate collaborations abound, time continues to escape them.
France, 2014: When Lespert stumbled upon Atomos, he knew that he'd discovered the sound for his next film and he promptly contacted the band. Wiltzie was familiar with the director's previous work and with Iris's stars, Romain Duris and Charlotte Le Bon—both prominent figures in French cinema. Iris, a dark thriller about the kidnapping of a wealthy banker's wife in the heart of modern day Paris, intrigued the duo, and after reading the script, they were able to envisage music that would help realize Lespert's vision. Soon thereafter they committed to making Iris the first AWVFTS film score.
"I think Atomos spoke to him more because he was really looking for a contemporary feel," said O'Halloran, explaining why Lespert had engaged them. "When you see the film, Paris is not the romantic Paris that you imagine; it's really cold. Film noir, almost. So he wanted this hybrid; he wanted to include natural strings and then bring this electronic edginess to the score. It's a thriller, at the end of the day, but it's also a love story."
Wiltzie and O'Halloran began sending sketches to Lespert, most of which became the thematic microcosm of the soundtrack. During these early stages, they decided to utilize the versatility and adventitious nature of the modular synthesizer. "What I love about the modular synth is it's still a minimalistic instrument; it takes time to dial in and you're finding sounds that you'll never capture again; it's very in the moment," explained O'Halloran. "A lot of times it's just a single tone or a single pulse. And that's the way we like to work, to find a few sounds that we really love and then bring them together."
The synthesized sounds vary in character throughout the score, their roles dependent on cinematic circumstance. In "Retour au Champs de Mars," for instance, a synth colored like a fluorescent fan whirs and settles into a pulse as legato strings glide overhead. The pulse gains noise and wavers while the strings, fecund behind the weight of 40 players, grow in presence before quietly receding.
"We were trying to figure out a way to build tension without falling into the clichés of a thriller." 
Most of this will be familiar territory for AWVFTS fans, but the pulse is something new; where Atomos and A Winged Victory for the Sullen are atmospheric and rhythmically ambiguous, Iris, beholden to visual triggers and emotional contexts, needed a heartbeat.
"We were trying to figure out a way to build tension without falling into the clichés of a thriller," O'Halloran elaborated. "Jalil really wanted to create a pulse in the film, so that's where we got the idea to work with analog modular synths and see if we could combine that with our sound and orchestra."
The balance between synthesized and physical sounds is impeccable. The strings, recorded in Budapest with a renowned 40-piece orchestra, are massive and empyrean, indebted to the existing AWVFTS catalog. The electronics, recorded in Berlin with longtime collaborator and sound engineer, Francesco Donadelloin, fluctuate from noisy to pure-toned, supplying the story with a wide-ranging palette of emotional depth.
At times, the strings and electronics are in concert with one another; at others, they're in conflict, pushing and pulling to create tension. All the while, the pulse, this new character in the Winged Victory lexicon, comes and goes, shapeshifiting to help guide the score forward through moments both thrilling and tender. The classic AWVFTS sound is there, but it's been transformed. Tension builds.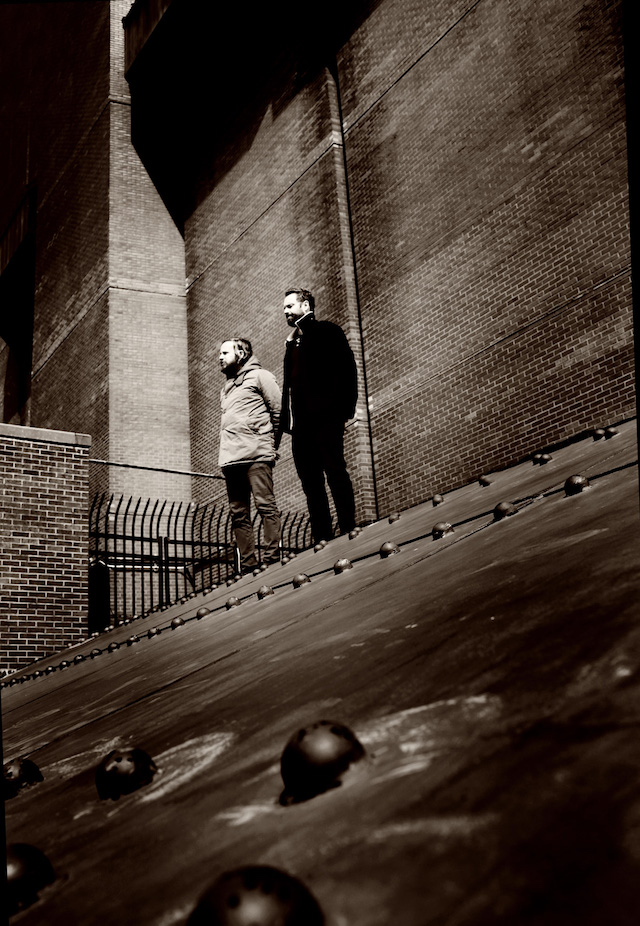 O'Halloran and Wiltzie skyped with Lespert and the film's editor, Mike Fromentin, a few days every week to whittle their pieces into vignettes that would fit within the film's tight framework. Even with Atomos, another visual project that included third party oversight, they hadn't faced these types of restrictions—this was new ground.
"Atomos was more like us making a record," said O'Halloran. "With Wayne, if we wanted to have a three-minute space of drone, he could work with that. Whereas with the film," he continued, "we started to create a lot of music, but as you get into the editing, you're on a finite timeline and things have to shift at certain points."
These demands certainly limited creative license, but they also offered a fresh compositional perspective. In the album's press release, the band wrote: "The more we were able to let go, and see the music as something that happens, like a process—not a quality, the more we were able to reach a place that sounded like us. It was as if we were making our first record all over again."
I read this passage to them, asking if this return to ground zero had forced them to reevaluate who they were as a band. "I don't want to say we're having an existential crisis, but at the same time, when you're doing a commissioned piece, whether it's for Wayne of for Jalil, they're interjecting their personality into it," said Wiltzie. "With the first record, we didn't exist; no one knew who we were, so we had to find space. It was 100 percent us. In a weird way, we haven't been able to truly do that in a way where we're not trying to please someone else [since then]."
Should these records tinted by other personalities still be stamped with the band's name? "We've been thinking about the AWVFTS name," continued Wiltzie. "We're thinking more and more—for the future, for film—we're just going to use our names, because we're going so far away from our first record. There are elements that really sound alike, but there are other elements that don't sound alike at all. How are we going to go forward?"
Los Angeles, 2017: Wiltzie and O'Halloran are currently in LA, already back at work on a film called Chappaquiddick, which details Ted Kennedy's infamous 1969 car crash on the Massachusetts island of the same name. Before this project arose, the duo had talked about finally returning to their roots.
"The Chappaquiddick thing came up and we were getting prepared to start working on a new record," said O'Halloran. "We got wrapped up in another film before we could start."
As the band continues to garner high-profile assignments, one wonders if they'll find time to return to the space they founded in 2011. Both Atomos and Iris are bona fide successes, but as long as other people are involved in the process, their music will be imbued with other personalities. In search of their erstwhile tabula rasa, AWVTFS will likely have to forgo certain opportunities and make time for a return to that blank space. "[We'd] love for the next thing we do after this to be to make a record just for ourselves again, like when we didn't exist. I think we both kind of miss that," said Wiltzie. "No one wants to create a new record as ourselves more than we do." O'Halloran added, "Yeah, it's just about finding time."
Photos by Scott Irvine, courtesy of A Winged Victory for the Sullen
Keagon Voyce is a writer based in New York. Follow him on Twitter.