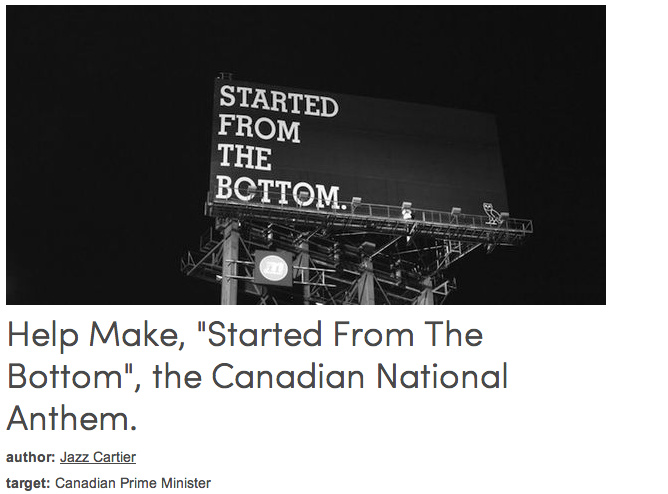 The only issue may be the fact that Drake's song doesn't have a verse in French.
"O Canada" is a perfectly fine anthem. It was written in French in 1880 for the Saint-Jean-Baptiste Day ceremony, and was translated into English in 1908 and received slight alterations until it resembled the version we're familiar with today in 1939. The point is, while it's a perfectly fine tune, it's old as shit. That's why one Canadian thinks that it needs a reboot and has started a petition to change it to Drake's "Started From The Bottom".
It's a noble attempt to say the least. "Started From The Bottom" may not be an outright Canadian song since it doesn't have a second verse in French, but it was recorded by the most notable and beloved Canadian of the times, so that must count for something. Also, the video is overtly Canadian as it features a Shopper's Drug Mart, ghostriding the whip in a blizzard, old Jewish women mean-mugging, and a youth soccer club.
The petition was started by Jazz Cartier, who justifies his cause on the petition page. "On February 2nd, 2013, my life and the lives of others changed forever. Canadian musician, Aubrey Graham better known to the world as Drake released the monumental, "Started From The Bottom." This wasn't just any song, this was an emotion that can never be duplicated. Tears gently rolled down my face during the first seven seconds of the song and I knew this was going to be something special. Canada aside, the world has never been the same since. "Started From The Bottom", is the modern day equivalent to Michael Jacksons, "Thriller". Others may disagree, but this is my petition and whatever I say goes. Drake motivated a nation, and gave life to a city that needed its hero."
--
Grand Theft Aubrey: Drake Is Running for President of the Universe
Understanding Drake's Meme Appeal