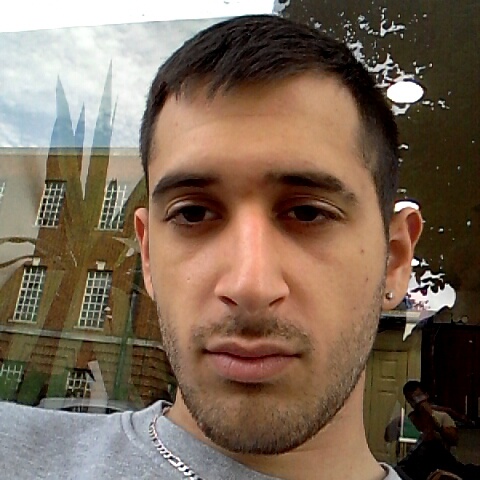 The rising grime producer weighs in on Chicken restaurants, , and not a moment too soon.
I hate how there's no American slang equivalent for "badman." How am I supposed to describe my favorite British grime artists without coming off like an Anglophile poser? "Swaglord"? "Dopeboss"? "Hardbody...guy"?
I'm out here failing to adjectivize Dark0, a producer from Northwest London. He first caught my eye with "HYLI (Grime Refix)", repurposing Cassie vocals for sinister club action. Dark0 excels at balancing percussive weight with melody. The radioactive riddims on his recent Sin EP for Visionist's Lost Codes label knock like comet collisions, sub-bass leaving trails of orchestral 8-bit afterburn. Too bad Americans don't do gunfingers. Especially not when I'm playing tracks off my laptop speakers at the office while they're trying to work. Pull up, though.
When he's not laying waste to studio monitors and club soundsystems Dark0 maintains an active social media presence, which documents his love affair with British chicken joint Nando's, his views on journalism, and spot-on impressions. In the interest of trans-Atlantic understanding I had to know more. What's life like for a regular "bloke" with soundcloud full of "massive choons"? Read on.
What's a song you can play out that will always get a big reaction?
K9's Shottas Riddim VIP Freestyle gets hands every time. Too much energy. Out of my tracks though, probably "Black Rose" or "Chaos".
When did you discover grime? Were pirate radio stations important in that discovery?
Grime wasn't really a discovery for me; it just organically happened out of garage. That was not only the music that was popping, but the culture in my area of London. I used to listen to Oxide and Neutrino and So Solid a lot back in primary and secondary school, and they certainly had those flavours about them. Come to think of it, the first grime track I heard was by Oxide and Neutrino: "Rap Dis." That was a big thing 'cause nothing sounded like that at all. Yeah, I used to listen to one garage pirate radio station. Me and my bro used to sit by the HiFi and spend our top up credit sending shouts to non-existent dumb names like "MC Gypsy Shit," and they'd actually do the shout outs and laugh about it on air. Was mad fun! Looking back, I didn't know that it was "pirate" or whatever… we just used to tune the dial till we heard garage and wait 'till they announced the phone number.
Who's been most influential for you?
Damn. There's been so many influential artists in different stages in my life. The one that had the most impact for me in terms of appreciating electronically produced music was probably Burial. Bit cliché to say that I suppose, but for real, I can't picture how he made the tracks. They have no like…structure at all. It's a collection of sounds that just sound great together. He's something else. Guido is another; his melodies and ideas in his tracks are so wavey. He's a wavey dude.
Do you think we Americans are ready for grime in a major way? Seems like it's approaching a tipping point, at least in terms of blog coverage, for whatever that's worth.
Now that we got the internet in full effect with social media and a lot of blogs backing grime, and now that the grime culture has diminished, its in a nice place to grow without any social setbacks in terms of violence and drugs, for the most part. The police used to be way more hot on these things but not so much anymore. I think London needs to be fully ready for grime, or the UK even, let alone in the States. The last big musical output from London that made it over to the States got demonized and misconstrued so much that it was almost like we didn't want to be associated with it anymore. Grime is delicate at the moment, I think. It hasn't really got any defined boundaries—which is beautiful. It needs some room to breathe and mature I reckon, before it gets deployed to the States for millions of producers to have a swing at.
If you could legislate one unbreakable club commandment what would it be?
"If your team is buying rounds, it is illegal to forget getting yours in." Oh, and "no thotties."
Under what conditions are you most productive?
4 AM, half turnt, snacks on deck.
What kind of visual aesthetic do you associate with your music?
Ribena, Vimto and Rubicon cartons of all different colours and flavours as an all-over-print on a sweatshirt worn by me, drinking a Capri-Sun with one hand, holding a Glock 17 in the other. Something like that. Or like… the Milky Way mixed with loud smoke. I dunno.
When did you start going out? What were you listening to at the time?
I started going out when I was 17. We used to go to FWD at Plastic People loads, every Sunday for like two years. That was when dubstep was getting big and I'd never heard a sound system like that before ever. That was the best times. Everyone was blowin' trees and just chilling, appreciating good new music. At that time I was probably listening to 140 Grime Street by Kano, Skream's Watch the Ride or Giggs Walk in Da Park.
What's a day in the life of Dark0 like?
Something like that homie!
MC you'd most like to work with?
Can't decide between Kano, Frisco, Mr. Wong…or Spooky Black. Most realistically Big Fris though.
Favorite non-musical sound?
Every sound can be musical I guess… except farts probably. Actually farts are funny always without fail. Yeah I'm gonna say farts for my favourite non-musical sound. Farts.
What exactly is Nandos and what's so good about it?
Nandos is a grilled peri-peri chicken joint. Last I checked only like 3 states had nandos joints. You guys have got like Wendy's and Whitecastle—we got nandos. It's the spot. Your wifey loves it, the mandem love it, the family…everyone loves it. Good vibes, good music and good food.
Trends in club culture that annoy you most?
People asking me if I'm selling drugs. Kill yourself.
Mans like Ezra Marcus fully on Twitter and dat—@ezra_marcus
Related:
Listen to a New EP from Strict Face