I Went To See The Promise Ring Reunion At Irving Plaza And Had Too Much Fun
You're never too old to sneak backstage.

Photo taken by Joe McCabe, via Brooklyn Vegan's Promise Ring gallery.
It was sometime around the end of 2011 when I received a message from an old pal of mine that read: "Promise Ring tickets for Irving Plaza. We're going." I jumped online as fast as I could, paid more for the service fee than the actual tickets, but secured a set for my girlfriend and me. Months and months passed and I completely forgot about the show…that is, until this past Sunday afternoon when I was reminded that the show was that night.
Seeing The Promise Ring reunite was important for us because, when we were fresh out of high school, we would chase the band around everywhere from New Jersey, to Philadelphia, to New York, and so on. We were about thirty pounds lighter each then, and rocking vintage shirts and geeky horn-rimmed glasses (with actual prescriptions!). We were real life nerds.
My friend Andy was a bit of a confrontational ringleader, and that made for fantastic moments. Singer Davey von Bohlen was a perfect target for his antics and became an early victim. One night at a free show in Princeton, New Jersey, Andy and I interviewed Davey for a zine that we actually didn't ever do or plan to do. We asked him really personal questions regarding his thinning hair, his then-ambiguous sexuality and the rumors surrounding it, as well as many other non-music related inquiries. He answered the final question with "Umm...I think I'm getting made fun of here?" He was right, so we left him alone…until later.
One of our major goals was to sneak into the upstairs and the basement of the club that was hosting these Princeton shows because that's where the free booze was and we were underage. We did everything from claim to be members of the band Fugazi (who would believe that?) to actually climbing a fire escape to an upstairs window. Later the same night we harassed Davey, we ended up passed out in this giant television den in the upstairs of the club. In the morning, our good pal Chris (R.I.P.) lit a couch that our friend was sleeping on on fire (it was a small flame and we extinguished it immediately). The door to the den then opened and Davey walked in. "Is someone roasting marshmallows?" he asked before noticing us, quipping "Oh geez, you guys are still here?" and leaving, shaking his head and laughing to himself on his way out. Once we finally peeled ourselves up from the floor and decided to face our crippling hangovers, we headed back to our respective homes and chalked the experience up as a success.
In a concerted effort to make things as fun as—or more fun than—our golden days, we all agreed to make Sunday's show a real blast. We all took different trains to Union Square and OUR reunion began. To speed up the pleasures of the evening, we opted for the "shot of well whiskey and domestic beer for $12" combo. In all the excitement, we enjoyed several of these before the band took the stage. I even took advantage of the $12 Bud Light tall boys they had for sale. A steal!
The drinks made me brave enough to weasel my way to the front of the crowd and to instantly annoy everyone with my loudness, height, and unruliness. They played just about every song we wanted to hear (except "Pink Chimneys!") and they played them perfectly. Davey kept the crowd in check with his classic banter between songs and kept the vibe of the show incredibly fun and positive.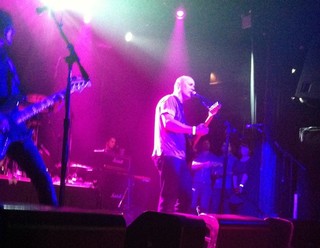 When the show ended, everyone made for the exits like a herd of buffalo. I pushed against the crowd and eyed up the bouncer, who was letting people backstage. Then I saw my opportunity: a group of people with yellow V.I.P. passes headed toward the stage. I walked up right behind them and, like something out of a movie, I laughed at one of the guy's jokes, put my arm around him and gave the bouncer "the nod." It was on. I was in.
This is where the evening got really blurry. I was offered some complimentary whiskey by some dude I've never seen before in my life. I took him up on his offer and I helped myself to a slice of pizza. I schmoozed for a good half hour while not realizing that my friends and my girlfriend were trying to call me but my ringer was off. I went on to harass the the Promise Ring guys, talking about how I hadn't seen them live in 13 or 14 years and how exciting the night was etc. etc. I think I was being cool, but who really even knows…Well, I meant well.

A newly-designed tote bag that I bought at the show for my friend, Dan.
I finally met outside with everyone who was waiting for me. No one took me up on my incessant requests to go back to my neighborhood to hang out and, instead, they took me to a bar down the street from the venue. I don't remember any of it. I apparently told everyone I was leaving and then I left the bar. I must've hailed a cab and convinced someone to drive me home to Brooklyn. I only know this because I saw a charge for $22.50 to a taxi company on my online credit card statement this morning. What I do remember is a gentleman, who came out of nowhere like an angel from above, found me puking on my porch and asked me if I was ok. I said that I was locked out so he picked me up by my armpits, got me standing, and opened the door for me.
I woke up naked at 10:00 a.m with a giant bottle of orange Gatorade at my side. I attempted to drink some but instead I ended up pouring most of it on my face and chest, the runoff staining both my skin and my bed sheets neon orange. A few seconds later, I noticed my girlfriend Stephanie standing in the doorway, arms crossed with a look of disappointment and anger in her eyes. Sorry sweetness, I was a bad, bad boy (but what a night it was).
Here's the Setlist:
1) Size of Your Life
2) Happiness is All the Rage
3) Emergency! Emergency!
4) Jersey Shore
5) Red & Blue Jeans
6) Make Me a Mixtape
7) Between Pacific Coasts
8) A Picture Postcard
9) Become One Anything One Time
10) Skips a Beat (Over You)
11) The Deep South
12) Stop Playing Guitar
13) Nothing Feels Good
14) Is This Thing On?
15) Perfect Lines
16) B is for Bethlehem
17) E. Texas Ave.
18) Tell Everyone We're Dead
19) My Life Is at Home
20) Get on the Floor
Encore:
1) Feed the Night
2) Why Did We Ever Meet?
3) Red Paint
4) Everywhere in Denver
5) Forget Me
Here are some more chances to see them:
June 27th Varsity Theater - Minneapolis, Minnesota
June 28th Summerfest - Milwaukee, Wisconsin
July 19th Riot Fest Philadelphia - Philadelphia, Pennsylvania
July 20th 9:30 Club - Washington, D.C.
July 21st Paradise - Boston, Massachusetts
August 11th Avalon Hollywood - Los Angeles, California
August 12th The Glass house - Pomona, California
September 1st The Fillmore - San Francisco, California