Behind the Lens: With Will Davidson - Director of Kylie's "Sexercize" Video
"I didn't go into it thinking, 'Oh, I've got to get Kylie's butt on the TV,' but you've got to use your assets, don't you?! She's got an amazing body…"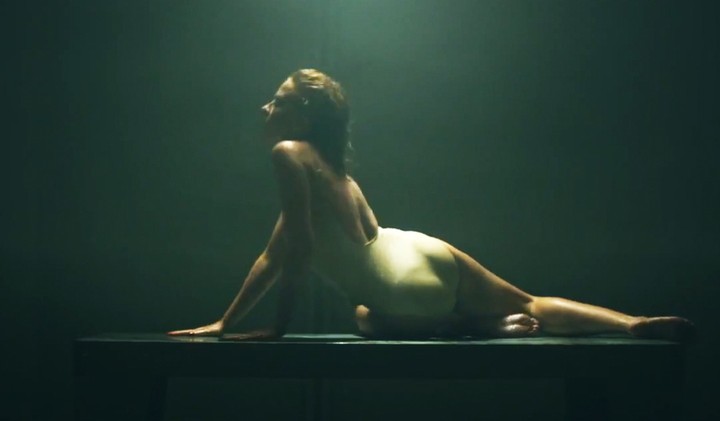 Inside a former co-ed boarding school for mostly Jewish kids in Oxfordshire, England, director
Will Davidson
got to live out the fantasy of every Australian (and British boy) who grew up in the 80s. As the director of Kylie's latest video, "Sexercize," Davidson filmed his fellow Australian writhing on gym equipment in a skintight white Wolford leotard and red Louboutins. The 34-year-old New York-based photographer/director cut his teeth as David Bailey's assistant, and now works primarily in fashion, regularly shooting covers for Australian
Vogue
and
Harper's Bazaar
, and snapping famous faces such Cate Blanchett, Nicole Kidman, Naomi Watts, Rose Byrne, and Alexa Chung for editorials across the globe. We decided to head over to his Lower East Side studio to talk to Davidson about his background, sexercizing and find out what went on behind the scenes with Kylie on the set at Carmel College—the only Jewish boarding school in Europe—which was referred to as the "Jewish Eton" before it closed in 1997.
Noisey: How did you end up in New York?
Will Davidson: I came to New York in 08/09. I'd spent ten years in London and felt it was time for a change. I was already doing some work here shooting stills, and it felt more exciting than London at the time.
Your background is in stills photography, yeah?
Yeah, I assisted a guy called David Bailey in London.
"A guy called David Bailey?!"
A guy called David Bailey, well, an amazing photographer called David Bailey! And I owe a lot to him. What was great is that he didn't just do stills, he was doing commercials as well, and I learnt a lot from him about the process.
How did you get into video?
I was doing stuff while I was assisting Bailey, and then when I left, I got more serious and was making little dance films with a choreographer friend of mine called Adam Linder. We set up this little website called Collect Nudes, a film, art space where we would create work and just put it online. It was quite successful, we got some stuff shown on Channel 4, on Dance4Film [a collaborative program between Channel 4 in the UK and ABC Television in Australia]. At the same time I was shooting a lot of stills.
How did the Kylie shoot come about?
I'd already shot her for another video—a lyric video we did together for a song called "Skirt." So I was in LA shooting that, and then I shot her for Australian Vogue in January and during that time her manager asked if I wanted to do a treatment on for "Sexercize." She already had some ideas about the gym and it was a nice collaboration. A lot of the imagery was stuff that she'd sourced and we had talked about and we sort of did it together. She was sending me lots of references—old 70s gym things—and she said she wanted to do something that was a little bit tongue-in-cheek and in that tone. I don't know whether I really achieved the 70s thing, but we achieved something.


Will at work.
It has a bit of a retro look to it.
I guess the haze and some of the flare and stuff does. She sent me a bunch of things that she liked and I sent her a bunch of things that I liked, and we built it like that, but initially it was her idea.
Were there any clips you love that particularly inspired you?
Oh tons. Some of the finishing scenes in the [Aphex Twin clip] "Window Licker," butts against the window and the champagne being sprayed on it. That was definitely an inspiration, I mean, that shot has always been an inspiration. I love Tony Scott's lighting so I always try to make it like that. The lighting in The Hunger is incredible, I'm hugely inspired by that film.
How long did the shoot take?
We shot it in London, it was a one-day shoot. We shot on a Sunday in this place called Carmel College, its an old college disused now in Oxfordshire.
That's a pretty funny place to shoot such a raunchy clip!
I know, yeah, it was actually perfect because it had that vintage, school gymnasium feel that's really hard to find now because everything is so modern. And it had change rooms that we could make a steam room out of.
Was it hard to shoot this and not be nervous?
No, she's so easy. She's gorgeous, she's so easy, and she's so normal. She's such a pro, you can tell her one thing and she does that and then she'll go and do ten other things, especially on the balls. In those scenes, obviously the choreographer was there doing his thing and showing her what to do and we did these little snippets, but once it was over and the song was still playing and we were still recording, she was just winging it and doing great stuff. She's done so many music videos in her time, she really has done it all. She seems like she's done it all.
Growing up in Australia in the 80s, you would have seen her on Neighbours [an Australian TV soap] and she would have been this total fantasy woman for boys your age. Did you channel some of that?
Yeah, definitely—she totally was. I had two older sisters, they were into her as well. She's really well known in Australia, she's like a goddess there, and in the UK but not so much in the US but she should be.
Was it fun to make this clip?
Yeah, it was a dream, every part of it. Originally we were supposed to shoot in Sydney and it fell over and got pushed back, but making it in London actually turned out to be better because we found the location we really wanted.
How did you feel when the video came out last week?
I couldn't wait to get it out. I knew it was going to raise some eyebrows, everyone I showed it to were just like, "Whoa, it's crazy!" Everyone was really excited, the [color] grader was really happy to do it. I was over the moon with the results. It's a little more sexy than I imagined it: a lot of ass shots.
Is that what you had in mind?!
I didn't go into it thinking, "Oh, I've got to get Kylie's butt on the TV," but you've got to use your assets, don't you?! She's got an amazing body.
What have you got up next? More fashion covers?
There's a lot of little things but I can't really talk about them. What's up next? I don't know. Lunch. "Sexercize" was really enjoyable, it was really fun. She's a dream to work with.
Did you learn some new dance moves?
Yeah, I know how to bounce on a ball. My abs are really great.
You've been sexercizing?!
I've been sexercizing.

Kiss Me Once is out via Roc Nation now

Carmel is an Aussie journalist in NYC. Follow her on Twitter - carmelmelouney

Related

Behind The Lens: Inside the Weirdly Wired Brain of Director Hiro Murai

Behind the Lens: On the Set of Skaters' Video for "Miss Teen Massachusetts"

Behind the Lens: At the Video Shoot for The Pizza Underground
Behind the Lens: Director Edouard Salier on His Video for Metronomy's "I'm Aquarius"