Super Adventure Mega Quest Is a Video Game with a Soundtrack That Will Let You Travel Through Time
It's the perfect experience for chiptune nerds and EDM fans alike.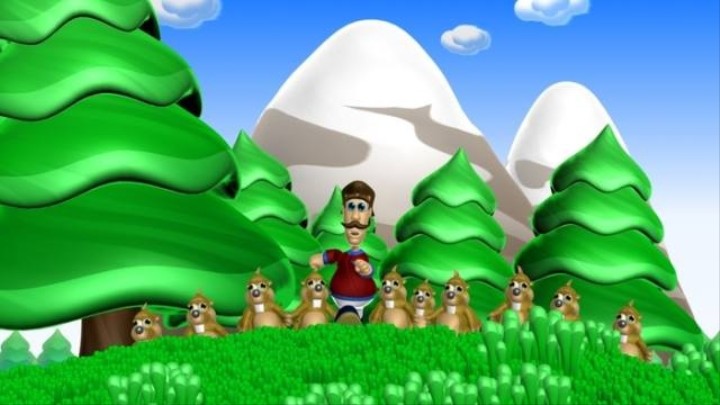 "Our project was really a love song to video games," Lance Lasheras, one of the two Vancouver, Canada-based programmers behind a new game called Super Adventure Mega Quest, recently explained. The project is also a love song of sorts to, well, songs. While the developers want to disrupt the video game industry by creating a platform game that doesn't use a traditional control pad, they also have a dream of making a smartphone-ready game with a soundtrack of original electronic music that's as much a focus as the game itself. Artists like Dan Mangan, Alex Mind, Marc Rémillard and others have signed on to create new music to go along with the game.
As an homage to video games over history, Super Adventure Mega Quest is set up to evolve in style as the game is played. One of the coolest visual elements is how each level starts in black-and-white 1-bit graphics, like an old-school Gameboy game. As you power up by collecting hearts, the game changes its layout to 8-bit color and all the way up to HD graphics, like you'd see in Playstation 4. To go along with that concept, the music will be designed to evolve as well.
"I thought it would be something really novel, to have commercial artists making the soundtrack to an indie game," Lance said. "Each one is going to be forced to make four versions of the same soundtrack for each level. They'll start out sounding like chip tunes from an old Atari, and like the graphics, dynamically evolve into full sounding modern electronic music."
Lance himself is a well-known electronic music producer, as well as the creator of the "Retro Remix" series for IGN.com. His partner for the project is Matt Roszak, a former Double Helix employee who worked as their lead 3D artist. Above all, the two want to create something unique for mobile audiences, whose game options are often limited by the control capabilities of phones as compared to consoles.
"We wanted to offer console controls to mobile gamers," Lance said. "We think there's been a huge gap in gaming do to the lack of proper controls for the platform."
Lance has long had a streak for doing different shit, so SAMQ fits into that tradition. Dan Mangan, an indie rock artist who's on the soundtrack, went to the University of British Columbia with Lance in Vancouver, where they cemented a friendship over deep frying everything.
"When Lance and I were in university, we used to meet up at like 3 AM, get stoned, play video games and see how many items we could pack into his consumer grade deep fryer," Dan remembered. "He wrecked every dingy old basement suite he lived in because the fryer would make everything smell terrible."
Those types of stoned video game moments serve as important background material as well. Dan says he's going to use every time he won a Title Bout on the original Punch-Out for NES as his inspiration for his level's music.
"I'm basically going to try and make the most fucked up thing possible, but I want it to be super catchy too," he explained.
Montréal-based producer Marc Rémillard is excited by the idea of experimenting with four different variations of one song for the project.
"I'm still unsure of the exact music genre I'll make," he said. "It's going to depend on the level I'm working on. I already have tons of ideas for a dark boss level song!"
Musicians have been debuting new music in video games for the better part of the 2000s, and the combined power of the two industries has lead to pretty impressive commercial success. Call Of Duty: Black Ops's release in 2009 brought in $650 million in revenue in its first five days. And Eminem's Recovery, which was heavily featured in that game, debuted at number one with sales of over 741,000 in its first week. Even Steve Berman, President of Marketing at Interscope Geffen A&M Records, said Call of Duty is to thank for that album's success.
But Lance says there's something unique between electronic music in particular that makes it such a natural fit for video games.
"There's a very strong hybrid between electronic music and video games that I think some people aren't aware of," said Lance. "Maybe it's something about that chip tune repetitive gaming that got us into electronic music in the first place. That's why you see Zedd remixing the Legend of Zelda theme, or Deadmau5 covering his body in Space Invader tattoos."
Super Adventure Mega Quest's creators are currently using Indiegogo to launch this dream project, hire extra design talent, and roll it out to multiple platforms. The fundraising goes until June 6, but some of the music is already out to preview. Get a sense of the way the sound evolves from 1-bit to HD production by checking it out below:
Nilo Tabrizy has more high scores than you. She's on Twitter - @ntabrizy
--
Want more video games?
Meet Mega Ran, Your New Favorite Videogame-Oriented Rapper
Everything You Need to Know About Kanye Quest 3030, the Kanye West Video Game
The Nasty Bits: How Video Games, Electronic Music, and Hip-hop Intersect