Snooping in My Midnight Heart's Closet
We headed to Brooklyn to have a nose round My Midnight Heart's closet and talk surrealists, style, and 'Purple Rain.'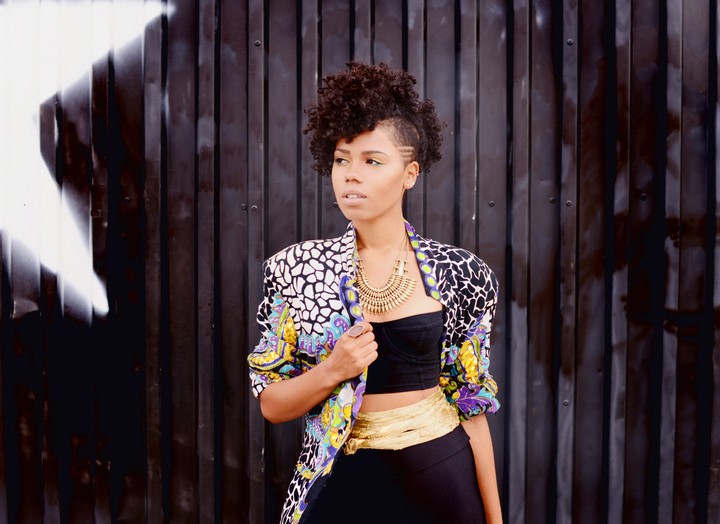 Premiere! Premiere! Here's the teaser for MMH's "Chest of Hearts" video.
In an airy, sunlit bedroom in Ditmas Park, Brooklyn, Angélica Marie—who performs under the name My Midnight Heart—is sitting on a swivel chair, recalling the tipping point moment when she decided to really start taking music seriously. After dropping out of journalism school, she spent the following year living in Boston, in a house filled with Berklee College musicians. While she was "waiting tables and fucking up," every night she would return home to be greeted by music.
"I always felt guilty about being a musician and wanting that to be my life," explains the Syracuse-born singer. "That probably comes from my parents in a way—like, okay that's great, but you have to get a real job. But music isn't just a hobby; it's my life."

After getting fired from a health insurance company, she started looking into session gigs, singing with whoever she could. When she landed her first gig, she promptly packed her bags and headed for her dad's attic in Queens. It was a now or never move. Having cut her teeth variously singing with a corporate band from Connecticut, Brooklyn's disco upstarts Escort, and the Trans-Siberian Orchestra, as My Midnight Heart, Angélica combines cosmic 80s synths, shimmering soul-pop vocals, and tribal beats. Vocally her silky tones recall Mariah's lower registers as much as London's Foxes. For a frame of reference: MMH sounds like Bat for Lashes casting spells in the moonlight with Vanity 6.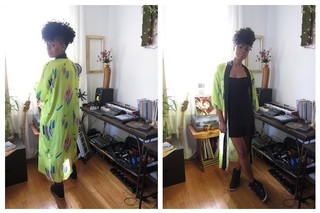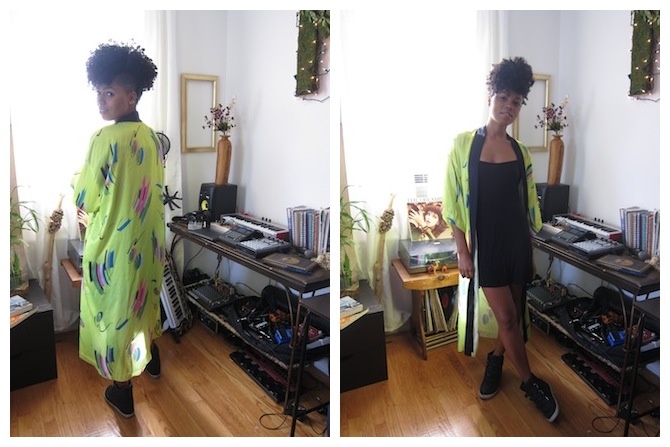 But here's the really cool thing about Angélica: her vision is 360. Her time in journalism school means she's a dab hand at Final Cut Pro, so she's the one conceiving and creating her videos—including the flickering, mirrored teaser above—and when performing, she's busy manipulating an array of gear, looping her vocals, rocking her keytar, fucking with her Electro-Harmonix Holy Grail, all the while holding focus as the frontwoman of her project. Meanwhile, Angélica's clothes selection is choice: a combination of sleek, bodycon silhouettes layered with eye-catching secondhand finds, bold-shouldered cuts, and sneaks. I love a girl who can work her kit and look out of this world, so of course I invited myself over to browse her book collection, snoop in her closet, and talk music and the importance of Purple Rain.
On the music she made before My Midnight Heart…
At that point it was very blunt, ragey, and rough around the edges—raw! I wanted that dynamic, but I've now found a happy medium between the two. I write on piano and guitar and with all this stuff over here—my sampler, my pocket piano and loop pedals—allow me to be even more creative than the piano and guitar by themselves. The lyrics used to be very heavy and "This is the way it is!" Now it's much more nuanced. I don't just want to put it all out there. There should be an element of figuring it out. It's very dream world and surreal.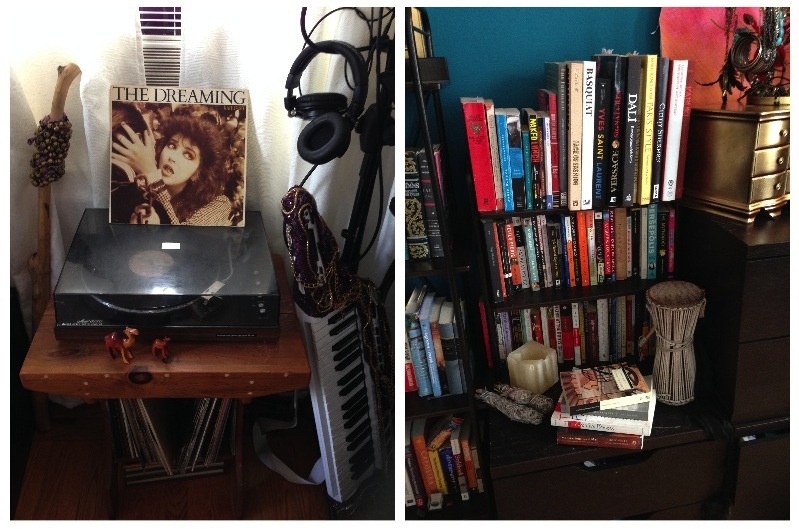 On the impact of touring as a singer with the Trans Siberian Orchestra…
It was fun to do, but it was very different. We all wore studded leather jackets, they wanted my hair to be straight so we all wore clip-in hair extensions. It wasn't me but it was fun and a good chance for me to see the Europe. I'm actually super introverted and solitary and being with people every day on a bus for four months definitely took its toll—not in a negative way—but for songwriting. I had to find some other space that I could go into because there was no space for your thoughts. Reading and listening to music became very important to me: I had to be a curator of what I was putting into my head. I started writing on my iPad on GarageBand and doing these demos that were coming from a different place than being at home with my piano and my guitar. It was having more of a hand in production from the beginning instead of arranging after the fact. That helped transition the sound.


On the importance of visuals and the influence of surrealist artists…
There's a huge visual aspect with the band, that's really important to me. When I hear something, I see something and vice versa. I say the songs are taken from my dreams and they are, but it's not literal. I'm interested in the subconscious and symbolism and diving into that and finding what I'm experiencing that's universal. So with the visuals I'm very influenced by Man Ray and Maya Deren and other surrealist filmmakers. I'm always trying to take what's been done and modernize it or find a new aesthetic that appeals to me and make it my own. For this teaser there's a lot of those symbols—the eyes, insects, clocks, water—things that have become surrealist symbols. But I'm trying to keep it pop because that's something I always come back to.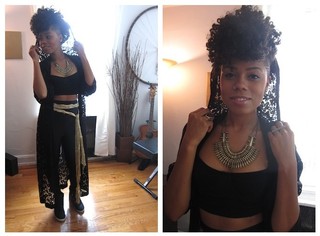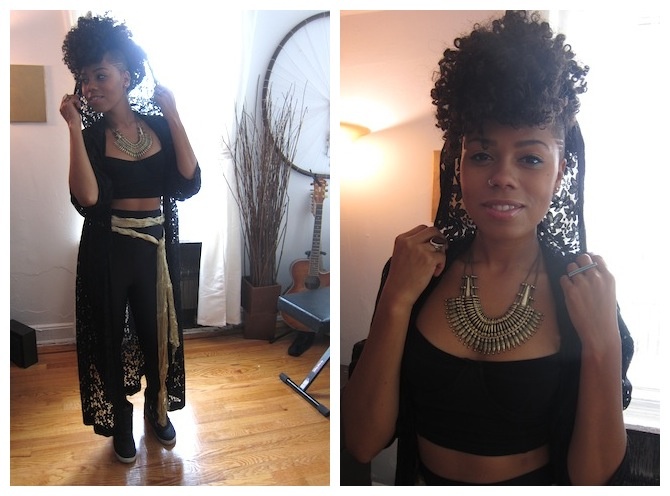 On the personal story behind "Chest of Hearts"…
All the songs are real, like, this is about this relationship, or going to this religious school that I didn't like for years, but it's taking that and trying to draw something else out of it that people can relate to. "Chest of Hearts" goes back to my childhood. My mom was strict and religious and that song comes out of wanting to break out of that. I don't want to get super into it, but it's just about the hypocrisy and this double way of living. The song starts very quiet but then it kind of has to explode because you can't live like that forever. But I don't think it's that straightforward. Am I religious now? No. It was one of those things where your parents think in order for you to be ethical you need to have religion. That's not true, but you know, they did a good job and they were trying.

"I think this is supposed to be a nightgown, but I slit it down the middle and on the sides. It's see-through and it's got a pointed hood that's a little Druid-esque, a little scary. I don't know why it even exists, but I'm happy that I have it!"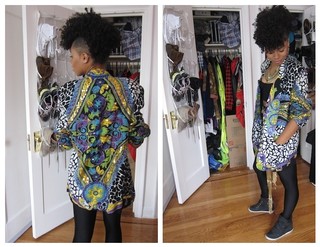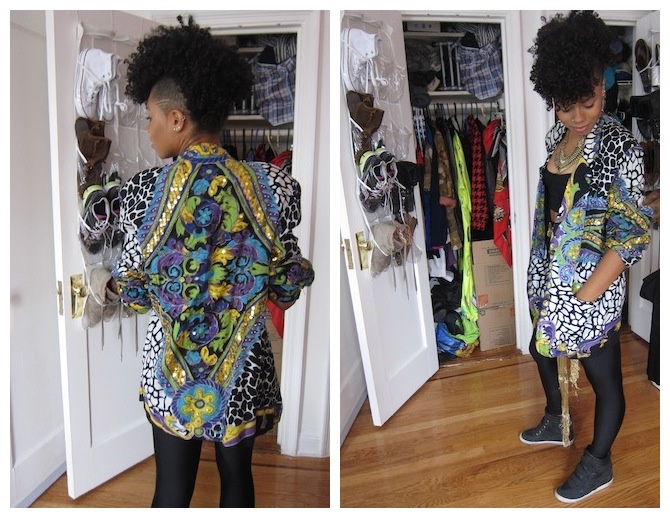 On the style of My Midnight Heart…
I'm trying to create a trope almost. I'm kind of trying to make myself into a symbol in a way. Like the warrior goddess or something, but at the same make it pop. I'm always influenced by an ethereal goddess kind of look, but mixing that with like, Purple Rain. It's kind of opposites, but they make sense together. When I first started doing gigs under this name I was wearing a lot of ethereal dresses, but it was kind of losing something for me. It was too flimsy, it was too soft and there's a strength in the music. So I was like, let me take this idea of a dreamy goddess aesthetic and make it real and I think that's where Prince and Vanity 6 comes in. Specifically, Purple Rain. The way they dress—it's so absurd! There's this part where they go to Lake Minnetonka and they're in this very pastoral environment and they just look like they're from the future, they don't belong there. It just looks dope. I want to look as confident as Prince in Purple Rain.
"This is an example of a ridiculous blazer choice. I go in with the shoulder pads—I think more of my clothes have shoulder pads then don't!"
On her penchant for statement jackets…
I'm really into jackets and blazers. I feel like if I have something basic and black underneath a ridiculous blazer or a loud kimono, I can wear whatever else and not look like I'm going to a costume party.
On where to shop…
I do some vintage shopping, but I do more straight up thrift stores and Goodwill. With vintage stores you pay more because someone else found it. I like that feeling of finding something at the bottom of a bin somewhere.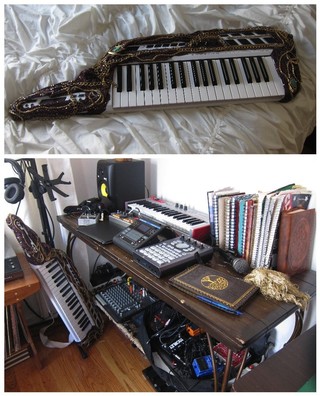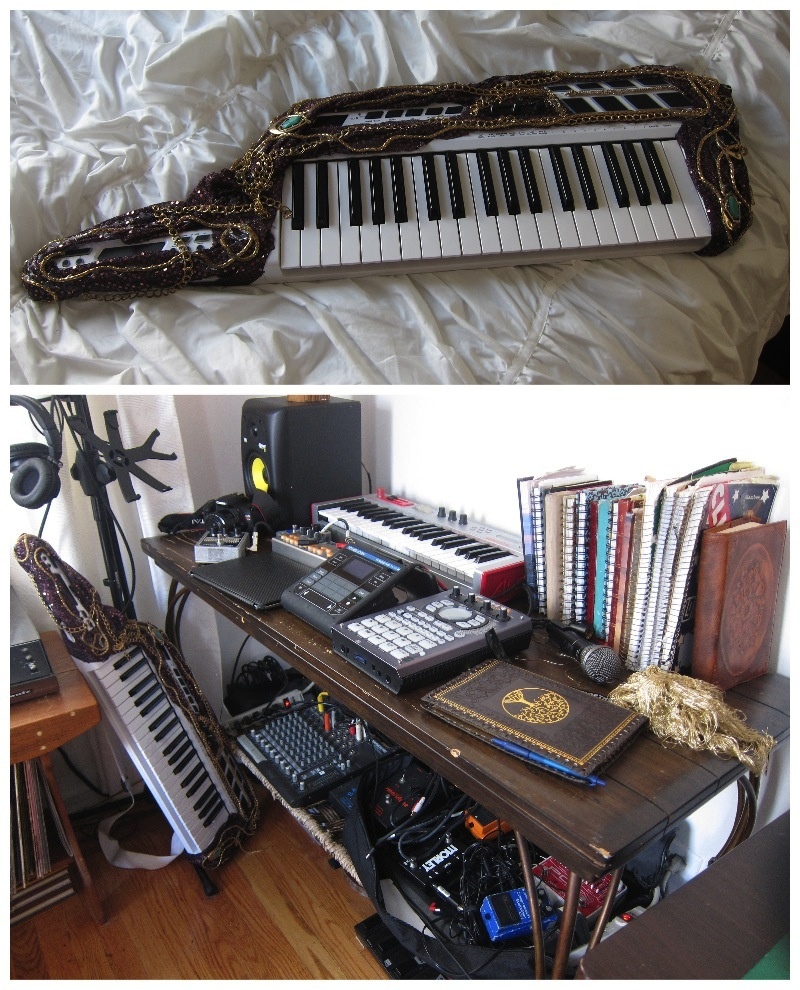 MMH's gear: Including her row of diaries and songbooks, customized keytar, Alesia Micron synth, Pocket Piano, TC-Helicon VoiceLive, Roland SP-404SX, plus lots of pedals—Electro-Harmonix Holy Grail, EH Bass Balls, EH SMall Stone and more.

MMH's first folder of poems and lyrics, circa 1998 when she was 11/12.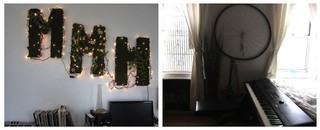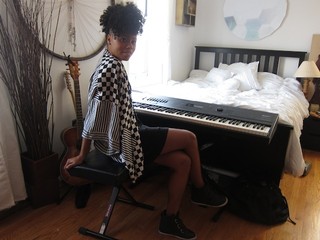 On arts and crafts…
I was actually homeschooled till the seventh grade and I think my mom definitely put this arts and crafts thing in me. I don't know if I took anything else from homeschooling except for that: homeschoolers love making shit. My brother is a visual artist and I'm jealous of that. I love being able to see something and make it and then have people see what you saw. Often I intend stuff to come out a little bit different—I'm not quite as skilled—but it brings me a lot of joy. I'm always hot gluing things and going to craft stores. I'm good at cutting; starting from scratch not so much!

"I still wear my sneaker wedges. I don't want to go too far: it's not Comic Con! Powerful but still soft."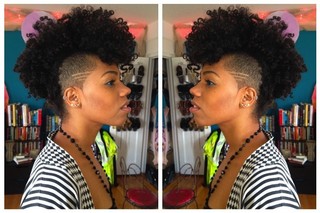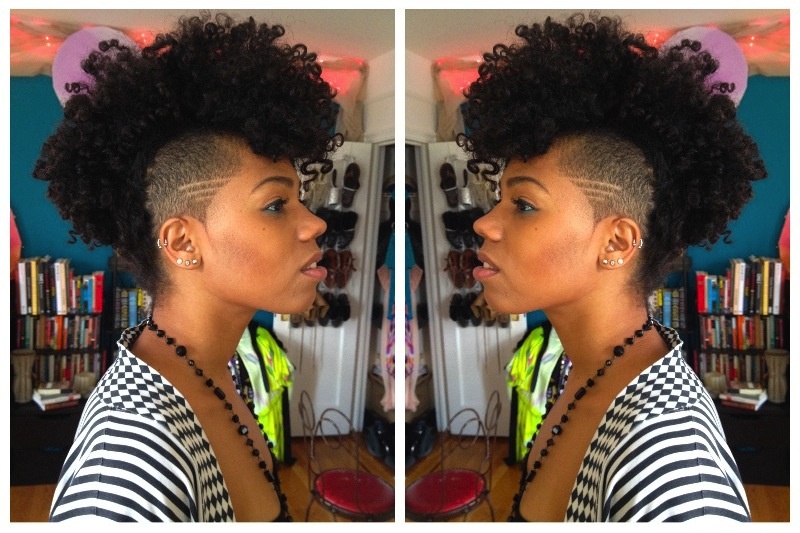 This!
My Midnight Heart Tour Dates
10/30 - Brooklyn, NY - Night Of Joy - The L Magazine party, DJ Set
11/4 - Brooklyn, NY - Glasslands - EP release show
11/10- New York, NY - Ace Hotel - FREE, 10pm
MMH's 'Chest of Hearts' EP is out on 11/5 on MNRCH.
Kim is all about that lacey Druid nightgown cape. She's on Twitter - @theKTB.