Greg Anderson on the Return of Goatsnake, sunn o))), and What's Next After Scott Walker
AND stream the new title track from Goatsnake's first LP in fifteen years!
There is nothing tougher than a return to your roots. Conversations about kids and taxes have replaced music and art. Everyone is a little fatter. The world has changed, you've changed, and the collective priorities that once were have shifted to being footnotes. Ask any one of the zillions of bands on the reunion cash train, a good solid return, and not a greatest hits glad-handing, is nearly impossible.
Goatsnake may be an exception. The core lineup of Greg Anderson and Pete Stahl originally reformed in 2010 for a one-off Roadburn date, shaking off the cobwebs to deliver a set of jams that hadn't been visited in more than seven years. But instead of the requisite US tour / festival dates / victory lap that have been the blueprint of virtually every other resurrected band, Goatsnake returned to their lair to work on new material for close to five years. The result is the Black Age Blues LP, their first set of songs in fifteen years due on June 2 via Southern Lord. Stream the new title track, and download it and "Elevated Man" now instantly via iTunes (also get each individual song on 5/5 via the same link). Preorder the record on Bandcamp or at the Goatstnake store.
With the new Goatsnake on deck, we cornered guitarist, member of sunn o))), and Southern Lord honcho Greg Anderson about the new record, abandoning your roots, and the future of sunn o))). The results of our conversation is below.
NOISEY: Goatsnake has been inactive for around a decade, you never broke up or anything, just haven't been around. I'd imagine a lot of that is due to the success of sunn O))) in a lot of ways. Is that correct?
Greg Anderson: Somewhat. It's not just coming from my end either, everyone's got a lot of stuff going on. Everyone's got families and we're older dudes. But sunn O))), yeah there's a lot on my plate whether it's that or my label, or my family. [laughs] So the band has never made a firm decision to end because we really enjoy playing together and we're good friends. It's if we have to do this, let's do this. We got invited to the Roadburn Festival in 2010, and the band hadn't really played together in six or seven years. That was kind of the catalyst to getting us playing together again. And once we got in a room and started playing together again, we remembered how much fun it was. So we kind of continued after that here and there, playing select things. As far as the album goes, for me it was about I didn't want the band to turn into this tribute act. All the material we'd been playing I wrote in like the late 90's, and I'm totally honored people still want to hear the older songs. But for me to keep it interesting, I thought we'd needed to do something new. Also it was kind of this experiment in a way. We'd been through so much, and it had been so long since we'd written anything in a while it was a test to see if we could even write a song together. We hadn't written since 1999 [laughs].
When you said you were making the new record, what was the seed of creativity? Did it come from your riffs, or where does the snowball effect begin?
Well, it was actually myself, and the drummer Greg. He was persistent about getting me to the practice room, because it had been a while. I had a third kid, and the Scott Walker thing with Sunn O))), so I came close to telling him I couldn't do it. But I had a lot of ideas for new riffs, so I committed to going to the rehearsal space and trying it out. But as soon as we did, and threw him the first riff, it just worked. I love his drumming, I love playing with that guy, we're both incredible music geeks so we spend half the practice just talking about music. [laughs] There's a real connection there as far as being big fans of music, and that comes through in the playing. It was fun, and loose and cool.
Then Pete Stahl got involved, and I think he was interested because it wasn't all just sludge and slow. It was more up beat, and I know that's the kind of guy he is. It made sense for him and it clicked, so he came up with some really cool lyrics and vocal melodies right away. So it happened from there, and we didn't think about the old music at all. Just new ideas only. And we did that for several months, and at the time we didn't have a bass player.
So it started as the three of us working on the stuff. But we eventually got Scott Renner involved, and it was funny because when we asked him to come down to try out, he studied our other albums and were like "ah we're not gonna do that, just the new material." [laughs] So I think he was kind of confused, or surprised. "Oh, this band has a legacy, and they're only working on new material." Several times he'd want to go over older stuff, and I was like only new material. [laughs]
For me it was about coming up with all these new ideas, and I didn't want anything to mess with that momentum of the new material. And really to me I was looking at this big picture of if we can pull this off, it'll be inspiring for us personally, and the catalyst for what we can do in the future. Rather than "oh there was a nice offer for us in Poland. Let's get together and dust off the old material!" [laughs] Now we actually enjoy playing together without any prompts from anything else, we just enjoyed playing with each other which is how it was in the beginning. So to me in some ways it was coming full circle in that.
One of the things to me that is very Goatsnake is Pete's voice. Take me back to the first time you heard Pete, when were you like "I think I want to start playing with this guy."
[laughs] Well Pete's been one of my favorite singers for a long time. I was a huge fan of Scream, and thought he was a great singer. Saw them in the 80's and it was great. When Scream broke up and he started Wool, I was a huge fan. And the band I had in the early 90's Engine Kid, we got a chance to play with those guys a lot. In fact, I put on a show for Wool in Seattle at this cool place at Oddfellows Hall. I always thought his voice was great and I loved his energy, especially with Scream.
Right around '95 or '96, Wool came to Seattle. I talked to Pete and I was telling him how I was thinking of possibly moving to Los Angeles because I needed a change, and he was like "man, that would be great! When you move into town we'll hook up and we should hang out!" One of the main reasons I did move to Los Angeles was the rhythm section for The Obsessed; they broke up and Wino moved back to the east coast, they were looking for someone to jam with. Sam Velde hooked me up actually, he was friends was Greg and Guy the original bass player. "This friend of mine is moving down here and he wants to start something new too," and they were like "oh we know that band, this could be interesting."
So we started playing together, and it was immediately cool, but we needed someone to sing. At the time the music was very slow and kinda sludge, and we were really into Eyehategod and St. Vitus and Pentagram, so it was really slow and downtuned and sludge. We all kinda made a decision together that it'd be more interesting to hear a melodic singer over this music rather than a screamer. So that was our mission, find someone with a lot of soul who could sing. And we were all really good friends with Pete, and at that time Wool had finished up but we thought "eh, the music is a little too heavy, he probably won't dig it." So we recorded some stuff, played it for him and he's like "man, this is great" and immediately came up with stuff and it clicked. It was a really cool dynamic where you got this super heavy music, and you're expecting to hear someone who's more aggressive and guttural and throaty, or possibly screaming over it. But then you get this really sort of sweet, melodic voice over it that has more in common with soul than it does with doom or whatever. [laughs]
Coming back and fulfilling a legacy is a really tough thing to do. Who do you think has done that well?
I've got a perfect example for that, actually: Magma. [laughs] I saw them play out here, and full disclosure I recently got into that band. I knew about them, but never checked them out. Last year, a close friend of mine we were killing time and he said "have you ever seen this Magma footage?" and I said "well I don't really know too much about that band." And he sent me some footage of them from the 70's which was mind-blowing. So I bought some records, and was pretty obsessed with their albums and I thought it was great. Turns out the drummer for Goatsnake is also a huge Magma fan, and so they were coming to town, which was a rare thing. The drummer for Goatsnake Greg went in 1999, and he told me "there are no words for it. You have to experience it." I don't want to sound jaded, but I've seen a lot of shows, so sometimes it can be hard for me to last for an entire set. [laughs] It was a monday night when we saw them play, and there was so much shit that I had to deal with at home the next couple of days, and I was tired. But it was unbelievable. I was glued to the band the entire time, and they played for two hours.
The leader of the group is in his late 60's, and he was just a motherfucker on the drums, just a powerhouse. And the band he put together was all older, and it was just phenomenal. I've never heard a band that precise or tight. I don't even know as far as their records go what their last studio record was, other than their last record was in 1999. It was funny, I basically begged this friend of mine who was kind of familiar with them in Chicago to go, and I was like "dude you have to go to this show." Worked it out so he was able to go, and he was like "I'm so glad I went, it was amazing." Probably one of the best shows I've seen in my life. It still can be done, that's what you should aspire for, and to lay it down like that is incredible.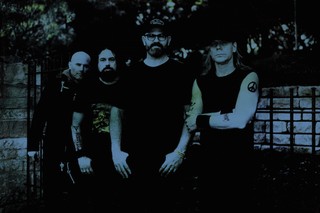 Are Goatsnake planning to do additional dates or just quick bursts of shows?
Well, we've got Maryland Deathfest, first time ever on the east coast. A personal goal of mine is to get the band to play in New York before the end of the year. With everyone's schedule, unfortunately the band isn't going to be full on touring, but we'll do as much as we possibly can.
The last record you did with sunn O))) is obviously a hard thing to top, working with one of the greatest vocals of all time. What's next for sunn O)))?
Well, we're actually going to go into the studio in July to record some new material and see where that takes us. But it is kind of a daunting task. For us, the reason we hadn't done anything since 2009 and the Monoliths and Dimensions album was because that album for us was so much work to make. We put a lot of energy and work into that album, and I'm super proud of what we did, but everything since then has been like "what are we gonna do now?" And it's not like we're always creating music together, because everyone lives so far apart. At this point, Stephen lives in Paris and the lineup for the last five years with Atilla on vocals and Tos on keyboards, I'm the only guy who lives in the U.S. [laughs] We just don't get together very often to make new music. So that's been one of the challenges with this is because we haven't gotten together.
The Scott Walker collaboration was something we were totally blown away we had the opportunity to do. Still haven't really figured it out in my head what it is [laughs]. Everytime I think about it I'm still shocked, but the opportunity for that was like "well this is a good thing to be doing after that record." But to me it was a good way to get back into playing, or making something new together. But all the music recorded on that record was written by Scott. There wasn't anything we actually wrote to it. A lot of the playing and ways it was executed came from us, but this summer getting together will be the first time since 2007 or 2008 that we've made music together. But I'm looking forward to it, I love playing music with Stephen and making music for sunn O))). It's very different than Goatsnake, and I like making music within both groups. It's very cool and I like the opportunity to work with two very different beasts.
That said, sunn O))) hasn't been a duo since Grimmrobe; it's been a revolving cast of members. After Scott is there like a wish list you'd like to work with?
We kinda don't work like that. Like there was a little bit of a wishlist with Monoliths & Dimensions, it was like "well we created this music together, here's some people that would be interesting to have work with this particular music." And honestly there was a lot of people on our list that didn't work out or didn't respond [laughs]. Funny enough Scott was one of those people, Stephen and I were really into his music and The Drift and Tilt album. We had a mutual acquaintance that linked to Scott, and we tried that angle but we didn't hear anything from him. So he either wasn't into it or didn't get the message. But he did! [laughs]
Which is why this is all hard to believe, especially how we heard. We heard through a friend of ours who worked for ATP, and he was like "what's up with these Scott Walker demos?" and we were like "huh? What are you talking about?" and he said "yeah I've been hearing there's demos with Scott and sunn O)))." We thought he was messing with us, but he told us he heard from reliable people and they heard it. So we wrote it off, and eventually what happened was he had heard the music we sent from Monoliths, but he had other ideas of his own and started writing those with us in mind. "So instead of collaborating with you guys, I'm going to write something of my own with you guys in mind." I kind of got the impression we were going to be the backing band for his album, and that's what it was until we got into the studio and started talking and working with him. He had a different vision than that where it was a collaboration record with our name involved in it as the artist, rather than a bunch of backing musicians.
What was the show that changed your musical life?
In 1985, I was a metal head, I just started getting into underground metal. I stumbled across Kill Em All in my local library, which is insane because I lived deep in the suburbs of Seattle. This buddy of mine I went to school with in 8th grade played it for me, and I was like "what the fuck is this? This is insane!" I couldn't believe what this music was, and put me on the path of wanting to find out as much as I could about underground music, or anything remotely similar to Motorhead or Slayer or Venom or Metal Church. That was what I was into, just basically metal.
There was this club in Seattle called the Gorilla Gardens, and I found out about it, and this band in Portland called The Wild Dogs played at Gorilla Gardens, and I bought their record because they looked like Metallica. [laughs] There was blood and stuff on the cover, so I was like "cool!" But they weren't really like Metallica, or anywhere that was half as heavy or cool. But I had a chance to see a band.
So I bought tickets, and I went to the show and there were two opening bands. One was called Malfunction, and the other one was called The Accused and I had no idea what that was because I was a metal kid going to see Wild Dogs. Malfunction came on and it was insane because it was like these dudes in full glam makeup, wearing robes & kimonos playing this really fast music that was noise. So I was like "that was pretty cool! Haven't seen anything quite like that." And then The Accused came on, and I'd never seen anyone play that fast, or people that looked like me up there going bezerk, and I'd never seen people slam dancing, or diving off the stage. I didn't even know what that was, so it was like the top of my skull just lifted off. It was insanity and I couldn't believe just how killer it was.
The Accused at that time were transferring from a hardcore band to speed metal. Just playing super fast with metallic influences. I'd never heard anything played that fast with the singer just going bezerk like that. So that was it, and it was funny because literally after they were done playing, and the headliner came on and it was so posed and staged with all these theatrics and stuff. I went with the friend I grew up with, and we both looked at each other and said "let's go!" We took the bus home, which was like an hour home, but we'd seen something that couldn't be topped. After that, it was all I cared about. The faster the better, and the more raw I had to have it.
I ended up seeing that band several times after that. I'd follow them around basically and the guitar player took me under his wing and made me tapes, and was like "you need to hear this!" He played me Poison Idea for the first time, English Dogs, Discharge, he turned me onto all this stuff and it was amazing. I thought there was no way; you were inferior to the people on stage, and they were above you. You'd be lucky to get an autograph after the show. That's how it seemed to me and how it worked. And when I saw The Accused, there was no difference. You could jump on stage, and jump right into the audience and they were into it! [laughs] He ended up making tapes for me and became my friend because I was just so blown away by that whole thing, and that changed everything for me. I just got really into underground music, and have been since.
GOATSNAKE on TOUR
5/02/2015 Pappy And Harriet's Pioneertown, CA
5/03/2015 Black Los Angeles, CA Black Age Blues listening party
5/20/2015 Complex Glendale, CA Record Release Show
5/24/2015 Maryland Deathfest Baltimore, MD
5/30/2015 Temples Festival Bristol, UK
6/01/2015 De Kreun Kortrijk, BE
6/02/2015 Melkweg Amsterdam, NL
6/03/2015 SO36 Berlin, DE
6/04/2015 Freakvalley Festival Siegen, DE
6/07/2015 AN Club Athens, GR
6/20/2015 Crucialfest Salt Lake City, UT