Trinidad Jame$, Japandroids, Action Bronson, Flying Lotus and Public Enemy Added to New Orleans' Buku Music and Art Project, Noisey Teams Up For Coverage
Noisey is teaming up with this new NOLA tradition, now in its second year, just formed like Voltron into a damn-near perfect music festival. They've even got Primus!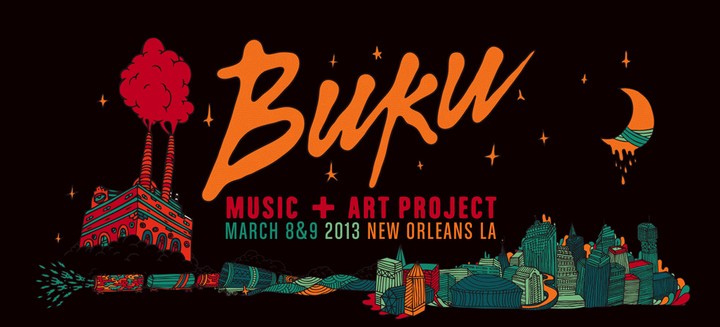 Last year, the first-annual BUKU Music and Art Project hit New Orleans like a hip-hop-dub-step death ray, turning the Big Easy into more of a kaleidoscopic 24-hour rager than it already is on the regular. This March, Noisey is teaming up with this new NOLA tradition as it returns for a second round. The line-up is a bit more eclectic, featuring rappers, producers, indie rockers, of today and yesteryear.
You'd be hard pressed to find a better festival line-up. Last month they dropped the initial announcement, which featured heavy-hitters like Kid Cudi, Calvin Harris, Kendrick Lamar, Major Lazer, Best Coast, Shlohmo, Earl Sweatshirt, Alt-J and some NOLA Bounce artists. They even managed to get Primus onboard to perform in front of a giant 3D projection, which is such a fist-clenchingly good call that it's worth the price of the ticket alone.
So today, when the festival sent us their second artist announcement, we pretty much cancelled our pre-SXSW detox plans and booked flights down to Louisiana. This year's festival will also feature VICE dam Action Bronson, Public Enemy, Flying Lotus, Japandroids, Trinidad Jame$, and even the LA dandy monome-enthusiast Daedelus. You can check the flyer, designed by the illustrious Young & Sick, below.
The festival is going down March eighth and ninth at Mardi Gras World, right on the New Orleans Riverfront. There's even a VIP Riverboat called the S.S. BUKU docked on the Mississippi River right next to the festival, with an open bar and a viewing area of the main stage. That's where we'll be pretty much the entire time.
You should stop what you're doing and snag tickets right here. And stay tuned to Noisey - we'll be bringing you exclusive coverage leading up to and from the event, including exclusive interviews and coverage from the fest!