This Modern Love: ASTR
Like SZA doing Purity Ring after listening to a lot of 90s R&B while watching the movie 'Mannequin.' Neon Gold's ASTR fill out our dating questionnaire which we shamelessly copy and pasted from OkCupid.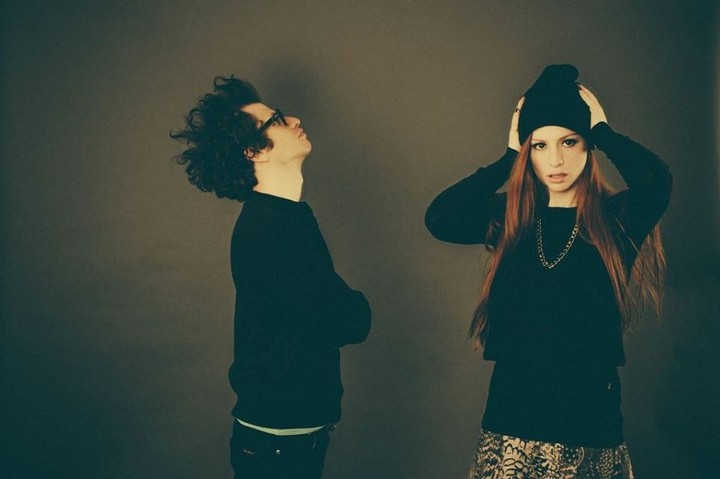 ASTR's story is much like any other: the duo met at yoga, formed a band, and covered Drake's "Hold On, We're Going Home" (they're still waiting for his call). They'd love to say they met on a dating site, but according to vocalist Zoe, yoga class might just be the right place to meet your next boyfriend, band member, or friend.
With her father as the founder of Tommy Boy Records, Zoe grew up with music all around, finding herself drawn to 90s hip-hop from an early age, the business of music was ingrained, but she was determined to make it on her own terms. Enter keyboardist and composer Adam Pallin moved to New York to be the next Scott Storch and together they make music that smoothly blends hip-hop and R&B influences with sultry electro-pop, complemented by Zoe's hauntingly beautiful vocals. Check their EP,Varsity, out this week via Neon Gold.
We caught up with the hungover duo after their recent show at Westway—a former strip-club in New York's West Village—just before they ran off to see Disclosure.
Zoe Anna: 24/F/Straight/Single/Brooklyn, NY
Adam Pallin: 28/M/Straight/Single/New York, NY
My self-summary
Zoe: I really like music, long walks on the beach, candlelit dinners, going to concerts.
Adam: I like art-house films, love to cook and have company over. I love to blend Southeast Asian cuisine and South American flavors that are robust and pungent, but sweet and savory at the same time.
What I'm doing with my life:
Zoe: Trying to do what we're supposed to do in life.
Adam: Who the fuck knows? I'm just trying to be somebody. I'm happy to be here, but I'm trying to be somebody.
I'm really good at:
Zoe: Yoga! I don't think you can be good at it, but I'm on that. Adam is a really good chef, no joke.
Adam: If there are any ladies out there who are in Chinatown looking for a chef and want to talk quantum physics, come on over.
The first things people usually notice about me
Zoe: Hair for both of us. Adam's hair stands up about three feet off of his head. My hair is really long and red.
Adam: Silky red hair that people just adore. I have this massive amount of fur on top of my head that people think, God, how did you do that?
Favorite books, movies, shows, music, and food:
Zoe: David Byrne: How Music Works. I love the movie Blow—it's a standard classic for me. I love The Walking Dead, all of the VICE videos on HBO. I've seen every one, no joke. We're really into new music that's coming out like deep house. We love Disclosure. We're going to the show tonight.I don't get to eat my favorite foods all the time. Spicy shit: everything spicy.
Adam: One of my favorite books is something I read in college is A Hero With A Thousand Faces by Joseph Campbell. It starts with a segment about Star Wars, that's how serious it is. I love Requiem For A Dream. I guess we're going to Disclosure tonight. I'm so hungover, what the fuck? Food? Well I love Thai food.
The six things I could never do without:
Adam: Dental floss, clean pair of socks, some sort of mandolin or harmonica. I'm imagining myself on a deserted island with things I need. My pro-biotic supplements. That was a joke. I could function, but not as regularly.
Zoe: Yoga Sutra. It's your code of living, you literally can't live without it.
Both: A strong Wi-Fi connection. I'm dependent on than shit.
I spend a lot of time thinking about:
Zoe: I spend a lot of time thinking about the album to be honest. It's really on my brain. He spends a lot of time thinking about time. That's his favorite topic right now.
Adam: Time and quantum physics. We're aiming to have the album done in July so it can come out in September. That might be ambitious, but we'll see.
On a typical Friday night I am:
Zoe: See a show or work in the studio.
Adam: Work in the studio. Friday night is a weird thing. You know what it's like. We live this privileged lifestyle where we don't have to show up to an office. A Monday can be a Friday if we want it to be. A Sunday can be a Wednesday.
Zoe: Friday is a workday pretty much.
The most private thing I'm willing to admit:
Zoe: I think I admit fucking everything every time I go onstage. I'm a flawed human being. I'm trying my best. Working it out! I pretty much put everything out there. I'm willing to say when I'm wrong or fucked up. I'm not really afraid of that kind of shit. Flawed. I think that's what's cool about us: putting flaws out there.
Adam: I still don't know what that word is, I'm thinking it's slob or sloth. Oh slaw, like coleslaw.
Zoe: F, as in fuck you!
You should message me if:
Zoe:If you're trying to have a good time, all the time in the world.
Adam: You're trying to hook up.
///
Have you guys ever done online dating?
Adam: Truth be told, I had a Tinder profile. It was really an experiment in sociology and an experiment in human nature. Just kidding, I met a couple of people and it was whack.
Zoe: No, I never did. I guess I was wifed up and it never happened.
What have you guys learned about dating in general?
Zoe: It takes a lot of tries. There's a lot to learn.
Adam: In the end, there are a lot of obnoxious people out there. It's hard on a dating site to try and figure out any of that shit. Just be you and have fun. Don't try to appeal to any of that goddamn bullshit. "I like long walks on the beach. I'm looking for a guy who's 5"11 or taller. I work in finance." Fuck you, I'm not trying to hang out with you. I'm 5"6, I'm short and I don't work in finance. Just don't hit me up, sorry.
Ilana's on Twitter! Follow her - @lanikaps.