Leikeli47: Brooklyn-Proud Woman Of Mystery
She crushes verses wearing a ski mask 100% of the time. She won't talk to anybody. What's the deal with Leikeli47?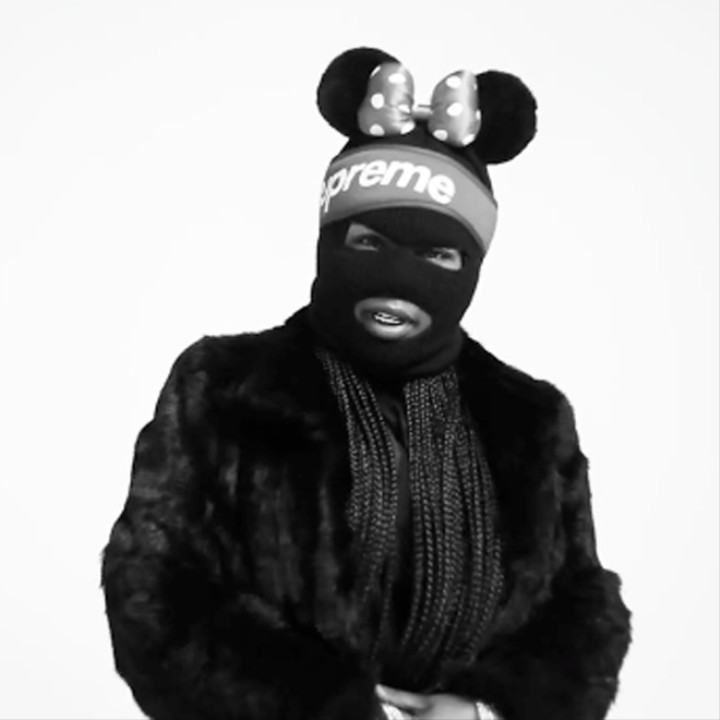 From the onset of her video for "C&C," Leikeli47 is draped in Brooklyn. Timberland boots with Notorious B.I.G. embossed ABRAHAMSSON leggings, and a hoodie that displays a screenshot of a basketball backboard in the Marcy Projects with Jay-Z's "Where I'm From" line "I'm from where they crossover and clap boards" sprawled beneath it. Oh, and there's a ski mask. There's always a ski mask.
The Jay-Z nods continue as one of 47's homies is perched against a brick wall wearing a tee that says #FuckWithMeYouKnowIGotIt and another has a shirt that reads Proud To Be A Problem. It's an atypical "Don't fuck with us" girl gang in that it doesn't feel forced, despite the fact that their ringleader refuses to show her face. Even when she's rocking a floral raincoat that looks like a throwback Lemar & Dauley hoodie, she still looks cooler than you'll ever be. Designer parodies run amuck, with a knockoff Chanel "No. Way" and "Gag" instead of "Gap" being the most prominent. New York City youngsters doing rowdy shit. "Walkin' down Hester, lookin' like a Court Jester/Heard what ya said and that's messed up/But we won't address ya/We go bang bang!" To align comfortably with the threatening lyrics, there's a dead body in the vid holding a camera as 47 struts away, flipping the bird.
Well, damn.
Leikeli47 (pronounced lah-KAY-lee) quickly slid onto the scene cloaked in anonymity. She reps New York City, but won't officially claim a borough, though we can deduce from her current visuals and her bars on her latest mixtape, LK-47 Pt. II, that she coughs up a lung for Brooklyn. She's ageless, government nameless (with a rap moniker that sounds like an AOL screen name), won't take any interviews (WTF? Hurry up!) and only speaks through her music a la Ghostface Killah during his very early Wu-Tang days and more recently The Weeknd. But like the intro "47 Gun Salute" suggests, that's why we're all checking for her.
The project opens with a soundbyte from the film The Dark Knight Rises, where Bane (played by Tom Hardy) says, "No one cared who I was until I put on the mask." It's a truthful way for Leikeli47 to introduce herself. Intrigue works.
In the "C&C" vid, her assortment of ski masks vary from a black open mouthed one revealing a grill full of gold caps, to a cotton candy pink ninja-style mask with Wallabees to match. There's also a semi-terrifying Lucha Libre-meets-John Wayne Gacy scary clown mask, and all we can see of her are her long flowing braids.
Still, all the bells and whistles of her disguise take a backseat to the music. While at first listen, she could be a hybrid of Rye Rye, Azealia Banks, and even Nicki Minaj, there's much more going on. LK-47 Pt. II (who the hell knew there was even a Pt. I?) is a mindfuck full of blips and claps and stuttering basslines with 47 leading the charge, talking all types of pleasant shit. "I'm a lot mo' Biggie/I'm a lot mo' Pac/I'm a lot mo' Diddy 'cause I ain't gon' stop," she snaps on "Drums II Clean."
Clearly she's promoting tomboy chic, as "Miss America" harbors the mantra: "I dress like a boy, talk like a girl, walk like a girl." The track was used as the runway tune for Duckie Brown's androgyny filled fashion show during SS14 NYFW, where male models in asymmetrical haircuts walked in monocoloric garb, with 47's beats being the loudest thing in the venue. And she sings too—in an Auto-Tuney kind of way—like Future with breasts on "The Root" and on "T.H.A.I." which interpolates Drake's "Hold On We're Going Home." There's also a random dance party in the middle of the mixtape called "Cus I Feel Like It," which includes DJ breaks and random rap samples splattered across the cut as it ends with Mystikal's "Shake Ya Ass."
That's cool and all, but who the hell is Leikeli47 really? Like most things, the façade will get old, so it won't be long now before she rips off that mask like a Scooby Doo villain. Until then, I'll be here waiting, cutting holes into my Topshop beanie and braiding my hair.
While she's cutting holes and braiding up her hair Kathy will also be on Twitter. Cos she likes to multi-task, duh. Follow her - @Kath3000