This Conversation Is Ending Right Now: Knapsack Say Farewell By Premiering A Live Session With Noisey
Read our interview and check out an exclusive live session recorded the day of their final show.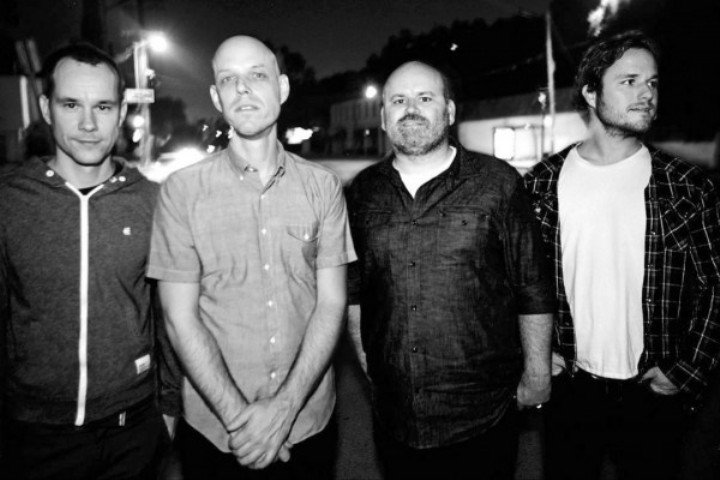 When it comes to the punk act Knapsack, either you love them or they aren't on your radar. The group lasted from 1993 to 2000 and during that time, they released three flawless albums. While their members have all gone on to play in acts like Samiam and the Jealous Sound, there's always been something indefinable about Knapsack's brand of music. You could call it "emo," but that doesn't really do it justice because the hooks are just as massive as the introspective narratives frontman Blair Shehan effortlessly weaves.
Last year, Knapsack—Blair Shehan, drummer Colby Mancasola, and guitarist Sergie Loobkoff—reunited alongside former Thrice bassist Eddie Breckenridge to mark the 15th anniversary of their final US tour. The jaunt took them down to Florida for Fest and saw them memorably ending the run in Brooklyn last November at the Music Hall Of Williamsburg. Earlier that day, the band recorded five of their classic songs nearby for posterity's sake, which you can view here now alongside an interview with Mancasola.
In other words, your week just got way better.
Noisey: What's the story behind these sessions?
Colby Mansacola: Erik Braund has a great loft, studio, and Pomeranian in Greenpoint. We recorded these songs with him and used some of his gear for the show that night. We had gotten into New York the day before and met up with friends and family out from the West Coast. It's awesome to have this and the live videos that people have posted to look back at.
What was it like playing "Decorate The Spine" in Brooklyn? Do you think that was the final time you'll ever play drums for Knapsack?
That had been a fun one to end with at all of the shows but it was on another level in Brooklyn, just really positive and celebratory. There was a sense of finality in the air and I can't think of a better way to close out that run. We've left the door cracked for the right opportunity outside the US but we want to be very careful not to ever take away from how special the shows were last fall.
Speaking of which, what was that whole run down to Fest and back for you guys?
The Fest show was pretty overwhelming, There was a point after "Cold Enough To Break" when we realized that it was the kind of night where people were even going to crowd surf to the slow jams. You have to know that it wasn't like that for us 15 years ago. People had flown in from all over the world [this time]. There were Knapsack tattoos. There was a feeling of none of it being real to be honest. Plus, we flew everywhere so it was all much more like a vacation than a tour.
Did you write at all on tour? Any chance of another Knapsack album?
No, nothing like that.
What was it like having Eddie out there with you? Do you feel like it gave the band some fresh energy?
Eddie is a saint. By the last Knapsack tour, Rod [Meyer] had quit and we had Rich [Labbate] from Insted filling in. So there wasn't really a four-piece version of the band to go back to. Sergie had just finished the [all-star Dinosaur Jr. tribute project] Felled Trees project with Ed and thought we'd all get along. It could've gone totally wrong and made the experience much different but it was effortless from day one with Ed. He's a sweet dude and a great bass player.
What are all of you doing know that Knapsack has been buried once again?
Blair is back to work and thinking about what he wants to do next in terms of music. Sergie is a graphic designer and continues to play with Samiam, mostly outside the US. Ed is going to Nicaragua for a World Water Day mission. I live in San Francisco with my wife and two kids. My day job is in digital product strategy. I also have a site called Swimmingly about the intersection of independent music and food culture and I curate the food for the Huichica Music Festival.
How did it feel to play these songs so long after you wrote them and do you still enjoy listening to Knapsack on a personal level?
After around the time we finished touring our first record, I was pretty done with listening to the kind of music we played when I wasn't playing it. But as someone who's followed indie rock for about 25 years, I'm ready for it to rock again—and in that context, I think our records hold up well. I've pulled them out over the years but it was fun to get reacquainted on a much deeper level when I started playing drums to them before our first rehearsal. I'm proud of the staying power they've had.
Jonah Bayer is a writer, musician, and disbarred life coach. Visit him on Twitter @mynameisjonah and check out his year-end food & music recap for Swimmingly here.