Math the Band's New Video Is a Real-Life Episode of 'Adventure Time'
Arcade games. Swords. Monster slaying.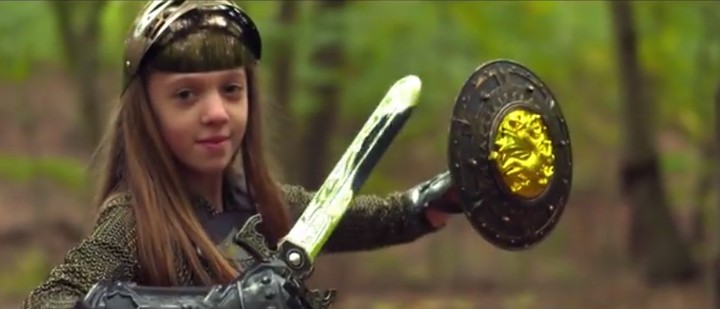 Math the Band have a history of making videos that are stupid and weird. In a good way. The Providence, Rhode Island duo has been prolific in their music video weirdness, regularly unleashing on the world people's heads exploding into spaghetti, dancing on a Mt. Rushmore made of the faces of the cast of Fresh Prince of Bel Air, being Daft Punk robots, being made of pizza, being track stars, playing at the White House, and uh, whatever this is. So when they told us they had a new album coming out called Stupid and Weird, obviously we jumped at the chance to check out their first video and what surreal insanity they had in store.
The video for "January 2008" took us by surprise in that it's surprisingly not that weird. Well, unless you consider traveling through a glowing portal behind an arcade game into a magical Narnia forest where cartoon monsters need to be killed with a sword to be weird. In which case, yes, it is very weird. But it's actually sort of adorable and heartwarming and feels like a real life episode of Adventure Time.
Check out the video above and donate to the album's Kickstarter where you can get a modified plug and play Nintendo synthesizer just like the one they use. You can use it to form a band, make songs, and you'll be making your own videos in no time. Just make sure they're stupid and weird.
Math the Band are stupid and on tour:
11/23/13 – Providence, Rhode Island - Building 16
12/6/13 – Brooklyn, New York - The Gutter
12/20/13 – Boston, Massachusetts – Middle East Upstairs
12/22/13 – Providence Rhode Island – AS220
1/9/14 – Ithaca NY - Just be Cause
1/15/14 – Greenville NC – Makeout Mansion
1/16/14 – Gainsville FL – 1982
1/17/14 – Charlotte SC – The Milestone