Lily Allen's New Video Probably Went Over Your Head
Don't call it a comeback.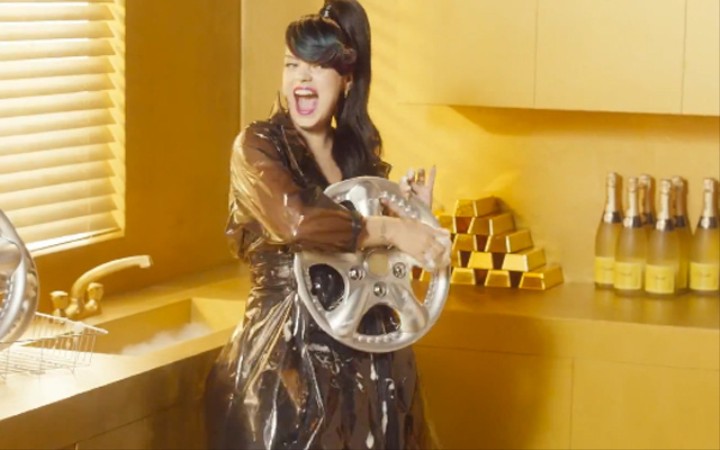 It was only a month ago when Miley Cyrus tweeted, "Listening to @lilyallen INTENSE cleaning spree." Well, Miley, Lily just mopped the floor with your ass in her new video for "Hard Out Here." Allen throws sizeable shots at Miley Cyrus, Robin Thicke, and anyone else who swims in shallow waters. Lorde tried it with "Royals," but it required someone just a tad brattier. Enter Lily Allen.
About five years ago, Lily dropped her second album It's Not Me, It's You moments before this new wave female British invasion happened in the States. Much like her album Alright, Still, the follow-up was snarky, attacking the core of modern Pop culture that tends to glorify anyone who basically looks nothing like Lily Allen. Her battle cry was arguably the loudest via B-sides, like "Cheryl Tweedy," a track about X-Factor judge and Girls Aloud alum Cheryl Cole (also the rumored female fodder behind Amy Winehouse's "Fuck Me Pumps") where she cheekily laments about not looking like a tall supermodel. She continued that progression on the cut "Kabul Shit," where she threw a proverbial eye roll at anyone who paid her any mind once she started losing weight. Sure, this sounds like the typical angsty white girl quasi-feminist ranting a la Julia Stiles in 10 Things I Hate About You, but there's much more to it than that.
The years that followed for Lily Allen were pretty brutal. She miscarried more than once, met with tweets from "fans" who said things like "I'm glad your baby died" and other pleasantries. When she finally gave birth (twice), she was called fat a number of times and accused of "falling off." She changed her name to her married name, Lily Rose Cooper, and was called a kept woman. So she brought it back to the née status and was accused of going through another divorce. It truly is hard out here for a bitch.
So that brings us to her new video, the first real glimpse into Allen's current creative space. The song is catchy (enough to survive without the video), but the jokey Auto-Tune can be grating to anyone but Future. Sure, she's found her niche once again by shitting on others, but it's with good reason. The video opens with Allen wide-awake getting reconstructive surgery as her manager rattles off all of the talk shows (Letterman, Kimmel, etc.) who won't invite her as a guest. "How does somebody let themselves get like this?" her manager asks in the operating room, as he watches mounds of fat being sucked through a tube from Allen's small frame. "I had two babies!" she says. While she's being lipo-sucked, she's watching some asses shake on a TV in the corner of the OR.
"I suppose I should tell you, what this bitch is thinkin', " she sings. "You'll find me in the studio and not in the kitchen." Allen hops off the operating table, rips off her hospital gown and reveals a noticeably thinner figure in time to suggest that you "Forget your balls and grow a pair of tits. It's hard out here for a bitch."
She's polishing chrome rims in a kitchen, she's being instructed to shake her ass in a room full of both Black and White women squatting, twerking, and licking their palms, she's taking Polaroid selfies in front of gold bars. She looks awkward as fuck doing all of it, and that's the whole point. There's even a woman fellating a Beats By Dre Pill speaker. No one is safe.
The best part of the video comes when Lily is dancing in front of balloon letters that read "LILY ALLEN HAS A BAGGY PUSSY," an obvious play on Robin Thicke's grossly obnoxious "ROBIN THICKE HAS A BIG DICK" message in "Blurred Lines." If Lily Allen can't laugh at the shit storm surrounding her and the rest of the world, then who should? You?
Since the video released earlier today, the internet has been swirling with comments calling Lily Allen a wannabe Miley Cyrus and doing whatever she can to make money. For anyone who couldn't tell the entire video was joke, we're reminded by the lyrics: "And if you can't detect the sarcasm, you've misunderstood."

Lily Allen had the not-so-unique privilege of having been thrown under the bus by not only her native British media, but by America's as well. She arrived at a time when Perez Hilton played Regina George and shared that unfortunate spotlight with Amy Winehouse. We all know what happened there.

So yes, in a confusing world of slut-shaming for not being slutty enough and being called anorexic for being too fat, Lily Allen has unearthed the joke in all of it with "Hard Out Here." You might've missed the punchline though, but turn on your Vevo and you'll find it soon enough.
Kathy Iandoli is a cultural critic, licking her palms in the NYC metropolitan area. She's on Twitter - @Kath3000