Locrian's Terence Hannum Runs Down His Favorite Iconic Horror Soundtracks
From 'Dawn of the Dead' to more obscure gems, Locrian's resident horror freak and noise master gives us a taste of "Dead Air."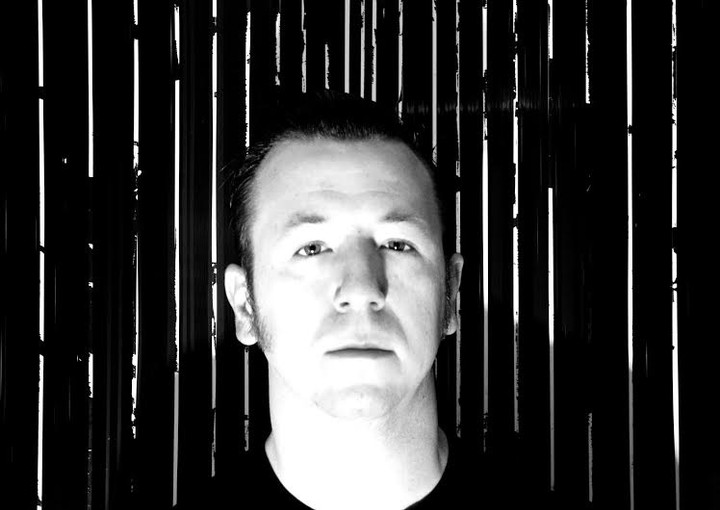 Photo courtesy of Terrence Hannum
Earlier this summer, Locrian released one of 2015's most unsettling albums in Infinite Dissolution. It's horror lie in its beauty, in its ability to effortlessly combine ethereal synth and undulating melodies with the hollow black darkness of the void. That kind of schizophrenic grace is hard to come by, but has become something of a trademark for the Chicago experimentalists.
Terence Hannum is a big part of that. He currently handles vocals, keyboards, and assorted noise, conjuring up mystery and menace with the help of a Moog Little Phatty, Moog Minitaur, Moog Source, MicroKorg, Arp Avatar, EDP Wasp, and Mellotron M400. When he's not shattering genre barriers (and eardrums) in Locrian, Hannum takes the edge off by curating a yearly Halloween-themed podcast called Dead Air. It's hosted by Stevenson University (where Hannum teaches as an art professor) and is currently streaming right here.
Given that the witching hour is edging ever nearer and All Hallow's Eve is right around the corner, it seemed like an excellent time to hook up with Hannum and find out a little bit about the horror lurking behind some of his all-time favorite movie soundtracks (and yes, there's plenty of Goblin).
1) Texas Chainsaw Massacre by Wayne Bell & Tobe Hooper (1974)
This is one of my all-time favorites, I used to record it onto tapes from a VHS. Unfortunately, from what I understand, the original audio was lost to time so most audio files you find are from the movie with dialogue and ambient sound. Apparently, Wayne Bell and Tobe Hooper dubbed the audio while editing the film in Tobe's home. This is one of the best Industrial albums never released, combined with some eerie country songs it makes it excellent. Eventually I assume someone will release this, but it is still one of my favorites, that screeching sound is apparently a pitchfork being scraped on a table. Einsturzende Neubauten, eat your heart out.
2) Dawn of the Dead's "Main Theme" by Goblin (1978)

3) The Beyond by Fabio Frizzi (1981)

This is one of my all-time favorite horror films. It makes no linear sense, but if you think of it as a Surrealist collage in brutal tones you may appreciate it as much as I do. The second film in Lucio Fulci's Gates of Hell trilogy uses extreme gore, non-linear narratives and shock tactics to tap into cruelty and shock you awake. Fulci was heavily influenced by Antonin Artaud's Theatre of Cruelty but the composer Fabio Frizzi made a lush, interesting and moving score full of choirs and mellotrons.

4) Let the Right One In by Johan Soderqvist (2008)

I have to go with something more recent, I think it is really easy to stick with many older films from the 1980s and 1970s for some excellent soundtracks. Johan Soderqvist's soundtrack for this eerie vampire film set in Sweeden uses organic symphonies with chilling electronics for a melancholic effect that sounds like a cross between Fennesz and Penderecki, and approaches a romance, or a melancholic romance, more than traditional horror.

5) Halloween III by John Carpenter and Alan Howarth (1982)

6) Carnival of Souls by Gene Moore (1962)

One of my favorite films of all time, so much atmosphere and a very forward-thinking horror film. Gene Moore did most of the composition with organs and it really fits with the character, Mary, as an organist and the dream like state in the film. Great film to watch that influenced people like David Lynch and a great score of haunting organs.

7) Under the Skin by Mica Levi (2014)

8) The Shining track "Rocky Mountains" by Wendy Carlos (1980)

9) Angst by Klaus Schulze (1984)
This is a special film, just reissued on Blue-Ray and entirely worth your time if you enjoy anything like Henry: Portrait of a Serial Killer or Manhunter—it was a huge influence on Gaspar Noe. Even better is that the soundtrack is by Klaus Schulze (a brief member of Tangerine Dream and Ash Ra Temple before going solo and making groundbrekaing electronic music) and this score is epic and laden with synths, pitch wheel bends and other drones that go well with the inventive approach to horror in Angst.
10) Beyond the Black Rainbow by Sinoia Caves (2010)
Like
Halloween III,
this is a really flawed film with a great score. However, despite its shoddy over-acting, it is a visually stunning film combing lethargic pace, utopian drug culture, and Andromeda Strain-type visuals. The soundtrack is absolutely worth your time; Sinoia Caves is Jeremy Schmidt from the band Black Mountain, and dips into heavy Carpenter and Tangerine Dream influences to bring us something bleak from the other side.
Bonus: Hellraiser by COIL (1987)
This film is so tame for even what it wants to achieve; the "carnal" pleasures seem pretty vanilla in the internet age, and it is a bit painful to watch (no pun intended) with a pretty mundane score by Christopher Young. However, when Clive Barker was feeling a bit more bold with what he wanted to do, originally the industrial duo Coil recorded the soundtrack. It was scrapped later by the studio, and while I don't think it would have saved this film or made it feel any less tedious to watch, it is a compelling listen on its own.


Kim Kelly is hiding under your bed. She's also on Twitter.