The Orwells Don't Want To Grow Up
Given that these Illinois punkers are still in their teens, they've got ample time.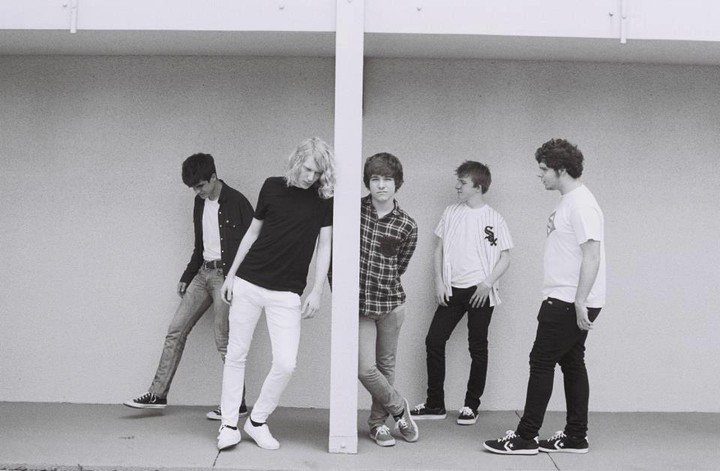 Alright, let's just get this out of the way: everything you'll hear about The Orwells in the next six months is gonna be anchored with a quip about how young they are—aside from barely-legal singer Mario Cuomo, everyone in the band is seventeen. But what nobody will talk about is how perfect that is, and how these young suburban punks know exactly what the fuck they're doing. The Orwells are proud of their age. They think it's a great thing to be young, fresh, and hungry. What they don't like are the endless drunk women pinching their cheeks and treating them like a novelty.
This self-awareness for what a special thing they have is clear when we discuss the validity of college. Matt, a brash and powerful speaker, tells me, "Our thing with college is that, for us, it's like, you can go to college any time in your life. You can not be in a punk band any time in your life. We have the opportunity, so let's fucking do this. If it fails? Then we'll do whatever the hell comes next. You're not gonna be able to do this again." Singer Mario brushes his hair to the side and adds, "A quote that really fucked up my mind is Cole from The Black Lips said, 'If you have a backup plan, you're gonna fall back on it.'"
The Orwells don't need anything to fall back on. If there is one incongruous quality they all share for being seventeen, it's a rabid and vicious ambition. Matt tells me about other kids in their high school and how "everyone has a talent. Some kids are good at football or painting. I think what separates us from those kids that, with us, we didn't slow down. We pushed ourselves. Every week, we recorded a song; good or bad. We're just gonna go for it. We didn't waste our time. And that's what high school is: a big waste of time."

One thing The Orwells are definitely not ready to fall back on is the suburbs. It's what we talk about most when I interview them before their second show at The Echo, and it's a hauntingly apparent theme on their new album. It's definitely a zone they don't want to be tied down to. "We know it's just going to get better. We don't feel the need to dominate the high school party scene in the fucking suburbs of Chicago" Mario laughs. So what does a Chicago teen get into that makes him want to wail the fuck out of Illinois?
Matt: For me the biggest albums were Is This It? and, oh, Jack White. Jack White is the reason I picked up a guitar in the first place. But those guys don't mean shit to me anymore, 'cause they're old and they don't have what they had anymore.
Mario: It is a little embarrassing, but the first time I saw a dark frontman tear shit up on stage, it was Gerard Way from My Chemical Romance. He was cool!
Grant: Mine would definitely be Joy Division. Like, Peter Hook was phenomenal and inspired me to pick up a bass and not a guitar. I don't think I would have played bass if it weren't for Peter Hook. But also, you look at New Order? That's 80's shit.
Mario: New Order is pretty good.
Dominic: Yeah man, they're not bad.
Grant: I don't like that shit.
Mario: Well the darkness left when Ian Curtis hung himself.
Dominic: He hung himself?!
Matt: I don't think the darkness in our music comes from the dark bands we listen to, though. There's a dark side to being our age. You get, like, American Pie movies that fucking glamorize it, but there's fist fights, drugs...
Mario: The confusion, not knowing.
Matt: I couldn't name one movie or song that captures high school the way I see it or live through it and our goal is to show people what we went through. It was not bubblegum or happy. It was a dark, scary—well, it wasn't scary, but it was weird. It's confusing.
That confusion and dissatisfaction with school is a large part of The Orwell's work and, unlike other teens, they're not ready to be content with that. I ask them about one of their rawest cuts from Remember When, "Never Ever," in which Mario exhaustively exhales, "We've got this fear of aging." Mario is eager to tell me the story of how that song came to be and its simultaneously typical, unique, and perfect.
"There was a certain day all those lyrics happened. I was accused in the lunch line of telling a lunch lady that I was gonna hit her or something. But she didn't speak English really well, and she must have misheard me. And I was so, like, infuriated with being accused of something so fucked up, I just flipped and, before I knew it, there were, like, five teachers around me. I was just booking it through the school and ran through the gym and hit this door. Luckily, this really cool gym teacher opened the door for me and saw how pissed I was and he let me go. Then, on my walk home, I stopped in this random field by my house and sat down and fucking busted out the notebook and I was like "What do I got right now?'"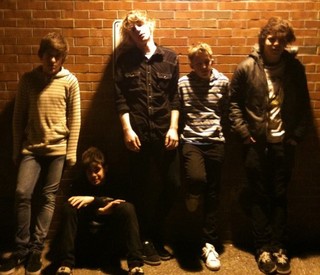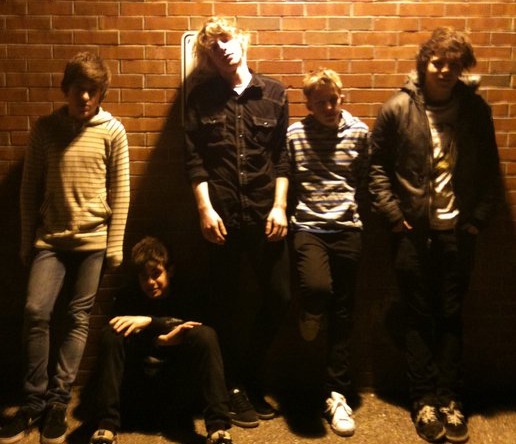 That lyrical honesty is one of the things The Orwells pride themselves on, and it's certainly born out of a more tender and scratched place at seventeen than the standard fare of late-20s garage rock. Grant says that they'd "like to be in the scene of garage rock, but not play garage rock that other bands play." On top of that, Matt feels like most other bands in the scene have a problem: "They're not really up-front. The worst thing to do in music is to hide behind metaphors and keep your voice low. You have to be ballsy and raw. If you're honest? That's all anyone wants—in music or art or movies. That's my struggle with a lot of these newer bands; they're getting a little too abstract for me to even understand them. It's hard to relate."
This is the biggest thing about these guys: they know who they are and why they're doing what they're doing, because they have to. However, for as much as they are wise beyond their years, they still get geeked. They're still seventeen. Before they play, there's rumor that someone from Pitchfork is in the crowd, and you can tell that's a big deal for them. Tomorrow night we'll find ourselves at another house party, where most of the band is nearly losing their shit that Kickball Katy from Vivian Girls/La Sera is in attendance (though, they couldn't give one single fuck that Moby is in the other room sharing a decanter of wine with a bunch of lit-heads).
This magical, young rock-nerdom is gorgeous. As we walk into the venue down a long hallway resembling that of some rock arena, Mario runs his hands along the walls and shouts, "Hello, Cleveland!" It's definitely a joke, but you can see the earnest want for that moment in him. Most of the crowd in The Echo is there for American Royalty's brand of plastic, foggy rock Ephemera, but the second The Orwells take the stage, you can tell what band everyone is going to remember in the morning. On stage, there is no high school, no college question, no "What's the next move?"—No age at all. They are everyone they want to be. I lock eyes with Mario and I see Gerard Way and I see his other idol, Iggy Pop, and I see a frustrated kid sitting in a field in Illinois scribbling exactly what he feels in a composition notebook.