Watch The Prettiots' Richard Kern-Directed Video for "Boys (I Dated in High School)"
Careful boys: date a girl in a band and you might end up immortalized in song…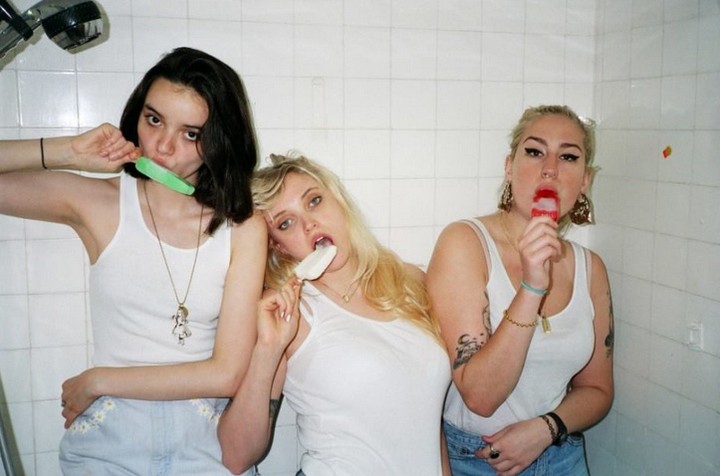 It's hard not to fall for the cutesy, unexpectedly candid lyrics of The Prettiots' latest single, "Boys (I Dated In High School)." While the awesome, ukulele-infused indie-pop tune might make you cringe by reminding you of your own teenage dating shitshows, it's more of a playful, musical montage of the once juvenile love life of Prettiots leader Kay Kasperhauser, who sings about love gone awry due to misleading texting skills and general male lameness. Above is the premiere the track's adorable new music video—directed by photographer and filmmaker Richard Kern no less—featuring the girls casually chilling in wife beaters and surrounded by laconic male models such as Marcel Castenmiller (jealous). We also nabbed some dating advice from Kaspherhauser, as well as T. Swift insights: the two go hand in hand, duh.
Noisey: How'd you come up with the name Prettiots?
Kay Kasperhauser:There was an IT guy at the place where I used to work and he said something about people who are idiots getting by on their looks, calling them "prettiots." I was like, "You're kind of a dick but that was a great word." I don't think he knows. People in other countries cannot handle it. They can't say it, they can't spell it and they have no idea what it means.
How much of the song is based on reality?
One hundred and fifty percent of it is true. I didn't even change the names that much. It's really bad actually, I'm kind of freaking out about it… like some of them I haven't spoken to since we dated, so like I don't know how they would ever hear it. But yeah, I'm super terrified. Since we released the song, I've woken up every day in the grips of a cold sweat.
Do you think dating these kinds of guys was just a high school phase?
Yeah. I mean I definitely dated some duds after high school, but I really like set the foundation for that back then. And, on the record, I'd like to say some of them were great guys. They just happened to do something funny that ended up in my song. Actually, all of them were great guys.
What was your high school experience in New York like?
It was fun. I didn't actually hang out at my school that much, or with people from my school that much because I lived in a different neighborhood. I started going out, like going "out, out" when I was still in high school, going to the Misshapes and the Beatrice. So I met people there that are still really good friends of mine now.
Where's the best place you've ever gone on a date?
The best place I've ever been on a date was one with a guy who was actually named Dan McMann, and it was the best date ever. I almost put him in the song, but I was like, "He's too rad to go in this song." We went on a date to the Natural History Museum. Then we made out and it was just like a good, classic, high school date.
I should probably say somewhere also that I went with my current boyfriend. Oh, we went and saw The Godfather II in theaters this year, and that was an amazing date.
And the worst date ever?
The worst date I've ever been on… well it was actually kind of a great date but on paper it sounds really bad. We went to this 2 Bros 99¢ Pizza, and there was a bunch of our friends there. The only people that knew were me and the person who was on the date. But we were trying to be under the radar, so we were like, "Let's go on a date and have all these other people be there." So it was a secret date.
If there are any, what dating rules do you follow, or at least think others should follow?
Well I have a boyfriend now who I love very much, and I guess my rules are… oh actually yeah, I do have a rule. "What would Taylor Swift do?" That's my rule! Me and my best friend have this thing where we're like, "That's not a T. Swift move." She seems like a person who makes healthy decisions… so if we're like, insulting one another, we'll be like, "It's not what T. Swift would do." She obviously has made her own mistakes in her love life but as of now it's like, what would she do? She would "Shake it Off."
The Prettiots have a residency at Pianos in the Lower East side every Tuesday of September, 2014.