Cory Branan: A True No-Hit Wonder
His debut album was a media darling. Twelve years later, the honeymoon has worn off but he's still one of the country's best songwriters.
"He could have been making a killing peddling a dream but if you found him at all, you found him just scraping a living, blood to string." - Cory Branan, "The No-Hit Wonder"
///
Cory Branan isn't one for optimism.
Two days before his new record, The No Hit Wonder, officially drops, and at this point in his career, he has no expectations at all. "I'm curious to see how it will do," Branan says, before tamping any hint of hopefulness back down. "I've been doing this so long, I don't expect a lot of things."
But it seems for all the world that The No Hit Wonder will, for the first time in a long time, reward whatever optimism Branan can muster. His second full-length on alt-country staple Bloodshot Records has been widely praised, sold well during pre-sales and debuted high on the singer/songwriter charts the day it was released. It is seen, more than anything, as Branan's most accessible album in a decade.
That word—accessibility—is in persistent question for Branan, an artist whose songs float effortlessly from punk to blues to country to classic rock and everywhere in between. He's spent a career making music precisely how he sees fit, even when his choices have closed the door on potential fans. Branan's lack of optimism is part personality, part acquired response.
For people who have followed his career, Branan is maddening. He radiates talent. He's a powerful songwriter, a world-class guitar player, a singer with enough melody and grit to please the ear and stick to bones. He crafts complex songs, toying with structures and characters in ways most songwriters never consider, let alone have the guts to commit to record.
His choices often come at the expense of pop sensibility that would actually, you know, sell those records. He writes barn-burners and ballads and plays them live to great success, only to rewrite them into almost unrecognizable arrangements and melodies for his albums. He's a southern charmer with a punk spirit that has, over the years, belied appeal to anything resembling a wider audience. To say that the music gods have been cruel to Cory Branan masks perhaps his truest foil: Branan's own ambitions for what his music should be.
Over his sometimes inglorious career, he's built a network of admirers, mainly in the punk world, who are drawn to his songs primarily because they are uncompromising and rewarding through patience. The genius is there—it's always been there—but only now has Branan found an industry niche willing to accept his music and not try to shoehorn him into some false archetype in which he's always refused to fit.
Branan's first album, The Hell You Say, was put out by Madjack Records, a tiny, one-man label based in Memphis, in October 2002. It received the kind of critical praise reserved for artists the industry believes are worth watching. Rolling Stone, still a titan of tastemaking in the internet's early days, compared him to songwriting contemporaries Ryan Adams and Conor Oberst, and ran the review with a full-page photo of Branan, unshaven, shirt buttons askew. Billboard called Branan a "songwriting prodigy." Playboy heaped on the most improvident praise of all. "A new voice emerges to run with the greats," the magazine said about the record, and the artist. With the greats! Branan still had a day job.
"I was just an idiot. Living in Memphis, bartending," Branan says. When he first began putting pen to paper, the batch of songs that became The Hell You Say, Branan's first album, spilled out of him. While there are a few departures here and there, the album's 13 songs hang together through the gravitational force of Branan's acoustic guitar, his picking and singing oozing Americana at a time when Americana as a brand was booming. The songs had a sound, and others around the Memphis scene and beyond saw promise.
Madjack was and remains a small shop—Branan repeatedly calls it a "real modest label"—and there wasn't a lot of institutional support behind the album. There were no proper tours. There was just a record and a lot of kind words from music journalists. And a promoter.
Branan and Madjack caught the attention of Shelby Meade, a promoter who, at the time, represented Moby, Ween, and other major label name brands. "She was a monster, you know? She was way out of my league," Branan says.
But she believed in the songs, so she took Branan on as something of a pet project. "When I first heard the music, I thought: This kid was incredible," Meade says now. And she knew people. She leveraged Branan onto the late night talk circuit, scoring slots on David Letterman and Carson Daly. On Letterman, Branan played an inspired and terse version of the typically jolly album opener "Miss Ferguson," his eyes squinting and bulging as he speak-sang his way through the song. It was a raucous rendition, and as Branan jerked a final sour note from his guitar, the audience hooted and roared. Dave strode on to the stage to shake hands.
Life was moving fast back then, Branan says. But the direction was clear. There was trajectory. In the course of just a few months, Cory Branan had released a critically acclaimed album, posed for a photo spread in Rolling Stone and played, twice, on national television. Cory Branan was on his way.
Until he wasn't.
///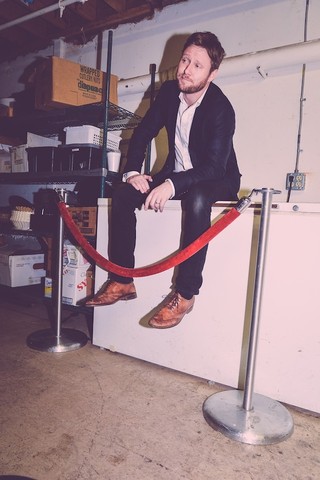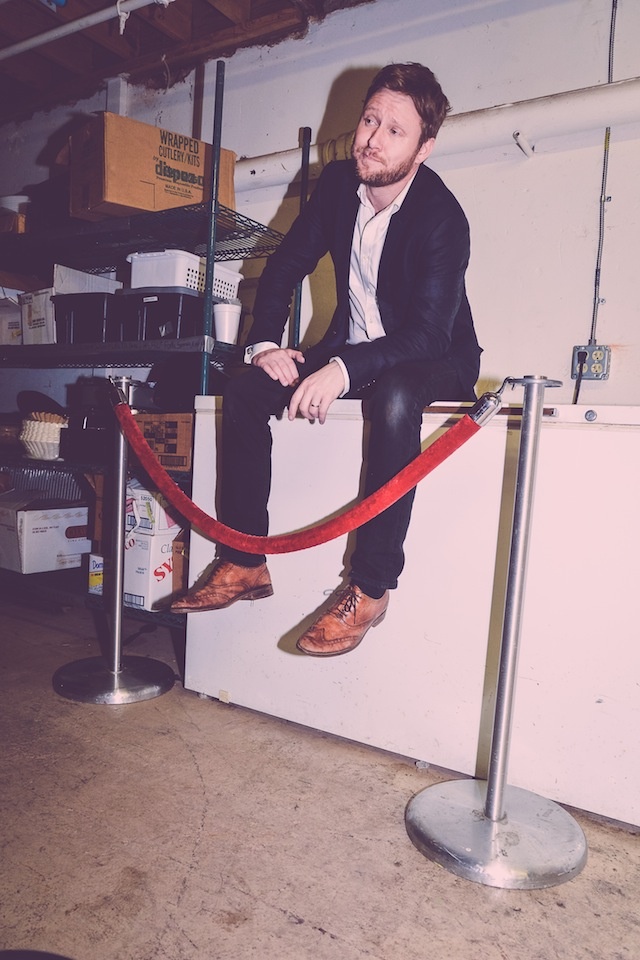 A Cory Branan live show is an experience. The man who says he's never played a song the same way twice gravitates towards the dramatic on stage. He punishes guitar strings, stops and starts mid-song, stomps the stage, teeters between melody and strained growls. Plus, he's a storyteller, both in his songs and between them. Anyone who's seen Branan a few times has heard the yarn he spins about eating fried chicken and dunking a basketball over 12-year-olds on an 8-foot goal. But it never ceases to entertain. Branan is a showman, through and through.
The first time Tim Barry saw Branan perform, they were both playing a pool party at a house in New Albany, Indiana, the deep suburbs across the Ohio River from Louisville. It was 2006, and Branan had been touring on The Hell You Say for nearly four years. He had more than enough material for a new album and was ready to go back in the studio, but financial constraints at the label muddied the process. So he toured, sometimes for months on end. By the time he met Barry, the former Avail lead singer just embarking on his own solo career, Branan's live show was finely tuned.
"Sitting around a suburban backyard pool in southern Indiana, and I couldn't believe how good he was," Barry says from his home in Richmond. "First of all, this guy is as authentic as it gets. He shreds like a metalhead, but he sings and plays like a combination of Steve Earle and old time music. I just couldn't believe what I was hearing."
That same year, Madjack finally released Branan's second album, 12 Songs. Branan picked the title because the album was just that, a collection of 12 sometimes-disparate songs plucked from all across the musical spectrum. The album's opener, "A Girl Named GO," is a punk scorcher that ends in a crescendo of screaming. The very next track, "Muhammad Ali," is a Motown-tinged hip-shaker complete with a horn section and spurts of danceclub bass. For anyone expecting another straight-ahead acoustic record, 12 Songs was lunacy. But the album's diverse arrangements, its experimentation, would eventually become Branan's signature.
"I've always played other instruments, and I've had ambitions outside of the singer-songwriter, acoustic, straight-up-the-middle thing," he says. "I just hear these songs arranged differently, and I try to find what the song needs. Much to the chagrin of some people."
He knows that a part of his audience wants nothing more than another straight-up-the-middle acoustic record. Given Branan's immense skills, that kind of album, and that persona, would find its audience without much trouble. It would also make money.
Branan shrugs it off. He calls the trope of the singer/songwriter with an acoustic guitar strapped to his back part of the "myth of authenticity"—that when listeners hear those hollow acoustic notes, they find it somehow more sincere and believable.
"That bullshit never floated with me," Branan says. "There's just something about it, when I see a white guy with an acoustic guitar get on stage, I'm like: 'Oh fuck, I'm about to hear about this guy's feelings.' I try to subvert that at every chance."
12 Songs was certainly subversive. And the record sank. Rolling Stone, which had given Branan's first album such glowing reviews, took the release of 12 Songs as an opportunity to backtrack on Branan as an artist, a particularly cold shoulder to turn. Meade, his former publicist, was out of the picture. The calls to appear on late night talk shows never arrived.
"It disappeared," Branan says of the record. "There was no promotion behind it, no anything. That was kind of a heartbreaker. I still think that was a pretty good record. But it did nothing. Just sat there. That was pretty devastating, actually."
After his early successes, the dismal reception for 12 Songs gave the impression that Branan's star had fallen. Branan knew this wasn't really the case. He was aware from the beginning that the talk shows and reviews were something of a mirage. He's nobody's pop star. But it still stung to know what others thought of his career. "In retrospect, it looks like: Oh, here's a kid who had a shot, and he blew it," he says.
His deal with Madjack ended after 12 Songs. He's still close with the folks there, he says, but it was time to move on, both musically and geographically. At that point, Branan hadn't lived in Memphis in years. He moved to Los Angeles—where he hung in the same circles as Elliott Smith and Lucinda Williams—then Brooklyn, Arkansas, Austin. At that point, home was just a concept. After his record bombed, the only sure things he had were his songs, his guitar and an old red Chrysler Town & Country minivan with a mattress where the back seats used to be.
///
At the peak of his touring—Branan imagines this was 2007, the year after 12 Songs came out—he was playing more than 200 gigs a year. Branan wandered through all those days between, killing time from one show to the next, sleeping on couches, driving nights along empty country highways.
It was so easy, back in those days, to say yes to doing three, four months at a time on the road, he says. "Back then, it was like a no-brainer: Oh yeah, of course this is what I'll do."
The audiences were typically sparse, he says, even when touring on the first record. He jokes about wanting to put out an EP and naming it More Songs For Bouncers and Bartenders. Again, Branan stresses that he is no optimist. He questions whether he's willed his career path on himself. But for whatever reason, for many shows, the audience just never showed up.
But it was during those years that Branan fell in with the musicians, and audience, with whom he probably fit best. Over the last half-dozen years or so, scores of singers and guitarists left their former punk bands to start solo projects playing some variety of punk Americana. Branan paired well with Barry and his peers: Chuck Ragan, Austin Lucas, Jon Snodgrass, and others. He toured extensively with Dashboard Confessional and Lucero's Ben Nichols, who he grew up with in the Memphis music scene. On those tours, the audiences grew. The money improved. The whole thing, he says, became more sustainable.
Then, while living in Austin, the financier who had helped to get Branan's records recorded at Madjack reached out and offered to pay for studio time. Branan had more than enough songs, so even with no label, and none that were particularly interested, Branan travelled to San Francisco to record the songs that would eventually become his next album.
By then, nearly five years had passed since 12 Songs came out. In that time, the industry might have passed a different artist by, completely. But all those years, Branan was touring relentlessly, building a fan base one half-full gig at a time. He's always seen himself as a working musician, even in those hectic early days when everything appeared so charmed. He's always been willing to put in the effort to earn whatever support he gets, gig to gig.
Josh Zanger, the publicist for Chicago alt-country label Bloodshot Records, had known about Branan for years and had encouraged Rob Miller, the label's co-founder, to go see a show. "He had somehow escaped my notice, and Josh kept haranguing me to go see Cory when he came through town," Miller says. "I saw him a few times over the course of a couple of years, and here we are."
It was an easy fit. In Branan, Bloodshot found another top-level Americana songwriter to add to its already-deep stable of punk-via-Nashville artists. In Bloodshot, Branan found a running mate just as eager to put out records and provide tour support as he was. "They've done good work, and a lot of the work is sort of like my stuff, where it falls between genres and tags and whatever," Branan says. "It was nice to have people working as hard as I work. That's all I ever want out of a label—people to hustle with me."
In 2012, Bloodshot released the album Branan recorded in San Francisco as Mutt, his first new record in six years and an aptly titled collection of songs spanning all the genres Branan drifts between. Most of the songs had become staples of his acoustic live shows, but with Branan's odd arrangements and backed by a full band, they took on new lives.
Critics, as usual, struggled to know what to make of Branan's wild sways in genre. There were departures on the record, even for Branan—the brooding, Waitsian gypsy ballad "The Snowman" stands out—but the songwriting was strong, and many of the album's songs were honed so precisely by years of playing them on the road, they couldn't help but shine. The week of its release, Mutt hit number 45 on Billboard's Heatseekers chart, a first for Branan.
It was also the year Branan first joined the Revival Tour, the punk songwriter showcase Chuck Ragan had started three years earlier. The tour exposed Branan to fans across the country who were clearly interested in roots music played with punk sensibilities. With the right tourmates and a hungry record label pushing his new album, the shows got better and better, Branan says.
"There was a definite uptick with Mutt and Bloodshot hustling, and the reach of it in general. It's nice. I don't do these things for my ego or to hear the echo coming off the canyon. I want people to get some work out of the songs, so it's nice when it starts to take hold," he says.
After just a year-and-a-half, Branan was back in the studio recording The No-Hit Wonder. The songs here are somehow tighter, more focused. They hang together easily, even as they weave from the edge of one genre to another. The album's first song, "You Make Me," is as catchy as anything Branan's ever written. Miller says the record did more pre-sale business than any album Bloodshot has ever released.
Barry, speaking in the days after its release, says he believes it will be the album that changes Branan's life and career. "I feel a little bit of personal disappointment for him not having as much acclaim and popularity as he deserves," says Barry, who toured extensively with Branan over the past two years. "I do believe this new record is going to blow him up, and if it doesn't, I'm truly disappointed in fans of music."
///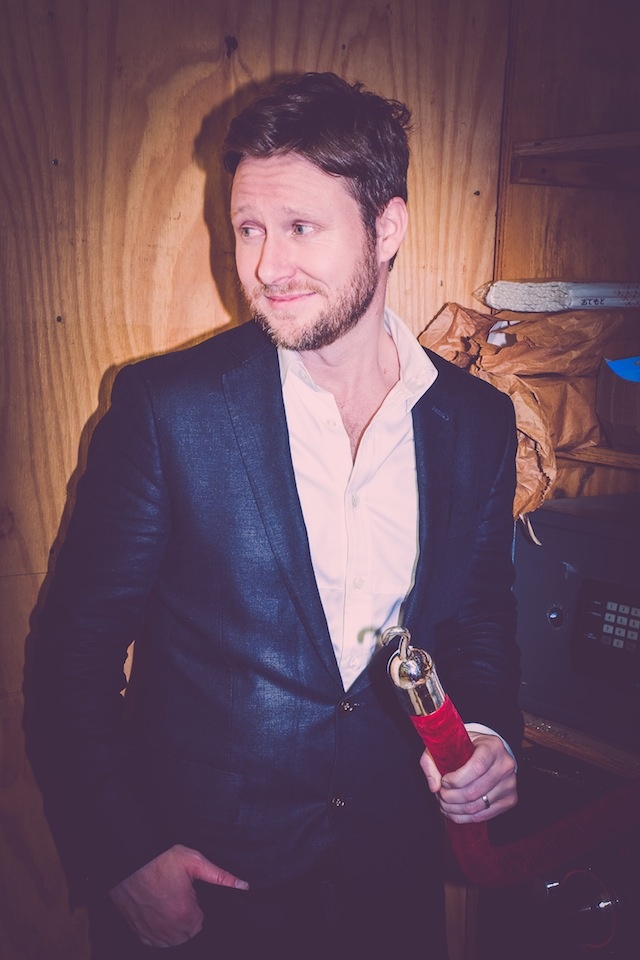 As Branan talks about music and his future, he hints at the direction his career could have taken. He's grateful things are going well, he says, but even today, they're only going well to a point. He knows his path has been as much his choice as the machinations of fate. The songs, after all, are his.
"I've just sort of taken the road that I've wanted to. I probably could have taken some shortcuts. Maybe dumbed some things down, streamlined some things. But I've put out the records I wanted," Branan says. "I knew it was a long road. And it's still a long road."
To other songwriters, Branan is a hero. He's a songwriter's songwriter—someone who writes with the nuance and complexity of character and plot others in his line of work only wish they could bring to bear.
Chris Carrabba, the singer for Dashboard Confessional and Branan's close friend, has talked at length about the brilliance of Branan's songwriting; Carrabba says Branan's "Tall Green Grass," which Dashboard has covered, is the only Branan song he's able deconstruct enough to play. Barry says Branan's skillset makes him and his punk-goes-acoustic brethren look like "chumps." Lucero famously praised Branan's songwriting in one of their own songs, "Tears Don't Matter Much," perhaps the most lasting kind of praise. The list of admirers from the music world is expansive.
Even with his cadre of dedicated fans in and out of the music industry, there will always be a part of Branan's music that is inaccessible to one group of listeners or another. He knows it, and he struggles with that reality. When he describes his ideal audience—one filled with folk music enthusiasts, punk kids, different generations and so on—it sounds a lot like hope from the proclaimed pessimist. It also sounds a lot like fiction. Branan's songs, by design, are just not for everyone.
Miller, from Bloodshot, says that Branan's songs are great and frustrating for the same reasons. For a lot of folks, seeing him play or hearing his record one time just isn't enough. "That's the thing with his music, with his records, with his performances. The more you see him the more you get out of it. He's kind of the opposite of something that you immediately get," Miller says.
"It's both highly laudatory, but also incredibly frustrating, because in this era of such short attention spans, we have to fight like hell to get him to find his audience," Miller says.
Branan struggles with this. He searches for ways to grow his audience while still writing the songs he wants, recording them in whatever odd arrangement compels him, performing like the world will end before the sun rises.
"That's the rub," he says. "I still want to make music like I do. I want to write my kind of weird-ass idiosyncratic shit. But I still need to be universal. I want to go play a fucking biker bar on a Friday night and still be able to do it. I don't want to just play to a niche crowd. I want to play for the people. But the people want cover bands."
He jokes about cover bands, but hey, they make money! He says he has friends in the Nashville scene who spend their days making art but spend nights covering songs and can afford to put their kids through Montessori. He toys with the idea of writing songs for other performers—he is in Nashville after all, where that kind of thing happens all the time. It would be art, but it would be money, too. The latter feels more important every day.
Still, the weird idiosyncrasies beckon. Branan says he plans to get back in the studio soon. He says one or two split EPs may be on the way, before he records a new full length for release sometime in early 2016. It is the recording schedule he'd hoped for in those years before he landed on Bloodshot. Plus, he'll hit the road again next month for a long stretch of dates on his own, and opening some nights for Gaslight Anthem and Against Me! It should be an ideal tour for Branan, whose live shows are pure punk energy.
So his working life is good at the moment, says Branan, now 39. It's good to be back home in Nashville, too. He's married, has two kids, and now enjoys his home life just as much, if not more, than life on the road. One of Branan's heroes, John Prine, says that most of the time, he'd rather eat a hot dog than write a song, especially when he's happy. Now, Branan leans more toward the hot dog most days. Spending time with his children is miles better than those long hours in the Town & Country with no air conditioning.
Optimism comes a little easier nowadays. "I have all this crazy happiness in my life now with my wife and my kids—like absurd, preposterous happiness," Branan says. "It's really fucking with my worldview."
Ron Knox once met the prettiest waitress in Memphis. Follow him on Twitter - @ronmknoxdc
--
Want more articles about singer/songwriter from Revival Tour? We've got those:
The Gaslight Anthem's Brian Fallon Just Wants a Normal Person Life
Chuck Ragan Literally Gave Me the Shoes Off His Feet
Frank Turner Dragged Me to the Weirdest Show I've Ever Been to