Mapping the Music and Style of '200 Cigarettes'
It's been one week since New Year's Eve and we're nostalgic. We want a mid-week party with an enforced day off afterwards. So we watched '200 Cigarettes' and got really into it.
Either you've stumbled upon it yourself or somebody who loves you advised that you check out the 1999 film 200 Cigarettes. It's similar to those Valentine's Day-slash­-New Year's Eve films where there are like 50 different celebrities trying to reach a destination. Except this movie doesn't suck. It takes place in Lower Manhattan on New Year's Eve, as a whole A-list cast of so-and-sos all head to the same party to ring in 1981. While the film is full of radically somewhat embarrassing 80s styles backed by a solid New Wave soundtrack, the sentiment spans multiple decades (including this one): You really need plans on New Year's Eve.
So I watched 200 Cigarettes on New Year's Eve this year (2013 into 2014). That wasn't to make you feel sorry for me, because other people were present. Also, Tyler the Creator was making a sandwich on New Year's Eve so perhaps homebody is the new outfit to wear. Anyway, re-watching the film made me reminisce on all of those years as a New Jersey twenty-something, feeling like if I didn't have something awesome to do in NYC on NYE, then I was a fucking loser. The soundtrack (hello, "Tainted Love," anyone?), the outfits—representing all corners of the city, including its Jersey arm pit—everything captured the spirit of the decade, and how NYC managed to somehow be understated yet totally extra. I learned something very important about the 80s: it's no longer uncool to dress 80s, and it's no longer full of outdated fads—it's the contrary. In fact, almost everyone in this film is dressed like someone you know in 2014. No lie. Check it out.
OPENING TUNE: BOW WOW WOW - "I WANT CANDY"
Doesn't everyone want candy? Doesn't everyone want this song to start their film? It feels like every 80s flick started with this joint right here, but that's not true. Either way, considering 200 Cigarettes took place twenty years prior to its release, the opener had to really really capture the spirit of the era, and Bow Wow Wow's lil' ditty did that.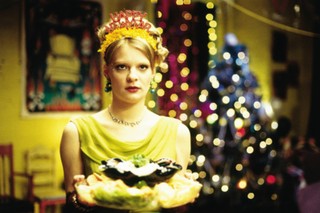 IT ALL STARTS WITH CRAB DIP
So Martha Plimpton plays this lady named Monica who lives in Soho (if my mental MapQuest serves me correctly) and is neurotic about nobody showing up to her party (they all show up in the end while she's knocked out, poor thing). She has this recipe for crab dip that she got off the side of a box and she equates it to the downfall of her life. Elvis Costello later loves her dip. I can relate to her logic though because in college we held these bake sales for various clubs that I thought would look good on a resume, and every time I came in with a tray of cookies I felt like a fucking Stepford Wife. I'm rambling, but hey check out Plimpton's dress.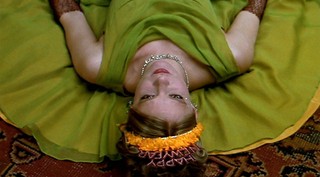 Please note the plunging neckline, puke green chiffon hiding a Meyer Lemon yellow ruffled slip with a yellow paper tiara that says "Happy New Year." I think I saw this exact same dress at the Brass Plum section of Nordstrom during prom season like a year ago. You can't tell me Zooey Deschanel wouldn't wear this outfit. It looks like she was swaddled in it when she was born for God's sake. While the Plimp gets soundtracked by Blondie's "Rapture," there's also this scary scene where she does the Molly Ringwald Dance to "Feliz Navidad." Plimp also has this slut friend named Hillary (Catherine Kellner) who wears a deconstructed tuxedo-meets-French Maid uniform to the party and then falls asleep with a lit cigarette in her hand.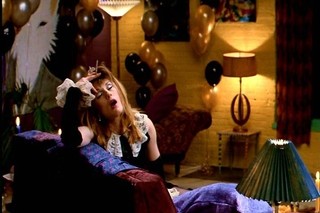 I'm not entirely sure how I feel about the outfit, but she wears a watch ring and now I think I want one, mainly because no one knows you're looking to check the time if you're bored. It looks like you're constantly checking to see if the polish is dry on your nails.
HIS AND HAIRS
The men in the film can all accurately be defined by their hair. Their outfits are actually secondary. It's crazy to think of how many hideous hairstyles infected the 80s. Here we thought a Flock Of Seagulls haircut was the worst, but nope.


Exhibit A: Paul Rudd in the film sporting an "I wish I could grow an Afro" hairdo with mutton chops. He looks like a total babe though, while Courtney Love is—surprise, surprise—a drunk mess. Back to Rudd's hair though: it's this "starving artist who likes to party" coiff, and every man in Brooklyn attempts to grow their hair like this at least once in their lives. There is this adorable scene though where Paul Rudd is gyrating to Elvis Costello's "Pump It Up" and his hair bounces like Beyoncé's. It's truly magical. Until C-Love drunkenly demands penis (A.K.A. peanuts).
Background info: "Kevin" and "Lucy" as they're respectively called in the film, are besties who turn into fuck buddies (to the tune of Captain and Tennille's "Do That To Me One More Time" #Romance) who eventually realize they're in love. Because that always happens. Kevin was dating Ellie (Janeane Garofalo), but couldn't handle her feminist wiles.
More hair: Ben Affleck playing the role of a Reaganomics-obsessed bartender (called "The Bartender") who wears Home Depot style flannel with a gladiator hairdo. He looks like he can star in The Unfuckables.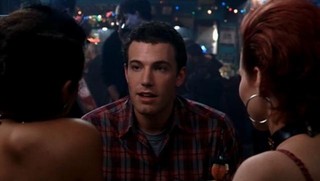 Then we have Jay "I look like I'm wearing a Katie Couric wig" Mohr, playing the role of Jack.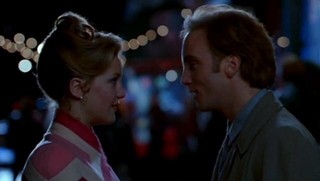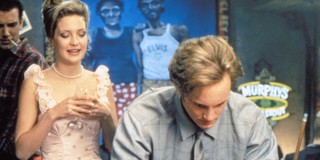 He's this douchey character actor who devirginizes Kate Hudson (A.K.A. "Cindy") and spends half of the film wanting to know why she chose him like he's the Based God (Nick Lowe's "Cruel To Be Kind" and The Cars' "Just What I Needed" appropriately play during their scenes together). He's "I'm dressed like I just left the office" guy, which makes his hair look even worse. Meanwhile poor Cindy is a walking calamity. She starts the movie all dolled up in her Upper East Side Best—a Pepto Bismol overcoat covering a cotton candy colored Carrie Bradshaw taffeta dress—and she ends up smearing lipstick on her dress and slips into a pile of dog shit conveniently located in the middle of the street. We've all been there.


BEFORE


AFTER
(Ew Jay Mohr's hair!)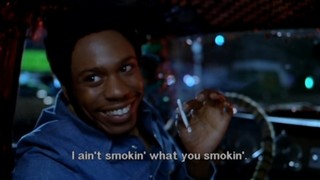 More hair: Dave Chapelle's Afro wins
It's tight and accompanies his periwinkle leisure suit that he wears in his souped-up cab that looks like a cross between a shaggin' wagon and those tiny fortune teller lairs scattered in dark alleys across the island of Manhattan. He smokes pot throughout most of the movie, takes home one of the main characters, and offers sage advice to anyone who rides in his cab. Nowadays most cabs in the city smell like fart and have drivers who talk on their cellphones and not to you.
.
THE BRIDGE AND TUNNEL KIDS
It's funny. I'm a bridge and tunnel kid, well, woman and what I've noticed from other B&T's is that they try to "over" New York their outfits. Like, it can't be just pants and a shirt. It has to be PAAAANNNNTTTTTSSS and a SHIIIIRRRRRTTTT. 200 Cigarettes captures this perfectly.
Take "Val" and "Stephie" from Ronkonkoma (played by Christina Ricci and Gaby Hoffman). They're a couple of Long Island Lolitas who take the big train to Manhattan because Val is Monica's cousin and she wants to go to her New Year's party (are you keeping up?). The outfits though. Oh the outfits.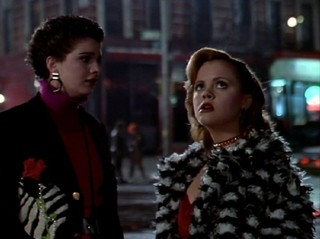 Val's Cruella de Vil faux fur is hiding an elegant red dress with a studded red dog collar choker. Awesome. And Stephie—who's afraid of Avenue B in Alphabet City throughout the entire film—sports a sensible blazer with a zebra-stitched pocket that's puking pearls. She's also wearing one of those Bananarama-esque sweater dresses with windswept hair. It's just… a lot.
And then we have Tom (Casey Affleck) and Dave (Guillermo Diaz) from New Jersey.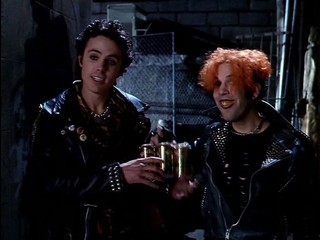 Eyeliner, leather studded jackets, band pins (Punk Rock's answer to flair), greasy hair (check out Dave's neon burnt sienna 'do), you know all of the stuff New Jersey liked to do in the 80s when they were en route to New York.
They do get the best soundtracking during their scenes, with The Ramones' "I Don't Care" to signify Tom falling for Val and then Girls Against Boys' "Boogie Wonderland" to mark Stephie's turning point where she stops acting like such a fucking wet blanket.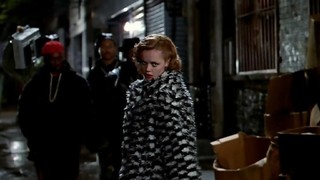 Sidebar: There's this one scene where Val stomps away from Stephie after informing her they've missed the last train to Ronkonkoma and for like a year I thought she walked past Run-DMC. She didn't, although the extras were totally styled after them.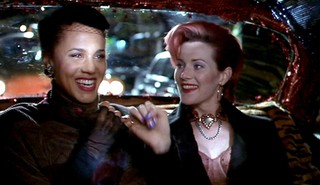 THE WHORES
So Bridget (Ari Nicole Parker) and Caitlyn (Angela Featherstone) have just one mission: to get laid or else they fear 1981 will be spent in bitter celibacy. Bridget wears a pillbox hat with a veil and a mismatched patchwork parka while Caitlyn is dressed like a backup dancer from Madonna Blonde Ambition Tour that wouldn't happen for another ten years (abiding by the film's calendar). There's something stylishly fabulous in their sluttiness and Melissa Manchester video-ready wardrobes. So for some context, Bridget was dating Eric (Brian McCardie) who has an accent and paints vaginas, yet he's bad in bed. Monica hit it first (*cue Ray J*). Eric is nondescript, except for his half-perm (more hair) and vagina hands.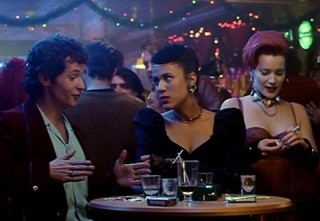 Here's where Monica reveals the awful truth about his bedroom antics:
The winner of the best outfit in 200 Cigarettes? Elvis Costello, who only spends 37 seconds on camera, yet makes it really count in his leather fedora and matching leather coat. Ah yes, and the red tie.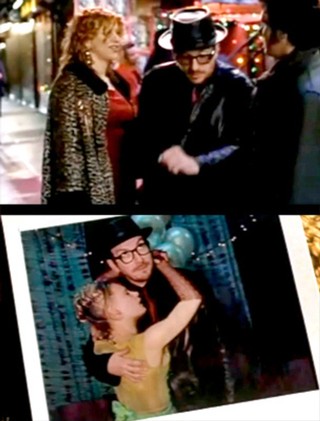 The film ends with everyone showing up to the party to the tune of Costello's "(What's So Funny About) Peace Love and Understanding," which sums up the film perfectly, since it's all about looking for love in the midst of misunderstandings. Perfect.
Polaroids of some friends you've never had.
So what can we gather from a film like 200 Cigarettes? Well it's pretty simple. The 80s were a crossroads for fashion and music. The clothes reflected the lifestyle, the music reflected the lifestyle, but there was a lot of everything going on in the lifestyle department at the time. The party in the film served as the intersection for all of the 80s styles. Thirty-three years later (once again on the film's clock) we see so much of the 80s influence after a few decades of banishment. It's back now, which makes this film all the more necessary to watch and enjoy.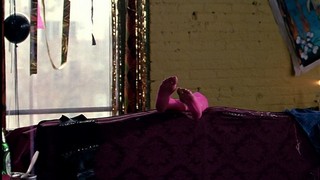 Good times.
Kathy's f
avorite character is Cindy (
Kate Hudson
) because anyone who slides into a pile of shit, shows up to a party and makes out with Casey Affleck is a gem in her eyes. Plus she also cries blood when she eats Indian food. She's on Twitter - @kath3000