Austin Psych Fest Just Announced the Best 2015 Line Up of All Time
THE JESUS AND FUCKING MARY CHAIN will be performing 'Psychocandy' in full. That alone is enough to go.
HOLY SHIT. We always knew that Psych Fest was a good time, but we never knew it could get this good. The first video lineup announcement for the festival's eighth year has been released above, and is, of course, backed by a vibey Christian Bland song. The 2015 lineup includes THE JESUS AND FUCKING MARY CHAIN performing Psychocandy in full. That alone is enough to go. Seriously, we are freaking out at our desks right now.
The rest of the linup includes The Flaming Lips, Tame Impala, Spiritualized, Primal Scream, The Black Angels, Thee Oh Sees, Mac Demarco, Melody's Echo Chamber, Lightning Bolt, The Sword, Earth, A Place To Bury Strangers, Fuzz, Soft Moon, METZ, White Fence, Night Beats, Fat White Family, Indian Jewelry, Nothing, The Myrrors, Mystic Braves, Black Ryder, Rose Windows, Spindrift, Holy Wave, Vaadat Chagrim, The Blank Tapes, ZZZs, Eternal Tapestry, White Manna, Chui Wan, L.A. Witch, Heaters, Las Robertas, and more.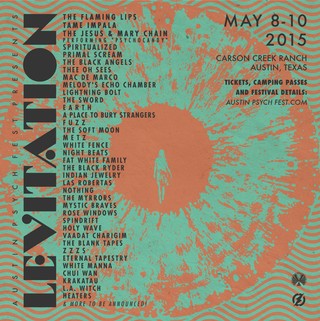 So essentially, THE GREATEST LINEUP OF ALL TIME. See y'all there.
Buy tickets HERE.