Ritchie Blackmore and Candice Night Appease Rainbow and Deep Purple Fans While Following Their Medieval Muse
"Music is so sacred to me that I can't hear wishy-washy nonsense just played for the sake of selling records."

Photos courtesy of the artists
Yes, Richie Blackmore will regroup with members of Rainbow and Deep Purple for what will probably be four shows next year in Europe. And no, despite some news media reports to the contrary, he's not joking.
But for now, the guitar god who brought us timeless riffs like those on "Smoke on the Water," "Highway Star," and, of course, "Man on the Silver Mountain" is concentrating on his true musical passion: Blackmore's Night, which he formed in 1997 with his wife Candice Night. The band is set to release its tenth album All Our Yesterdays on September 18.
"I am doing four dates in June, which will be all rock," Blackmore says, speaking to us alongside Night. "I have the band basically together and it will be [the best of] Rainbow and Deep Purple. It's just having fun but it's only four dates in Europe. I don't want to do anymore because I take what I'm doing now much more seriously."
The four-gig reunions – other musicians are not yet announced – seem to coincide with the theme of Blackmore Night's new album, available in several formats. Blackmore and Night wrote and cover songs that focus primarily on living in the present and looking toward the future but not ignoring what came before.Here's what they had to say.
Noisey: You have quite an array of songs on this album including some that draw from Candice's Russian heritage, Ritchie's English and Welsh heritage, and just American favorites including "I Got You Babe." What was the song selection process like?
Candice: We took a different approach with this one than we did the earlier albums. The others we found we had all the songs already written when our producer would come in. [But that meant] we didn't have a chance to separate ourselves from the songs, to listen to them with fresh ears. When we'd listen, we'd always think we should have done something differently. This time we did three or four tracks and got away from it for about a month. Then we revisited (and fine tuned) the tracks and that made a big difference.
Your producer, Pat Regan, has worked on Deep Purple, Rainbow, and even Warrant albums. What is it about his work that keeps you returning to him to produce?
Ritchie: The thing about Pat is that he is such a specialist, so finicky and meticulous with his music. If he hears 10 bars of music you could more or less say it will take him 10 hours to engineer and record. But that is the bad side. The good side is I can wonder what the music would sound like with a cello or a bagpipe and he will put it together and I will come in and say "Well that doesn't work, does it?" He is very, very good about saying "I see your point." Most people would say "I just spent four days on this, and now you want to throw it away?" He's brilliant in his own way.
Is there something that leads you to write certain songs or even riffs?
Ritchie: Yes. I value silence, which is a dying thing in this day and age. It's wonderful just to hear nothing. No noise. No bass drums. No drones. No airplanes. When I'm listening to music it's medieval renaissance music. It stays in my head.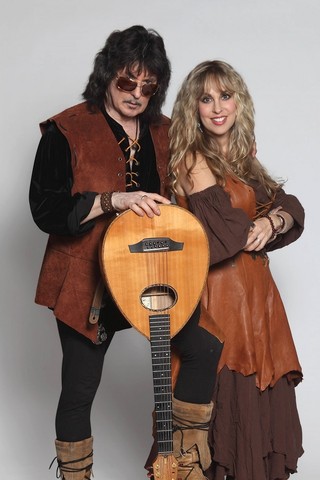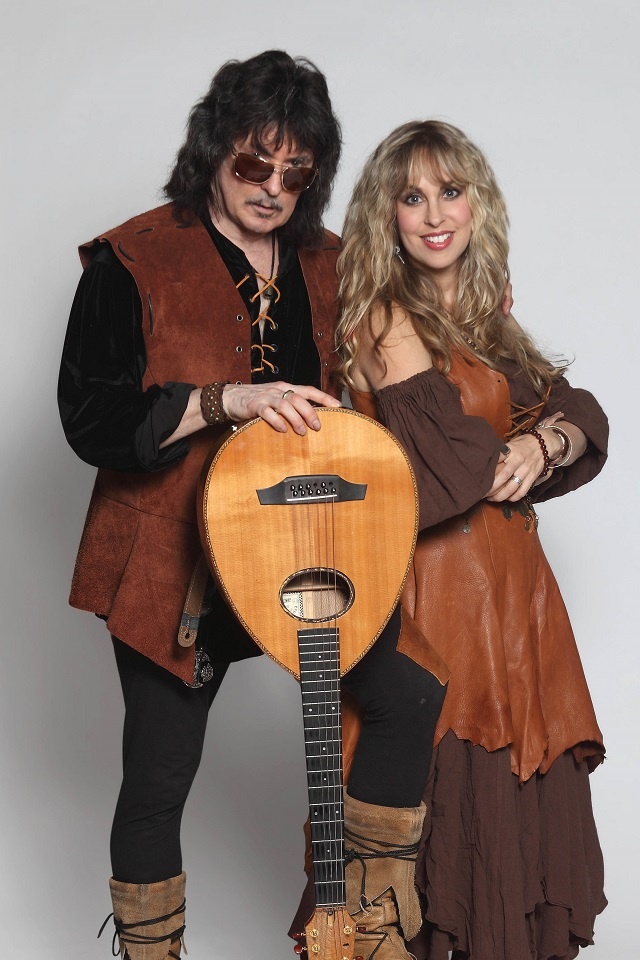 What about current metal or rock?
Ritchie: I never listen to the radio. That music died for me years ago. I don't even listen to our own stuff. Sometimes people will play [my music] in a club or a restaurant, and then I will start listening to it. Pat's the same way, and we'll both be sitting there and say, "Oh remember this?" and we'll hear it with fresh ears… But again, I don't like what's on the radio. Music is so sacred to me that I can't hear wishy-washy nonsense just played for the sake of selling records.
Have you heard a lot of musicians in the U.K. or Europe – in clubs or bussing or even on the radio – that you enjoy?
Candice: We did when we first started touring. We found amazing artists there that you'd never hear on the radio. They'd be playing amazing music sitting on their front step. And we would listen to the radio there. That's originally how I heard about Maggie Riley, "Moonlight Shadow" [by Mike Oldfield] and so many others. It was natural to hear that music when we were touring. We would turn on the radio, and they would have a folk song mixed with a rock song and then a traditional song – the music wasn't separated by genres. That exposed the listener to the most amazing music... Now they seem to play the same music they play [in the U.S.]. It's a shame.
You've said that songs like "Stargazer" are very similar to the songs you currently write and perform. Are any of the other rock songs you did similar?
Ritchie: Most of them. The only difference is the volume. The chord structures are basically all the same, minors to majors. If you were to play [rock] on an acoustic guitar or on the bagpipes you would notice that it is very reminiscent of early music.
You seem very emotional, in a way, when you sing, Candice.
Candice: If I'm not in love with the song and feel it on a deep level and put myself in the shoes of whoever wrote it there is no point in singing it. I need to feel it on a deep, emotional level. There have been songs that have come up that I can't connect with and don't feel comfortable singing. If I can't feel it and love it and make it my own there's no point in trying to force it.
I know you get together each week with your closest friends and play music. Did they hear a lot of these songs as you developed them?
Ritchie: Yes. It is a great way to see how people react to our songs. If our friends react and really like and enjoy a song, we know we are safe following up and perhaps recording it. …It's interesting to see how 10 people react if they you know you're onto something.
That's a bit of how it was with 'I Got You, Babe.' We didn't know how people would react. In the beginning we did it as a bit of humor and then we said 'Wow, that is a great song.' I've always liked that song.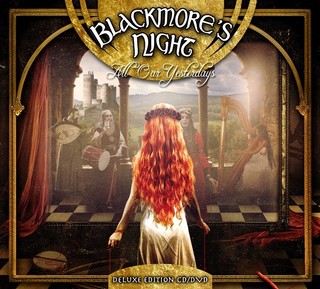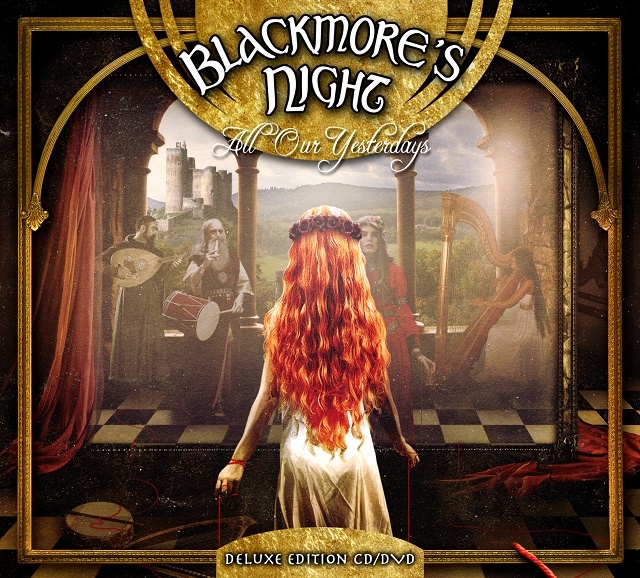 When I first heard 'All Our Yesterdays' I thought of some of the people you have lost recently including Ronnie James Dio.
Ritchie: Yes, Ronnie Dio. I had not seen him in 30 years, so it was kind of like an old friend that I knew a long time ago. So it didn't [impact me] as much as Jon Lord's passing; he and I put Purple together… Ronnie was a good friend of mine in the beginning. Although I ended with Ronnie not as friends, we did some great music together. And he was very serious, great singer and musician. Sometimes I would ask him, "What are you hearing in this riff?" I would sing it to him very quietly, and he would grasp it immediately and know exactly what I was talking about… He was very easy to work with as far as knowing how to sing and where to go.
I know you've said many things about Jon including 'Without Jon there would be no Deep Purple. What should people know about him on a personal level?
Ritchie: Jon was always a gentleman, sort of like Rex Harrison. Anyone who met him found him full of old-style charm.
Thinking of Jon, I must ask why you decided to do the Deep Purple and Rainbow dates now?
Ritchie: I turned 70. And arthritis is starting to set in. Jon's not around. So many others aren't around. You start to see your friends pass and just feel it's time to play some of the old songs. Nostalgia is a big reason to do it, but not the only reason.
Follow Nancy Dunham on Twitter and check out more of her work here.