Kyuss Vocalist John Garcia Is Free At Last
Check out the new video for "My Mind," from the new solo joint featuring Robby Krieger from the Doors.
"I like money as much as the next motherfucker, but if I was in the music industry for the money, I would've quit a long time ago." That would be the truth and nothing but, as spoken by John Garcia, former vocalist for desert rock masters Kyuss. The band released four genre-defining albums before pulling their own plug in '96, though few seemed to give a flying fuck at the time. Within a couple of years, Kyuss were revered as cult legends and frequently found themselves at the business end of an index finger that pointed back to the spurious origins of "stoner rock." Not that it mattered: While Kyuss guitarist Josh Homme went on to superstardom with Queens Of The Stone Age, Garcia fronted a host of underground rock outfits like Slo Burn, Unida (who ended their way-too-short career signed to Rick Rubin's American Recordings), Hermano and—until very recently—Vista Chino, a band that originally consisted of three-quarters of Kyuss and were ultimately sued by Homme and former Kyuss bassist Scott Reeder. But you can file all that shit in the History section alongside your "No Bill Ward, No Black Sabbath" t-shirt. As of a few months ago, Garcia is a solo artist. His eponymous debut includes a guest shot from Doors guitarist Robby Krieger (!), but our man is free at last…
Check out the new video for "My Mind" from that LP, along with an interview below...
Noisey: How long have you been thinking about doing a solo album?
John Garcia: Since I was 18, really. I've had some of these songs in a cardboard box that's followed me forever, however many times I've moved out here in the desert. I've been settled for quite some time now, and I got tired of looking at this box. I had 44 songs just sitting there, and I felt bad for them. I said yes to so many other projects, you know? Vista Chino wanted me to do another record and I said no. Hermano wanted me to do another record, and I said no. Same with Unida. And it felt good to say no and finally say yes to this group of songs. I don't mean that to sound selfish, but these were songs that were special to me. They weren't b-sides or leftovers. So I finally went through them with my producers to pick the ones that we recorded for the album. I mean, talk about pent-up energy, to finally have some of these songs see the light of day. What a monumental moment—not for the world, but for me—to finally get these fuckin' things out.
Do some of these songs go back to when you were a teenager, then?
Yeah, the first song I wrote was when I was 19 living in Palm Springs with Nick Oliveri. It's a song called "Her Bullets Energy." And if somebody had told me back then that I'd release it when I was 43 years old and that Robby Krieger from the Doors would be playing on it, I would've told them they were out of their fuckin' mind. Talk about a trip, man.
How did you hook up with him, anyway?
When we were picking through these songs, my producer Harper Hug said to me, "You know, I hear Spanish guitar on this track." So I said, "Great idea. Do you know anyone who plays Spanish guitar?" And he said he knew Robby Krieger. I almost fell over in my chair. So he called Robby and sent him the track. Robby liked it, so the next thing you know we're sitting in the studio recording with Robby Krieger. I mean, a living legend and a super-nice guy.
Was he at all familiar with your work when Harper contacted him?
No. If he was, I didn't know about it and I didn't ask him about it. But it was great, man. He walked in with a guitar in one hand and a burrito in the other. He put the burrito down and went to work. We actually talked about golf more than anything else. I'm not a golfer, but in the Palm Springs area where I live, there's a big retirement community and a lot of golf courses. Robby is an avid golfer, so he comes out here and plays some of the local courses quite a bit.
Did you write the music for these songs yourself?
I play guitar primitively—it's not really my thing. But I have a lot of writers that I've worked with from all over the world, so these songs came out of working with different guitar players who'll send me ideas. Others are songs that I had a basic riff for that I then turned over to somebody like Dave Angstrom from Hermano, and he'll turn it into "My Mind," which is the first track on the record. So it varies. The nucleus comes from me, but the finished musical composition will come from different guitar players, like Eric Belt, who wrote "Saddleback." That song's eight years old, but I kept it in my cardboard box and worked on it. Then there's a song called "5000 Miles" that my friend Danko Jones wrote for me about 10 years ago.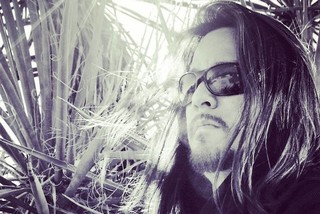 That's kinda like your "Mama, I'm Coming Home" tune.
That's it. Danko and I did a tour together about 10 or 11 years ago, which is right around the time my daughter was born. I'd always talk to him about how I missed my family and things like that. A few months after the tour, he sent me this recording of him playing "5000 Miles" out on his balcony. He said he wrote it specifically for me and for my solo album, which I was talking about doing even back then.
There's a cover song on the album as well…
Yeah, "Rolling Stoned" is a song originally done by a band from Edmonton, Canada, called Black Mastiff. I don't get to see live music very often, and when I do it's usually an opening act when I'm on tour. Black Mastiff are a band that I came across in when I was in Edmonton, and I really liked this particular song, and I told them I wanted to do it on my solo record. I mean, if I could sing like Philip Bailey from Earth, Wind & Fire, I'd probably do an Earth, Wind & Fire song. But I can't sing falsetto. I'm just a fan of music, and for me there's no rule book as a singer. If there was, I threw it out the day I started singing. If I hear something I like, I'm gonna sing it.
Besides Robby, who played on the album?
Tom Brayton, who did some percussion on the Vista Chino album, did all the drums and percussion on this record. He and I are the only two guys on every song. Then me and the producers, Harper Hug and Trevor Whatever, specifically handpicked different guitar players and bass players for each song. So we've got Nick Oliveri playing some bass, Damon Garrison from Slo Burn playing some bass, Dandy Brown from Hermano on bass, Marc Diamond from the Dwarves on guitar, Danko Jones on guitar, and Aaron Groban, who is my live guy now, on guitar. We've also got Dave Angstrom from Hermano on guitar. So there're a lot of players and it took about a year of planning.
You're a family man now, so I imagine you feel a lot differently about touring than you did back in the early Kyuss days.
I'm a father and husband first and foremost, and I try to keep my eye on the ball. Everything else—me being able to be onstage, release records and create—is secondary. Not to sound pussy-whipped or anything, but my family allows me to do this. I'm very lucky in that I get to do two things I love: Make music and work with animals. I actually met my wife when we both worked at a veterinary hospital. My wife helps run Palm Springs Animal Hospital to this day. I did that kind of work for years, even back when I was in Kyuss, and I might go back to it one day. Now I work in diagnostics, which I'm also passionate about. But after all these years of pent-up energy, it feels great to be where I'm at. I have an incredible amount of freedom as a solo artist as opposed to being in a band. I mean, talk about liberating. I should've done this a long time ago. I have no idea why I didn't.
You mentioned that Vista Chino wanted to do a new record but you turned them down. What's the status of that band, then?
Well, Vista Chino was a little bit of an accident. I never expected to fall in love with [former Kyuss drummer] Brant [Bjork]'s drumming again, but I did and we went on tour [originally as Kyuss Lives] and then we decided to do a record together. At that point, we hit a few bumps in the road. But we figured that out, and we did the record. There's still talk about doing another one, but right now Vista Chino is parked in the garage and she's not going anywhere. Hermano is parked in the garage, too, and she's not going anywhere. But the car I'm in now is fueled up and running like a champ, and I'm gonna take her out for a very long time. I don't see myself hopping into the Vista Chino car anytime at all in the near future. But never say never, you know?
If anyone knows anything about my career, it's that I don't like to stay in one spot for too long. Kyuss was the longest run. After that—Slo Burn, Unida, Hermano, Danko Jones, Mad City Rockers, Arsenal, the Crystal Method—they were all kinda short. I don't mind that. Some singers stay in one band and one band only, but I love being exploratory. I just follow where my gut tells me. Call it "whoring yourself out." I don't call it that. Call it "watering your career down." I don't call it that. Like I said before, there is no fuckin' rule book. If I wanna do an underwater polka record, I'm gonna do an underwater polka record.
After Kyuss split up in the mid-90s, the main bands you were involved in were Slo Burn, Unida, and Hermano. They all got a decent head of steam going—Slo Burn played the first Ozzfest tour; Unida put out records with Man's Ruin and eventually signed with American—and then something always happened to kill the momentum. It happened again with the Kyuss Lives lawsuit, when you had to change the name to Vista Chino. Did you ever feel like you were cursed? And is this solo record your way of trying to break that curse?
Yeah, you're right. But more than cursed I felt exhausted. Slo Burn never should have happened, to be honest with you. I jumped into that right after I got out of Kyuss, and I should have stepped back and made a better decision. I don't regret the band, but I should've done it differently. I still talk to the Slo Burn guys—two of them play on my new record. Then Unida happened, and we were going full force. My heart was really into that band. We did that record for American, and we spent $350,000 on that album. We recorded at Sound City and had George Drakoulias producing. It was about to be released when something happened on the business side: American/Sony/Columbia got a divorce, and American went to Island/Def Jam. But Island/Def Jam didn't want all the bands American had at the time, and we were one of them. That was a big, big blow in my career. Then my friend Doctor John Howard, a great veterinarian, called me up and asked if I could help him run his new clinic. So I did, and I loved it, so I stayed there for a long time. While I was working there, I got my music fix with Hermano, which was pretty much just for fun. I'd take my two-week vacations from the clinic and we'd do tours in Europe, and then I'd go right back to helping Dr. Howard. So the biggest disappointment in there was the Unida record.
Which was a killer record, by the way. As I'm sure you know, there was a bootleg circulating not long after it was shelved. It really is a shame that it was never released.
Thanks, J—I appreciate that. You know, I'm an emotional guy and this music industry stuff used to really affect me. Recently, I've learned to detach myself emotionally from stuff like that because I get so bummed when things don't happen. But it's been an ongoing experience. You can't let it consume you. My family life consumes me, and that's the way it has to be. But I really would love to release that Unida record at some point. Believe it or not, I'm working on it. But in addition to the other guys in the band, that's gonna take some communicating between me and Scott Reeder, obviously.
Have you patched things up with Scott Reeder or Josh Homme since they sued Kyuss Lives over the name?
I don't wanna talk shit about Josh Homme or Scott Reeder. I can't sit here and say, "Fuck those guys!" There was a time when Brant and I were fighting them and we didn't have the best temperament and I let my emotions get the best of me. But I've moved on. I've let that stuff go. I've forgiven them and hopefully they've forgiven me. And that's it. I want peace, man. I'd love to be friends with those guys again. I mean, me and Scott Reeder were tight. I was closer with Scott than anyone else in Kyuss. I hope that we can run into each other on the street and shake each other's hands and let bygones be bygones. As far as Josh goes, we were never really that tight, even before the lawsuit. But again, if I do see Josh, I don't want there to be anything weird. I wanna move on, and that's it. There are bigger and more important things to think about, and I wish those guys all the best in the world.
J. Bennett was into Kyuss before anybody. Just ask him.