Which Roller Derby Team Has The Most Badass Skate-Out Anthem?
Noisey asked the top 40 ranked WFTDA teams what they're skating out to this year to find out which team rolls out to the dopest anthem.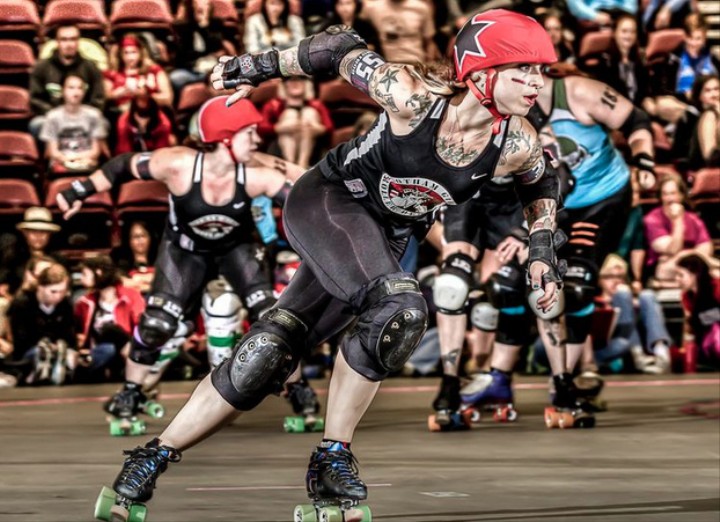 Photo by Louis E. Keiner
Since it was revived in 2001, roller derby has evolved into a streamlined, highly competitive sport played by athletes who blend speed, grace and brutality. But while kitschier elements—tutus, penalty wheels and fishnets—have mostly fallen by the wayside in favor of emphasizing athleticism over spectacle, many teams still use intro music to pump up the crowd ahead of games. Noisey asked the top 40 ranked WFTDA teams what they're skating out to this year to find out which team rolls out to the dopest anthem.
A couple of notes:
Top-ranked Gotham Girls Roller Derby has dominated WFTDA, winning half of the championships since WFTDA was established in 2005—including the last four straight, and that apparently extends to its choice of anthems too. Also, you might should watch this PetCo adoption ad featuring Gotham co-captain Bonnie Thunders.
Songs that were ubiquitous in the mid-2000s have either either found their niche or been phased out altogether. Ludacris' "Move Bitch" has reverted to its proper place as a dairy pun (see #26 Mad Rollin' Dolls Roller Derby) and Drowning Pool's "Bodies" mercifully is nowhere to be seen.
Some teams don't use skate out themes at all. Whether because of licensing, venue issues or just because they don't care all that much, #9 Angel City Derby Girls (Los Angeles), #19 Ohio Roller Girls (Columbus), #22 Oly Rollers (Olympia, Washington), #23 Tampa Roller Derby and #39 St. Chux Derby Chix (Saint Charles, Missouri) responded that they don't use a regular skate-out anthem.
With that, here's the list, in order of most recent WFTDA rankings:
1) Gotham Girls Roller Derby, New York City
"Turn Down for What" by DJ Snake feat. Lil Jon
Roxy Dallas, co-captain: "When we chose 'Turn Down For What' for our first bout of 2014, it turned out that our opponents had chosen the same song. Neither team wanted to back down and pick a different song, so instead both teams skated out to the same song at the same time. We couldn't just share the intros though, we had to win the intros, so everyone went absolutely bonkers—jumping, dancing, stomping, some twerking in the pack for good measure. Our usually stoic, intimidating roster just went wild. It was pretty amazing and unexpected. We won the intros, won the game, and set the tone for another turnt up Championship season."
5) Texecutioners of Texas Rollergirls (Austin)
"W.E.R.K. Pt. II" by Lizzo
League statement: "Lizzo is a badass female hip hop artist. She is a strong musical woman, the chorus of this song kills, and it will hype up us and our crowd."
6) London Brawling of London Rollergirls
"London Calling" by The Clash.
Raw Heidi: "We've never used another track ever, we've talked about it but it's just too perfect and we generally find the crowd is into it. It certainly gets my blood pumping every time it comes on my Spotify, let alone before for a game."
"Boneless" by Steve Aoki et al
Scarmen Hellectra: "Last season Crowella de Ville made a mix CD comprised of various pump-up tracks that All-Star skaters submitted. It was a fantastic mix that included 'Boneless,' which was Rhea Volt's submission. This track sort of earwormed itself into our team consciousness... you'd get one skater at practice singing the 'bamp, bamp-bamp-bamp-bamp' because it was in her head and pretty soon we were all doing it."
9) Angel City Derby Girls (Los Angeles)
Rachel Johnston: "We're not a team that is super into skate outs these days. We have historical affection for 'Sexual Healing' by Marvin Gaye, a song that we all sing together before games and make reference to as being 'our song,' but I don't think we've actually skated out to it in a few years."
All-Star Liberty Belles (A-team): "Gonna Fly Now" (Rocky Theme)
Independence Dolls (B-team): "Eye of the Tiger" by Survivor
Castro, captain: "An homage to our city and channel the never-say-die attitude of Rocky Balboa. We sing the theme a-Capella after every practice and before bouts to really feel the team love and get pumped up together. Everyone from Philly identifies with Rocky as an underdog, since as a city Philadelphia embodies this hard-working DIY ethos."
11) Windy City Rollers (Chicago)
"Genesis" by Justice
Windy City All-Stars: "From 2011 to 2014, the Windy City All-Stars used Queen's 'Fat Bottomed Girls.' In 2015, Windy City is using 'Genesis' as our intro. It's all-instrumental with a really aggressive Imperial March-type introduction and consistently rising energy throughout, which makes it really easy for our announcer to get our crowd hyped. We've got a lot of player turnover from the 2010-2014 era of the team, so we also like the way the name and structure of the song suggest a rebirth and new beginning, but we're still fat bottomed girls in our hearts. And in our bottoms, of course."
17) New Skids on the Block of Montreal Roller Derby
"Shoes" by Tiga
Plastik Patrik
, coach: "The song was selected for a few reasons. The Skids have traditionally skated out to 90s dance songs and this song is reminiscent of retro dance /New Wave, so an evolution of some sort. Also, this was a big one, Tiga is a Montreal DJ, and it's cool to tip our helmet to a local talent gone global. [In the past] the one the team has used the most is NKOTB's 'Hangin Tough.'"
19) Ohio Roller Girls (Columbus)
Amy Spears: "I think way back we did use Daft Punk's 'Harder Better Faster Stronger,' but that was probably 2009ish? In fact, we've been known to ask if we can just eschew intros altogether, preferring to focus on the team as a whole."

20) Arch Rival Roller Girls (St. Louis)
"GDFR" by Flo Rida


Shimmy Hoffa: "People proposed a couple songs and the team voted on this. It's new and upbeat. We generally like songs that give us energy and make us smile. Last year we used the theme to SpaceJam as our song."
Home: "Welcome to Detroit" by Trick Trick featuring Eminem
Away: "Seven Nation Army" by White Stripes
Lazer Beam: "'Welcome to Detroit 'is very fitting for a home game. The crowd loves it, it gets us fired up, and it is a big deal for skaters coming up to the A Team to skate out to this song. It's like getting your varsity letter. 'Seven Nation Army' is also a great song that gets the blood flowing. Jack White saved the Detroit Masonic Temple by paying the back taxes on the historical building that just happens to be our home. It started as a 'hey, thank you' and developed into something more."
26) Dairyland Dolls of Mad Rollin' Dolls Roller Derby (Madison, Wisconsin)
"Move Bitch" by Ludacris.
Splatter Alice: "When you listen to it, you can probably catch the connection to our cow-spot Wisconsin Dairyland team theme. It has the added benefit of pumping up the fans and having some catchy ass-kicking lyrics. It's also the basis for our best-loved Moo Bitch / Get Out The Whey tees (click Dairyland Dolls)."
27) Steel Hurtin' of Steel City Roller Derby
"Black & Yellow" by Wiz Khalifa
Ally McKill, co-captain: "Few songs scream 'Pittsburgh!' like this one! We use it to connect with our city and fans, and of course, the great sports tradition of Pittsburgh, whose teams all don the black and yellow."
30) Tornado Sirens of Naptown Roller Girls (Indianapolis, Indiana)
Tornado Sirens (A-team): "Thunderstruck" by AC/DC
Warning Belles (B-team): "Welcome to the Jungle" by Guns N' Roses
Peyton Slamming: "Over the years, our introduction for the A-team has become more of a production to get the fans going. It always begins with actual tornado sirens going off. We have four girls skate around the track, holding (in this order): the US flag, the flag of the State of Indiana, the flag of the city of Indianapolis, and the NRG flag w/our logo."
32) Stockholm Roller Derby (Sweden)

"Electric" by Leila K.
Rolling Avalanche: "We used to choose a new intro song for each bout. Back then we chose songs we liked, such as L7 'Shitlist' and M.I.A. 'Bad Girls,' or songs that were related to the country we were playing in, in a slightly ironic way, like the theme to Braveheart when we played in Scotland, Spice Girls when we played London, and 'Heut Ist Mein Tag' when we played against Stuttgart. But then we settled on 'Electric,' since it felt like a 'Stockholm' song, and have had that as a intro song ever since."
"Immigrant Song" by Led Zeppelin
Tabrina Schreier, captain: "Our theme is Ice/Snow/Winter storm weather since we live in Buffalo, NY (our mascot is a Yeti). So we try to keep our song in line w/ our theme. 'Immigrant Song' talks of Viking Immigrants going to new lands to conquer them. We also travel to play our games in hopes of coming out the victors. It's our athletic battle song."
36) Calgary Roller Derby Association
"Hold On" by Wilson Phillips
CRDA AllStars: "It means a lot of different things to all of us though. We started singing it in the change room, then decided to take it to the track."
38) Oklahoma Victory Dolls (Oklahoma City)
"Bad Girls" by M.I.A.
Candace Timmons/InstaSLAM: "Last season I cannot remember what song we skated out to but I did put together a cover to Megan Trainor's song 'All About That Bass' right before playoffs. This season we wanted something totally different and are going with M.I.A's 'Bad Girls.' We love how ominous it sounds when it begins and we are always down for a choreographed intro, which we have planned for our season home opener May 16. Luckily the girls on our team are great sports about these kinds of things and our fans absolutely love it."
40) Columbia Quad Squad (South Carolina)
"Also sprach Zarathustra" (2001 theme) into "Get Outta Your Mind" by Lil Jon
Chucktown Bruiser: "Our home college team, the Carolina Gamecocks, use the 2001 theme as an intro and 'Get Outta Your Mind,' after such a slow intro, makes the crowd explode and helps us realize we're there to kill! New transfers this season have made it clear that they specifically wanted to get the opportunity to come out to this intro."
Mason Adams is serving out a misconduct penalty on Twitter.