Firsties and Faves: Streets of Laredo
So here's what happens when you take morphine for the first time…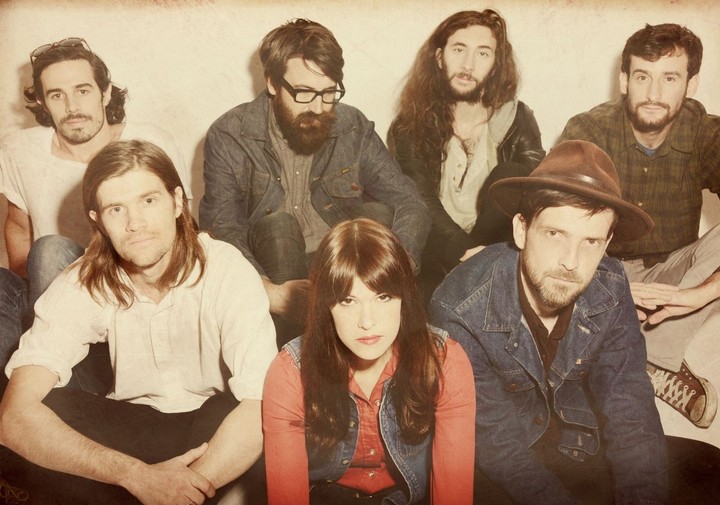 The Streets of Laredo - "Lonsdale Line." Video by Chris Tucci and Steven Mertens.
Meet Streets of Laredo. Not to be confused with the Marty Robbins cowboy ballad of the same name, SOL are a septet who originally hail from Auckland, New Zealand, but have since relocated to Bushwick, Brooklyn where it seems likely their beards, flowing locks, and denim preferences meant fitting in was pretty easy.
It probably also helps that the troupe make rollicking indie-folk layered with giddy boy-girl harmonies and the occasional fulsome brass section: they're both talented and approachable and their music is so unabashedly heart-on-the-sleeve warm and genuine that the band's two recently released EPs—"Vol I" and "Vol II"—will burnish even the most tarnished and cynical of souls. So we decided to talk to TSOL's Dan and Dave Gibson and Dave's wife and fellow bandmate Sarahjane about their firsties and faves.
First heartbreak:
Dan: I asked out this girl Laura Kennedy in front of all my fiends at school camp when I was about 11, she said no in front of everyone. Bam!
Dave: This girl called Jackie, her reasoning was that she wanted to spend more time with her horse.
Sarahjane: I don't know if this qualifies but the first time I felt intense disappointment and that the world as I knew had been turned upside down, was when I was kid and my older sister explained to me that NZ was one, pretty insignificant, country of many. That we weren't the center of the world, we were nowhere near Sesame St. and the chance of me meeting Punky Brewster was zero to none.
First sibling fight:
Dan: My twin brother and I would always fight over the top bunk. He would always win, he was a bit bigger than me.

First impression of NY having moved here from NZ:
Dave: There are a disproportionate number of dry cleaners in this city.
Dan: Smarties. They are different in New Zealand. The true definition has been lost.
First regret:
Dan: Letting my mum drive me to school in her Vauxhall Viva for a week with no windscreen. That kind of stuff is pretty embarrassing when your seven. Kids are little critters at that age.
Dave: Not going to see Nirvana play in 1992 when they came to New Zealand—from memory it was $30 but I couldn't afford it.
First inspiration:
Dave: MacGyver.
Dan: Chatter rings.
First drug:
Dan: Do cigarettes count? Smoked one of those when I was about 12 at my friend Reuben's place. Got the shits.
Dave: Morphine... I hadn't touched any drugs at all until I broke my back in a car accident in Poland and got put on Morphine. It was like going from a Nokia flip top phone to an iPhone 5 instantly. It was quite spectacular but sadly had the most average hallucinations—which basically revolved around putting together a perfect sandwich piece by piece—only to discover my sandwich was still in separate pieces.
Favorite piece of advice:
Sarahjane: You can go anywhere if you wear an orange vest and carry a clipboard. One year on our anniversary Dave snuck into the high rise across the street from our apartment armed with an orange vest and a clipboard. He painted a massive "Sarahjane Rocks" in the window facing our place so that it would be the main view from our living room. Such is the power of the orange vest, that no one even asked him what the fuck he was doing.
Dan: Be a sponge.
Dave: Be confident. Chicks love confidence.
Favorite feeling:
Dan: Getting double bounced on a trampoline.
Dave: Sleeping in the afternoon.

Favorite drunk food:
Dave: The God Father Sandwich as served up by the deli a couple of blocks away from the Morgan Stop in Bushwick.
Favorite fantasy world:
Dan: Asgard.

Favorite kind of plastic surgery:
Dan: The ones that have gone a bit rogue.
Dave: Face transplants—as popularized by the seminal 1997 Nicolas Cage & John Travolta film Face Off.
Favorite karaoke song:
Dan: Salt-N-Pepa - "Shoop"
Dave: "I Think We're Alone Now - Tiffany
Favorite accident:
Dave: Probably that accident I had in Poland… oh yeah, and the morphine.
Catch The Streets of Laredo this year at Bonnaroo and keep an eye out for them on tour this summer.

Related:

More Firsties and Faves with Drowners, Grouplove, Cheatahs, Yoko Ono, Shy Girls and more!
Watch "Dojo Rising" by Cloud Control. It'll make your life better.