Young Thug's "The Blanguage" Video Is Dripping With Swagma (Swag Magma)
Lessons learned from this video include: don't clean your apartment before filming a music video in it, wear pants with stuff written on BOTH the crotch and the butt, baggy t-shirts are out, and Uggs are in.
Young Thug has done a terrific job of positioning himself as hip-hop's next great hope. His best song is the Metro Boomin-produced "The Blanguage," which is convenient because that's the song I'm writing about today. But this isn't just a blog post about how great "The Blanguage" and its video is, even though they are both great. This is a blog post about style. More specifically, this is a blog post about what I, a very stylish individual who was once photographed by a fashion blogger for wearing a gigantic shirt at a rap concert, learned about style from Young Thug and his music video for "The Blanguage."
There is so much to learn about style from this video. It's basically a goddamn volcano erupting with swagma (swag magma, duh), dripping hot fire onto every single hater who dares question Young Thug's sartorial choices. Young Thug doesn't give a fuck if you think he dresses weird though, he's too busy rapping like he got his tongue split in two by a mad scientist so he could better destroy everybody else in the game with the ease of flicking his wrist.

FILM YOUR MUSIC VIDEO IN YOUR KITCHEN
But don't clean it first. Spontaneity is the essence of style, and if you put away all the shit piled up in your sink or cleaned up the empty Styrofoam cups laying around, you'll let everyone know you planned it. Fuck that. Plans are not stylish. Also, this is clearly either Thugger or Metro Boomin's kitchen, which rules, because this is probably the same sort of kitchen that any working 20-something in Atlanta has, give or take the million bottles of Actavis they've got casually lying around.

OWN A CORVETTE
Shit like this is what makes Young Thug a genius. NOBODY is checking for the 'Vette these days, JUST WAIT UNTIL METRO AND THUGGER PULL UP TO THE CLUB IN A CORVETTE THO. If any hater is still standing after the sight of the Corvette's visage (Corvisage), Metro Boomin's racoon-skin cap is sure to obliterate any single hater who dares withstand the power of the Corvette stunt.

DENIM JACKETS R KEWL
The only thing more swaggy than a denim jacket is a destroyed denim jacket with different color denim sleeves that you rock while making a v coy face. #LEVELS.

THERE ARE TOO MANY LEVELS TO THIS IMAGE TO ISOLATE ONE ELEMENT OF IT, SRY H8RZ
Young Thug disdains baggy t-shirts. They're done, fuck 'em. Also, if you like drinking lean you should probably show how excessively bout it you are by dying your dreads pink. Also, can you tell how many bottom layers Thug has on right now? THREE, which is ONE MORE THAN USUAL. *DROPS MIC*

THE CLOSER YOUR KNEES ARE TOGETHER THE CLOSER YOU ARE TO BEING A TRUE TRAP LORD
Wait are those Uggs he's got on? ENHANCE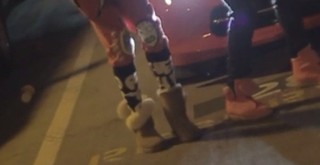 Why yes, I think... ENHANCE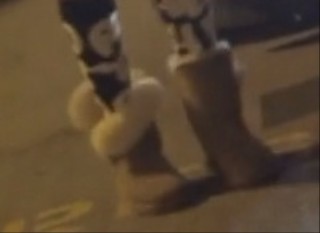 YES. YOUNG THUG IS DEFINITELY WEARING UGGS IN THIS PICTURE. BURN ALL YOUR OLD SHOES, ONLY WEAR UGGS. YOUNG THUG SHOULD CHANGE HIS NAME TO YOUNG UGG. Ahem. Moving on.

WEAR A GOLDEN WEED NECKLACE WHILE SMOKING WEED
Politicians call this "staying on-message." Also, those glasses are tight.

PANTS WITH STUFF ON THE BUTT ARE DOPE
In case you were wondering, Thugger's got "MCMLXXXIV" on his butt, which is Roman Numerals for "1984." Is this a reference to the Van Halen album 1984? "The Blanguage" is definitely Young Thug's "Panama," so maybe.

ALSO PANTS WITH STUFF ON THE CROTCH ARE EQUALLY DOPE
This image is just tight in so many ways because Young Thug's kitchen contains Lucky Charms, Cookie Crisp, Cocoa Crisp, Funyons, Febreeze, a hookah, two dish towels, and one microwave that has never been used because evidently all he eats is cereal. Turn up!
Drew Millard drank one million Red Bulls while writing this, which explains why it's in all-caps. He's on Twitter - @drewmillard
Metro Boomin want some more? Here's what we learned about style from Drake's "Started from the Bottom" video, as well as Avril Lavigne's "Hello Kitty."