I Went to Basilica Soundscape and the Cops Thought I Was a Corpse
This fest was more than just a "Pitchfork goth forest nymph camping adventure." It was a chance for artists to collaborate in unique ways; it was a chance to get arrested.

Where it all happened. Pic nabbed from the New York Times.

Referred to variously as "summer camp for music writers" and that "Pitchfork goth forest nymph camping adventure," Basilica Soundscape is a two-day music and arts festival, in a renovated factory in upstate Hudson, New York. It's a niche event, brought together for a very specific type of consumer, one who likes to be challenged, provoked, and engaged. Now in its second year, the carefully curated event attracted a grip of locals and a few handfuls of young Brooklynites. I'm part of the latter camp, and on my journey there found myself in the cramped backseat of a car, driven erratically by someone who purportedly made out with K Records mainstay, Calvin Johnson, and also asked R. Kelly if he had STDs following three shared kisses. (The version of the story I was told ended with Kelly sighing, "Yes," in response.) We were going to Get Dark in the woods with a bill that was variously confrontational and sedative. That's part of what made the adventure from the city feel worth the trip: the considered curation of the event and its execution meant more in this setting than a regular music festival.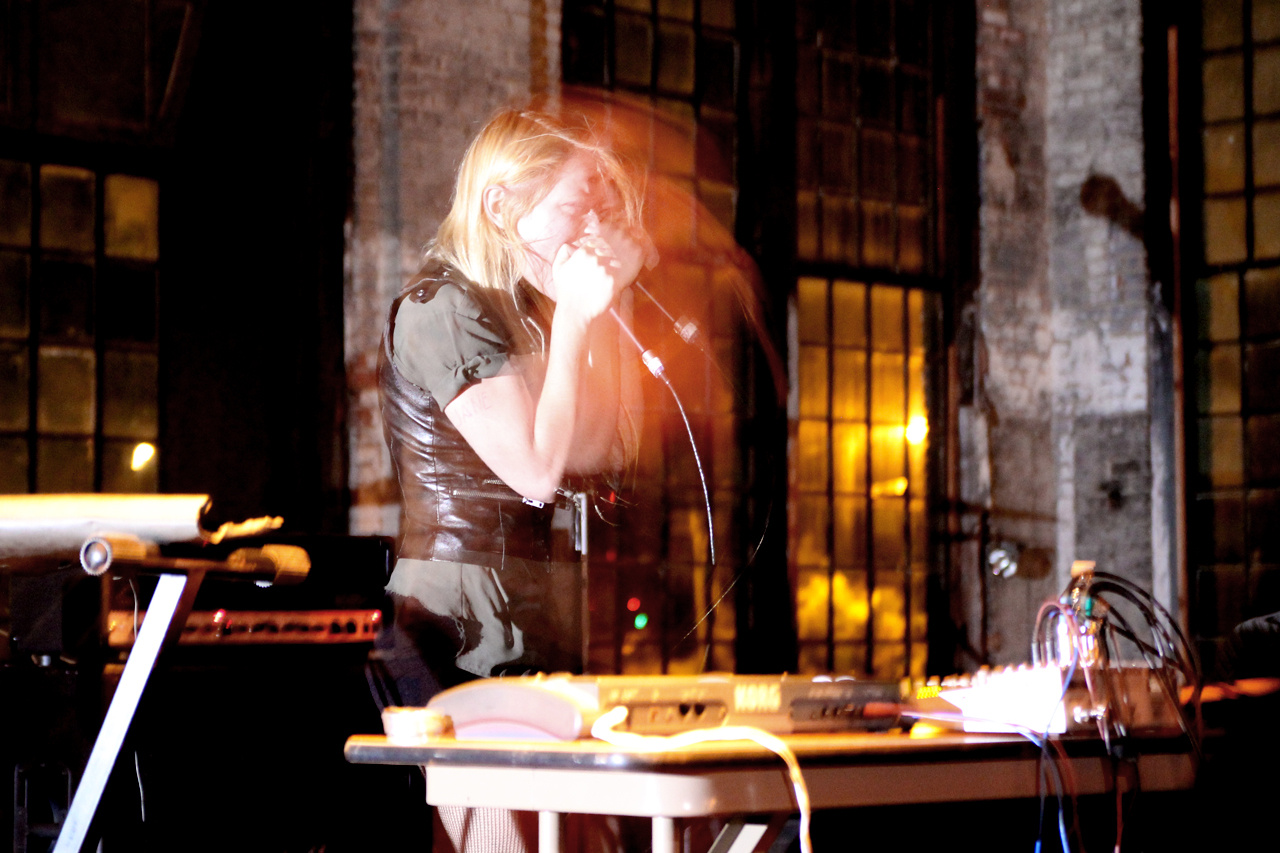 Pharmakon via animalnewyork.com.
Friday's line up was handpicked by Pitchfork's metal impresario Brandon Stosuy, with choral-loop songstress Julianna Barwick, caustic one-woman noise fiend Pharmakon, grindcore lynchpins Pig Destroyer, and the dark instrumental hip-hop of Evian Christ, each filling the cavernous concrete and brick space with their own brand of noise. This was a challenge likely met best by Barwick, whose placid instrumental synth swells and stacks of vocal harmonies expand the more room they have to breath. Later Peter Sotos of the band Whitehouse and Television's Richard Hell read from their written works, all of which was excellent, except perhaps when Pharmakon's Margaret Chardiet fried the P.A. system by amping up her metallic clangor that bit too much. A backup was produced for the ear-shattering Pig Destroyer set, whose lack of a bass player kept the aggressive guitar tones remarkably harsh as heshers lost it in the pit. It was heart pounding and vaguely terrifying, and they closed the night on an adrenaline-amped high note.
However, the landmark moment came one set earlier, when each of the night's four performers came together for one collaborative piece. Conducted by Jonathan Bepler and coordinated, in part, by Stosuy and conceptual artist/Björk's main-squeeze, Matthew Barney, the performance was electrifying. Bepler stood in the center of the hall, surrounded by the crowd, conducting the performers using his fingers to indicate numbers. With their backs to the wall, Pig Destroyer interposed searing blasts through the industrial textures of Pharmakon, alongside the throb of Evian Christ's beat machines, all overlaid by Barwick's harmonic filigrees. The result was challenging, but to say it didn't "work" merely addresses the performance's musical merits and misses the effect of the action itself, which was visceral, overwhelming, and unconventionally realized.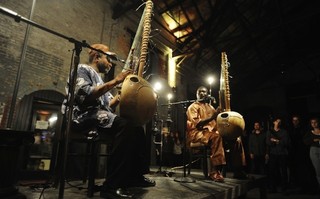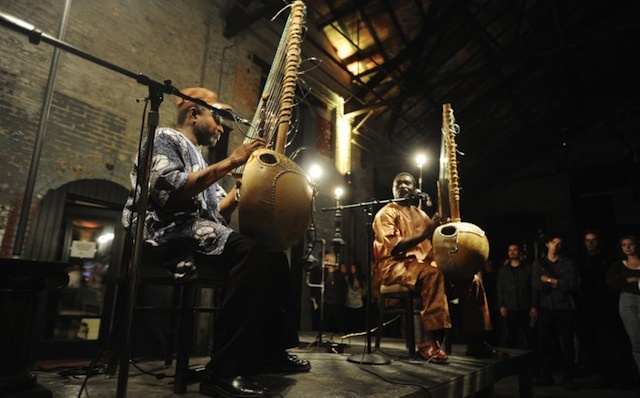 Later that night we joined Robin Carolan of Tri Angle Records for a DJ set at a bar up the street called Half Moon. Barwick was also in attendance, along with the Prince Rama sisters (who backed Barwick on stage earlier) and proceeeded to dance like there was no tomorrow. By this point a few of us had taken it so far that it seemed like maybe there wouldn't actually be a tomorrow. At around 4AM I'd had enough and started wandering back down the hill toward Basilica. My goal for the weekend was to not spend a cent on transport or camping: I decided days before that I'd just wander into the woods and crash in some shrubs. The initial plan was to take MetroNorth to Poughkeepsie before hitchhiking the rest of the way. Friends convinced me this was a terrible idea, and eventually I agreed, but no one could dissuade me from sleeping outside. To this end, I trudged through an open field, put up my hood, and crashed out on a bed of weeds. Two police officers woke me up: I'd been reported—by a diligent citizen—as a corpse. Some writers go to jail for making caustic inquiries about the establishment or being overly aggressive in dangerous situations. I went to jail for trying to sleep in a field.

After finding my way back to town via a police-drawn map, friends made fun of me, but no one gave a shit about my pathetic decisions by Saturday afternoon when rumors began to swirl that Sky Ferreira and her boyfriend Zachary Cole Smith, frontman of Motorik dream-poppers DIIV, had been arrested on drug charges in the early hours of the morning. These rumors were corroborated by a police blotter released Monday. (And if you've been living in a basement without an internet connection, they were found in possession of 42 decks of heroin, plus some ecstasy, in a pick-up truck with stolen license plates. Oh and Sky resisted arrest. Good one guys.)


Malang Djobateh.
Saturday felt like the perfect anesthetic to Friday's debauchery. The evening began with a performance art piece by Genevieve White. In a darkened room, the artist—decked out in wedding dress and running shoes—wrapped her face in cellophane tape. She proceeded to run on the spot while hauling her dress up around her. She then rested, removed the tape, changed into high heels, pushed her hair behind her ears over and over, and left the room. An exercise in vanity, a commentary on the bonds of marriage, and the futility of blind effort, it was actually not as strange to watch as it might sound.
Next up was Pure X, easing us in with their drowsy psychedelic rock. The instant the band finished, the lights came up, revealing two Ghanaian musicians who perform under the name Malang Djobateh. They brought out massive koras—a 12-string West African bridge harps made of gourds—and played glittering, effortless polyrhythms while singing in timbres akin to Malian musicians Tinariwen. They were a perfect counterpoint to Canadian grunge-punkers No Joy, who followed on the main stage.
Sky and DIIV doing Cat Power's "Nude as the News."
Cass McCombs and his band rode mellow, subdued grooves until DIIV took the stage. For all the stresses of what happened in the early hours of that day, DIIV sounded reliably tight. Smith sang with his hood up and his back to the audience and Ferreira joined them for a cover of Cat Power's "Nude As The News," which sounded somehow more desperate than the original. Was the choice of this maudlin song about temptation, (let alone the title's implication), a reflection on the day's earlier events?
Still later and after all the music was over, seven of us piled into a car and drove to a motel in the woods. I woke up Sunday, three in the bed; the bed next to us was also completely full. One friend was still awake, sitting on the floor, using a FVCKTHEMEDIA.com button to stick-and-poke tattoo the word SOS into her own arm. Another friend's ankle now reads, "NO." The India ink had been purchased at a bar and the thread she was using was unraveled from a sock. Soon the proprietor knocked on the door, took one look at the room and said: "That's far more than two people. You have to check out."
From the periphery, I imagine this whole thing seems try-hard. What were we even doing up there? Couldn't we have achieved all of this somewhere a crowd larger than 1000 people could have joined in? I don't think so. Part of what resonated with this event was the shared effort of the patrons and performers. Even getting there was a pain, which in turn inspired a sense of ownership and intimacy. Basilica Soundscape, with all its quirks, revealed itself like a secret, something we could all share in, no matter how odd, insider-y, and potentially misunderstood. So yeah, just like the memories you bring back from summer camp.
Dale's on Twitter. Obviously. - @daleweisinger