I Was Having a Crappy Day and Interviewing Little Daylight Made it Much Better
I cried all the way to meet this Brooklyn-based trio and when I got there we talked about "The NeverEnding Story," men in short-shorts, and what happens when you grow up in a small town.
Little Daylight's video for "Glitter and Gold.
"
Things that happened to me in the hours leading up to interviewing Brooklyn trio Little Daylight: I cried before 8am, I cried in the shower at 9am. Later that day I showed up at the wrong address to meet the band and then stood on a corner for 20 minutes and cried about not being able to get a taxi to take me to the right address. Shortly afterwards, a car driving through a puddle splashed me, even though it was 80 degrees outside. When I eventually found a taxi, I cried all over again and the cab driver told me to "Stay strong."
Condensed, these events read like the montage from a terrible film about an emotionally unhinged girl who needs to Get. A. Grip. End credits now please, thanks. At least, even while I was in it, I could see that I was pathetic and the whole thing was kinda funny. Anyway, I eventually showed up to the interview sweaty, puffy-faced, and an hour late. Thankfully Nikki, Eric, and Matt were too polite to comment and they improved everything about that day by talking to me about The NeverEnding Story, men in homemade short-shorts, and the influence of partying on their music.
Just over a year ago, the band started releasing cut and paste, synth-spangled reworks of songs by Passion Pit, Edward & the Magnetic Zeroes, and the Temper Trap, among others. When they dropped their debut tune "Overdose"—a giddy track about lust set to stuttering synths—it went straight to number one on the Hype Machine.
"It was a good feeling that day and it was something that we never expected," says guitarist Matt. "But a few days later you're like, 'What's next?' You have to feed the beast."

Little Daylight's newly released EP, Tunnel Vision, expands on the sonics laid out in "Overdose," from the airy sweetness of "Name in Lights" to "Glitter and Gold," with its fantastical accompanying video (above), featuring two wide-eyed kids exploring an alternate dimension.
Noisey: Let's talk about the importance of The NeverEending Story to Little Daylight.
Eric: It definitely came up in terms of music, when we were talking about synth sounds.
Nikki: Oh yeah! The NeverEnding Story synth sound.
Matt: Not that we actually know what it sounds like, but it's an idea. It's like that glimmering, sparkly 80s sound…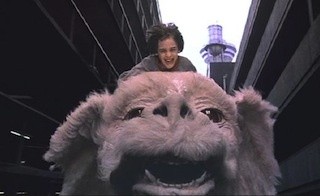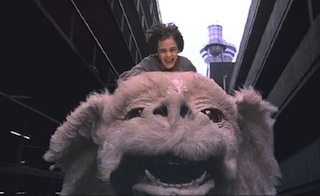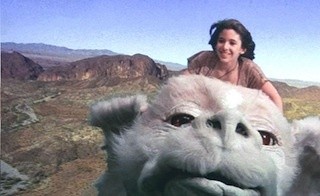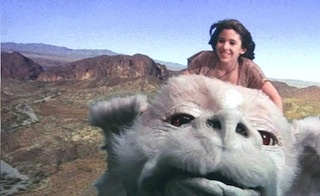 So that's what you want Little Daylight to sound like? Falcor flying through the air?
Nikki: It's a source among many other sources.
Eric and Matt, you guy grew up in New Jersey and met when you were in ninth grade. What did you bond over?
Matt and Eric in unison: Girls and music.
Nikki: Things have not changed at all.
Who was the hot girl in ninth grade that you both liked?
Matt: We had a love triangle. You can't publish her name.
Eric: We both got her at various stages of life…
Who got her first?
Eric:I did. I think we should move on to the next topic! This is nothing we'd want published anywhere. We're good guys!
There's nothing bad about it.
Matt: No, it's just very white trash sounding, when you analyze it. We've lived in the same communities for a long time. Things happen!
Okay, beyond girls.
Eric: Musically I was into hippy music and Matt was more alternative. We started a band that really merged those two things.
Matt: We also got into progressive stuff and weird mathy music with odd time signatures. We had a prog rock band that improvised for long periods of time, in front of our friends, who smoked so much weed that they didn't care as long as there was a band blaring shit at their faces
Eric: We weren't good enough at our instruments to pull off that kind of music, but it didn't stop us trying!
So you must have had a bad band name…
Eric: Oh yeah, it was Basement.
Eric and Matt: But with two s's.
Ha!
Matt: We were suburban kids so we had a concert series called "Bassement in the basement." The series went from one to five. People would travel from…
Down the block?
Matt: From elsewhere in the county!
Eric: By number five, they were coming from other towns.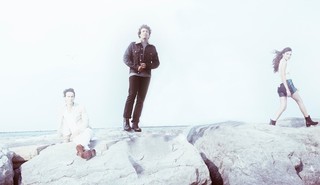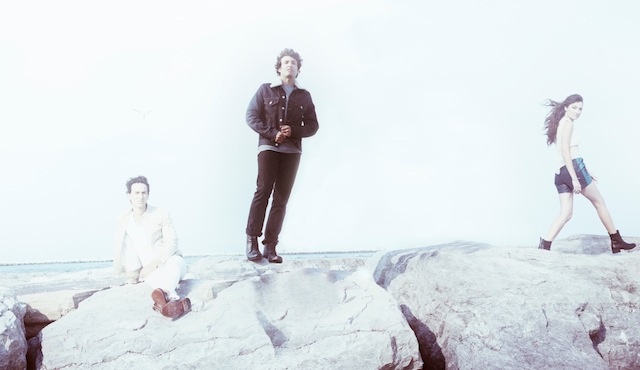 Given those early influences, when did the 80s synths start filtering through?
Eric: Electronic music is a huge part of our roots. Not just the remixes, but making beats and ambient music before that. When those elements make their way into pop songs, most people think it sounds like the 80s, as that was the first time those instruments were used in pop. Then there was long period where they weren't used, so when they came back, that was people's point of reference. We sometimes joke around that we never thought of it that way.
Nikki: Well we did want to have a NeverEnding Story Falcor sound, there's a little bit of that.
Eric: And our ideas about these things have metastasized over time too.
Good word.
Nikki: Like a tumor.
Matt: Right in the beginning we were very free with synth choices and there was a ton of delay and lots of sparkly stuff. Then a few months into it we were like, this might bring someone into an 80s mood too fast. There's nothing wrong with the 80s, it's just we want people to think broader and hear the song as a song, not a nostalgic piece from an anachronistic era.
Nikki, prior to this you'd spent time doing backing vocals and playing keyboards in another act. How does it feel to now be center stage?
Nikki: I realized whenever I wasn't in the center of the stage I would always be doing little things to get people to look at me, which is a f**ked up thing if you're not the lead singer! You're just supposed to fade into the background.
Were you always an extrovert?
Nikki: I'm not extroverted, I like being in the spotlight, but it's specifically a stage thing. I'm not like a grab-the-spotlight-person in other ways, but I really like being on the stage.
Can you tell me a little bit about the inspiration behind some of the lyrics on the EP?Nikki:
"Name in Lights" and "Glitter and Gold" both have to do with the concept of, not fame necessarily, but being in the spotlight. "Name in Lights" is about someone going for it and maybe losing some things in pursuit of that. "Glitter and Gold" is more about feeling like you can go out and do this thing that you wanted to do. It's two different takes.
Matt:
There's a lot of stuff that has a sort of go out and get 'em attitude. A big source of inspiration for us is partying, being excited, and having fun. We want there to be a thrill to what we do because it's actually one of the hardest things to fit it into music effectively. It's easy to fall off the deep end into cheese and it's also easy to fall into the moody darker side of things, which has its place of course. To find that nice edge right in the middle where you can have a lot of fun and also say something a little meaningful and make people excited and dance—it's one of the harder challenges that we like to take on.
What's your biggest non-musical influence?
Matt: I get a lot of ideas from movies. I saw Blue Jasmine last night. It makes you feel psychotic. You get overwhelmed by Cate Blanchett's neurotic and failing mind. It was scary. Also, she's also a terrible person to begin with, so there's nothing redeeming, but it was a good movie.
Eric: I like really long walks.
Matt: Lavender cut-offs is what you like.
Eric: I messed up my lavender cut-offs. I keep needing new cut-offs. I cut them pretty short to begin with, but then they were uneven, and I just kept cutting them shorter. By the end of it…
Your balls were hanging out.
Eric: Literally. I had to throw them out. I always just cut and then tear and think it will be okay.
Nikki: Well, come on dude!
I feel like you're not learning from these experiences.
Eric:I'm not. This is like the seventh pair I've done and they were all wrong.
I do applaud you for wearing shorts at all though. Many men do not.
Nikki: He's not afraid.
Eric: I went through a phase of not wearing shorts for one summer and it was so hot.
There are men I work with who won't wear shorts. What are they hiding? They're just legs.
Matt: It's also a hipster thing, not hipster, but being cool.
Nikki: Shorts are very hip. It's next level hipness, if you're ready for it.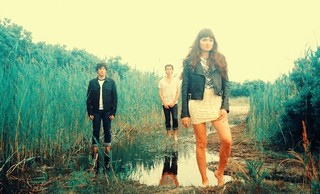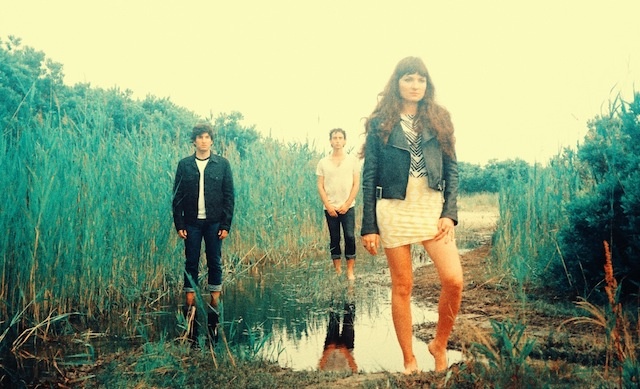 Nikki were there any specific female artists that you looked up to as a kid?
Nikki: The first girl I ever wanted to sing like was Gwen Stefani in early No Doubt. She was just a badass and she still is. I'm not a huge Gwen Stefani fan now, but I respect her career. She's always had her own style; she's always felt like her own woman, just really strong. Even to this day, she still tours, she has a family, and she's never cheesed out.
Matt: Do you think Gavin Rossdale is a stay at home dad?
One hundred percent.
Nikki: Is he still really hot?
Matt: He's a DILF.
Little Daylight Tour Dates
9.3 - San Francisco CA - Slim's *
9.6 - San Diego, CA - House Of Blues *
9.7 - Las Vegas, NV - Vinyl at Hard Rock Hotel & Casino *
9.9 - New York, NY - The Studio at Webster Hall
9.16 - San Diego, CA - House of Blues #
9.18 - Los Angeles, CA - El Rey Theatre #
9.19 - San Francisco, CA - Great American Music Hall #
9.20 - Portland, OR - Doug Fir Lounge #
9.23 - Chicago, IL - Lincoln Hall #
9.25 - Toronto, ON, Canada - Phoenix Concert Theatre #
9.27 - Brooklyn, NY - Music Hall of Williamsburg #
9.28 - Washington, DC - 9:30 Club #
9.29 - Philedelphia, PA - Union Transfer #
9.30 - New York, NY - The Bowery Ballroom #
* w/ Charli XCX
# w/ Bastille
Kim doesn't usually cry on street corners. Honest. She's on Twitter -@theKTB.

Style Stage is an ongoing partnership between Noisey & Garnier Fructis celebrating music, hair, and style.