Get To Know AKUA And Her New Video For "One's Company" Which Will Mess With Your Head
Riding around in a hearse, lurking in the cemetery at night, and playing mortician to herself.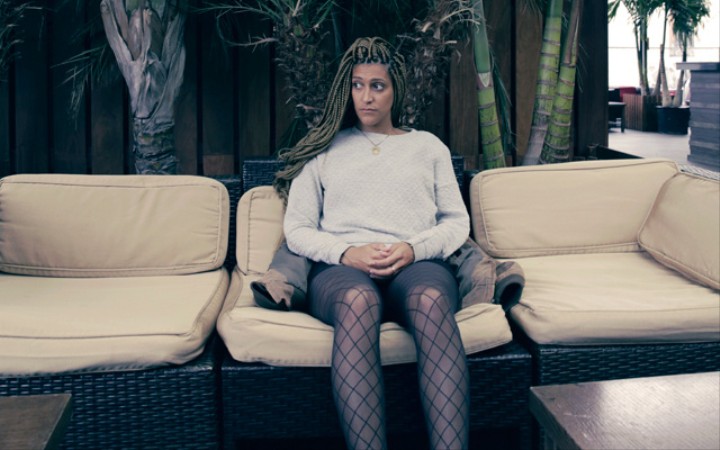 At the onset of AKUA's new video "One's Company," there's a corpse lying on an embalming table and the Canadian singer playing mortician to herself. Then she's riding around Harlem in a hearse, followed by the hippest funeral on the face of the planet and a late night cemetery scene. It's all with the help of her brother and co-producer Kofi Carson, too.
It's an elevated level of badassness, considering AKUA can really fucking sing—and it all sounds so effortless, too. A fateful night as Solange's opening act during a performance in Canada led AKUA to become the younger Knowles' background singer. Last summer, AKUA released a hypnotic solo track called "Gravity," paired with a video that's full of mermaids. She's strange and encaptivating, and we're excited to premiere her new video for "One's Company" below. We also spoke to her about working with her brother, dead people, and what filming this video was like.
Stream the video premiere of AKUA's "One's Company" below:
So when did you first learn that you had the voice of an angel?
Awwww [Laughs]. Geez, I don't know. I guess I sang a lot as a kid, but I started singing at University. I didn't think I had the voice of an angel; I surrounded myself with really insanely good singers and sort of had a complex. I didn't have perspective because everyone around me in my musical community were insanely good singers. I felt like I was at the bottom of the spectrum. When I started writing my own music, you start to write things that suit your voice and highlight your strengths in a way you can't when you're singing other people's stuff...when it's easier to see restrictions or ways that you don't measure up. So yeah, I've definitely found my own space.
What does your name mean?
My name is from Ghana in West Africa – that's where my dad's from. It's kind of boring; it's a name given to a girl born on a Wednesday in Ghana.
I know a girl named Abena, and she was born on a Tuesday in Ghana.
Right! See it's not particularly profound. I keep meaning to make up some crazy line or some excuse to make it seem more profound than "a girl born on a Wednesday."
Well rappers always turn their names into acronyms as an afterthought so there's that.
I know. I know. I've actually thought about it. I'm working on it.
You work really closely with your brother, what's that dynamic like?
Um...it's a lot of things, Kathy [Laughs]. On the pro side of things, there's an element of familiarity and trust. You really know who it is that you're working with. I feel a lot more comfortable being vulnerable or not knowing what I'm doing being around him. It's kind of like a safe territory, and he kind of uses it [the trust] as an excuse to challenge both of us. He's kind of put me in some compromising situations I realize looking back [laughs]. I'm like, "How come my life is always at risk when we're doing a video?"
Speaking of which...so you filmed "One's Company" in a funeral home and were pushing a Hearse.
I really wanted to be driving a vintage Hearse. A Summer ago I was driving through the countryside in Ontario and saw like ten vintage Hearses in the parking lot of someone's country home for sale and for rent. I was like, "Holy shit! That would be so cool to rip around in an old Hearse" – and that was the initial idea: to be in a beat-up Hearse, which totally didn't end up being the case but it was a starting point. Once we came up with the funeral theme for the video, my brother [Kofi] had come across a portrait series by Marina Abramovic called "The Kitchen." That series really aligned with the aesthetic of the old embalming room and influenced a few of the shots.
Well the real video came out pretty dope and morbid.
The whole video is a metaphor for the death of a relationship. It's about death and rebirth, and that's where the whole thing is kind of a loose metaphor. And it's also about exploring the idea of "one's company" – a kind of slogan for independence. But then it's like, I'm not sure how comfortable I am staying behind that mantra. Who wants to die alone? Who wants to end up alone? I'm digressing, sorry.
Thanks, now I'm revisiting every old relationship I've been in.
Someone actually wrote me on Soundcloud like, "Oh my god, this is my theme song for today. I just got dumped." I was like "Oh. Shit."
So you basically shot this video in places no one likes to visit, i.e. a cemetery, a funeral home, and in a Hearse driving down Malcolm X Boulevard in Harlem.
Yeah I was driving that Hearse through Harlem with all the expensive camera equipment
on the hood. It was just me and the Hearse for most of the time. It was pretty scary. I
have so much to say about being in the funeral home. It was a crazy experience. I was so curious because as a Canadian, it was definitely a cultural experience to be at a funeral home in Harlem. It intersects the community. The owner [of Owens Funeral Home in Harlem] has had that place for 40 years. They don't have an elevator to get bodies up and down. It's all manual labor. It's kind of like frozen in time. There's people passing through to visit the bodies, and there's a chapel upstairs, which you see in the video. It's for the people who can't afford big cathedrals. I talked a lot to the staff like, "Who wants to do this?" It's pretty crazy. It's literally confronting death. It was a big challenge for our entire crew. The day we showed up, we had coffees in hand, and my brother and I went in to make sure everything's cool. We go downstairs to the embalming room and there were dead people everywhere!
Agh!
Dude. We were like, "WHAT?!" It was nuts. There were ten crewmembers outside ready to have breakfast and this place is like full of dead bodies. We can't have the Dunkin' Donuts next to dead people. They literally had to do some shifting around to accommodate. I had to go outside to brief people like, "Yo. It's crazy in there." I didn't tell people what was really up, but I was like, "It's a funeral home. There are bodies around, so if anyone feels uncomfortable they can leave at any time. No questions asked. Totally respect it." People were spooked, but by the end of the day people were into it. I guess everyone was fascinated. My main goal was to make sure my video wasn't disgusting. That's not what I'm going for.
For more behind the scenes footage, check the video below: