Talking to the Nine-Year-Old DJ Kai Song
He gets the party started, but he can't miss his bedtime.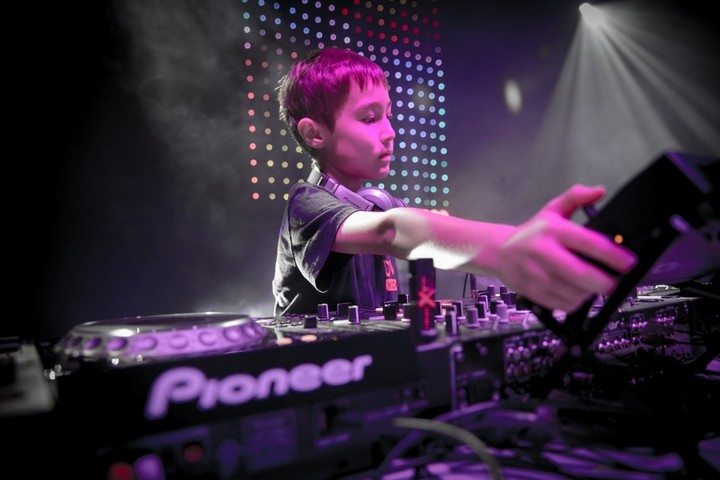 Photo by Chia Messina
As we noted earlier, the state of pre-pubescent clubbing is on the rise with glowsticks and juice boxes. One key player is DJ Kai Song, the 9-year-old DJ and aspiring music producer who started playing with his decks at two-and-a-half. Now, the rising star has played parties at Pacha, released a mix album on Ultra Music and is taking production classes at the Manhattan DJ school, Dubspot.
It runs in the blood, as DJ Kai Song's dad is an audio professional who hails from Germany. He helped Kai play on the Pioneer CDJ-1000 CD Decks in their home, even before he could talk (fact: his first gig was at age three, spinning at the Children's Museum of the Arts in New York). He has played close to a hundred gigs, including Heidi Klum's show at the NY Kids Fashion Week and his grandma's sixtieth birthday party. He has brushed shoulders with industry folks like Skrillex and Kaskade.
If it wasn't for DJ Kai Song, there wouldn't be parties like FUZIPOP!, the day club dance parties for five to 12-year-olds. The German-Korean fourth-grader is a soft-spoken and thoughtful interview over the phone from his home in New York. Essentially, he just wants to get the party started, to drink lemonade and be in bed by bedtime. We spoke about being popular at school and what he wants to be when he grows up.
Noisey: What kind of music do you love the most right now?
DJ Kai: I really like electronic dance music and I like playing pop music, too.
What gets people dancing the most?
A top track like all the top EDM tracks, all the top pop tracks. Definitely the bass, that's what gets people dancing, "Red Lights" by Tiësto as well as "Dark Horse" by Katy Perry.
What's it like playing Fuzipop parties?
It's really fun being in a club, because of all the lights and mirrors. It's a family dance party during the day.
Do any parents disapprove? I imagine it's controversial on some level.
I don't hear anything about that. I don't know anything about that.

Photo by Kevin Ragsdale
How many gigs have you had since you started?
Close to a hundred.
What is the biggest club you've played?
Pacha in New York.
How does it feel to be up there DJing?
It's really fun, just to see people dancing puts a smile on my face. It's just fun. When I'm up there, I love DJing.
Do you want to be a DJ when you grow up?
When I grow up, I want to be a famous DJ and tour the world, kind of. I also want to produce tracks with Ableton and put piano parts on there. I play piano, I don't really play songs but I play chords and scales and that's helping me with music production. I want to be a music producer as well, not just a DJ. That's what I'm already working towards.
DJ Kai Song playing FUZIPOP! at Pink Elephant
You also sing in a choir?
I sing with the Brooklyn Youth Chorus, I go there every Wednesday. It's really fun, we sing in different languages sometimes, I just love singing. I sing everywhere, pretty much. Our last performance was at Carnegie Hall.
What is your pre-DJ meal or power drink of choice? Or a ritual to warm up?
I always bring a water bottle in the DJ booth because I need to stay hydrated. I like water or lemonade. As for meals, I really like Chipotle. To warm up I like going through my music for about 10 minutes before I go on and pick the songs I want to play
You use Ableton?
I started the lessons two-and-a-half years ago. For piano I have a piano instructor who also teaches me Ableton. Sometimes we put piano and Ableton together, like when I create a mashup (I'm creating). I was seven when I started.
Does being a DJ make you popular? I saw you met Heidi Klum.
I met Heidi Klum, because she hired me to DJ a fashion show for her. She was really nice, I spoke to her in German. She has a daughter my age.
In school, I play this block party at our school. It's kind of like, a lot of fifth graders—I'm in fourth grade—know me, I don't exactly know why. I don't know if DJing makes you "popular, popular" but I do have a Facebook page. When people see me in the hallways they say, "Hey DJ Kai." Half of them don't even know me in person; they just know my artist name. Song is my mom's last name, it's not a random name it has a true story to it.
Do you know any other kid DJs?
I know one I used to take DJ classes with at Dubspot where I really learned Ableton. He is a good DJ but I don't really know him in person. We were just classmates.
If you had any advice to give someone who wants to be a DJ, what would you tell them?
I would tell them it's never too late to start, you can start anytime and if anyone tells you that you're not good at DJing, you can prove them wrong. You don't have to listen to them. You don't have to stop DJing because of them. You have to persevere.
When is your next show? What else do you have upcoming?
I am doing my first radio show the Remix Top 30 with Hollywood Hamilton, airing May 10. I met Hollywood Hamilton when I was going to see DJ Kaskade play, I had tickets to go backstage. Next up I have Day Life, I'm their resident DJ for their block party on the lower east side, from 12 to 5 PM.
Who do you really want to meet? Anyone in the world.
I've met DJs Tiësto and Skrillex. I'd want to meet Katy Perry.

Photo by Jacqueline Mia Foster
You only play day gigs, not night gigs?
Well, Pacha was the latest I played 10 to 11 PM. That was a Saturday. I was up two-and-a-half hours past my bedtime!
When you DJ, do you put people on the guest list?
My dad does that but I look at it and he asks if there's anyone else I want to add on.
What do you think of your dad as a DJ?
He is not DJing as much as he used to, before I was born. He has handed it down to me. I haven't heard him DJ that much but he is a really good DJ. Whenever I am doing a mix and if my dad wants to something like "maybe we should try this," he is always spot on.
Do you get paid for the gigs?
Yes, but a lot of the money goes towards the equipment rental.
Do you feel famous?
It's tough to really answer. I don't feel "famous famous," but at my school I kind of am famous. But I want to be famous!
DJ Kai Song plays Fuzipop on May 4 and at Day Life on June 1. Check out his fanpage and his Soundcloud.
Follow @nadjasayej on Twitter