Exclusive Stream And Free Download: Brenmar & DJ Sliink - "Bait"
Snag an exclusive 320 of the new club heater from Brenmar & DJ Sliink!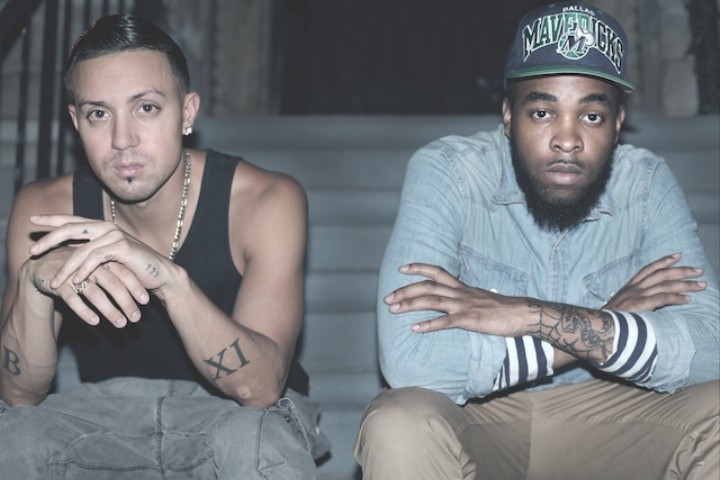 Photo by Ruben Sznajderman
"Body High is proud to present "Bait," a collaborative single from Brenmar and DJ Sliink."
This one's big, so we asked the nightclub demigods themselves, as well as Body High owner Samo Sound Boy, a few questions about their collab, the working process, and any and all things foot-twerkin'.
Noisey: What was the meeting like between Chicago juke and Jersey club on this track? And where'd your artistic sensibilities meet?
Brenmar: Brenmar: We met online at first, I can't remember how I found Sliink's music (Soundcloud, probably?), so I reached out to him probably a year ago or so. The Jersey club sound really starting making some noise outside of Jersey within the last couple of years and I was naturally attracted to it. It reminded me of Bmore, juke, bounce, et cetera, but with its own special twist/vibe.
DJ Sliink: Me and Brenmar been chatting since about last year. I digged his style and he digged mine; it's not really an accident that we're collaborating. I think we have a bit of the same taste in groove.
And how'd Samo Sound Boy and Body High fit into the equation? Was it an East-meets-West thing, and did it affect the production?
Brenmar: Sliink and I just had the tune laying around and people were really responding when we played it out. Sliink is Body High label fam, so we just approached Samo about getting behind the track, and lucky for us he was into it!
DJ Sliink: Samo's the homie. Thought it would be hot to release on Body High...Just adding more heat!
Okok, which one of you can JUKE?
Brenmar: Haha, I'm probably doing more grinding than footwork.
DJ Sliink: I can't dance, so I'm out.
Bummer. At least can we expect more in the future from Brenmar, Sliink, and Body High, or any combinations of the three?
Brenmar: Yeah, probably! [Laughs] Hopefully!
Samo:Definitely can. Sliink and Brenmar are body high fam 100 percent, and I am seriously excited about the potential for more collaboration. Honestly, this is the kind of thing we built the label for.
Awesome. Looking forward to it. Thanks!
DOWNLOAD "BAIT" BELOW!!!