Hello Again, Listen to the First Song from Kittyhawk's New Album, 'Hello Again'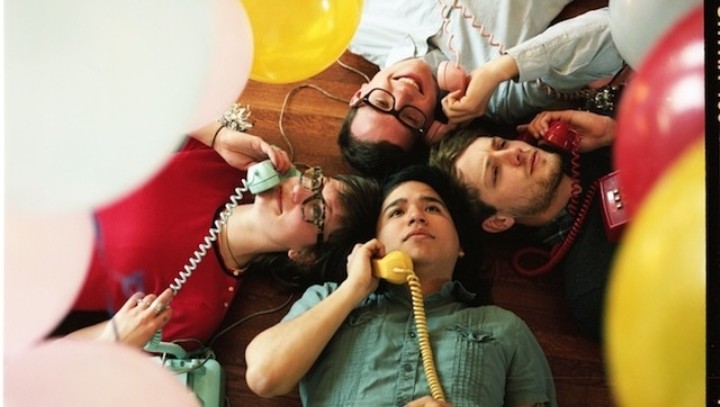 We are reminded daily of the trend of—ugh, bear with us—emo revival [shudders]. And while the phrase is totally cringe-worthy, there are definitely a lot of new, young bands popping up, paying strong homage to the sad bastard music of yesteryear, like Mineral, Braid, and American Football. But what about the women of those days? Where is their revival? Enter Kittyhawk. The Chicago band is such a wonderful break from the proliferation of the sad emo boy's club. Kate Grube's earnest vocal work recalls bands like Rainer Maria, the Anniversary, and the Rocking Horse Winner. But that's not to say Kittyhawk is another band simply regurgitating the music of scenes past. The band has its own distinct identity that sometimes punches you up hard and other times lulls you gently down. Really, we need more bands like this.
Kittyhawk (which features members of Dowsing and Joie de Vivre) have a new record called Hello Again that comes out on Count Your Lucky Stars Records on October 14. You can listen to the first single from it, "Welcome Home" below. Get hooked and pre-order it right here.
They are going on tour this fall:
With Into It. Over It. & Foxing:
10/3- Flint, MI @ The Local
10/4- Hamilton, ON @ Club Absinthe
10/5- London, ON @ Rum Runners
10/7- Toronto, ON @ Sneaky Dees
10/8- Montreal, QC @ Cabaret Underworld
10/9- Burlington, VT** @ Signal Kitchen
10/10- Poughkeepsie, NY @ The Loft
With Nai Harvest & Foxing:
10/12- Amityville, NY @ Amityville Music Hall
10/13- Purchase, NY @ SUNY Purchase
10/14- Pittsburgh, PA @ Smiling Moose
10/15- Columbus, OH @ Double Happiness
10/16- Chicago, IL* @ Township