Size Matters: Finding the Right Travel Guitar for You
If you've ever had a guitar destroyed by airline baggage handlers or had to lug one on the subway during rush hour, you know what a pain in the ass it can be to play in a band. Luckily these days, there are a ton of travel-sized guitars that are perfect for transporting and are so playable that you'll hardly notice that you're rocking out on a short-scale neck. In fact ,there are so many options on the market now that we thought we'd run down some of the most popular models, so that you don't have to ever actually set foot in a music store. If nothing else, we promise you won't be upsold.
Vox Apache Series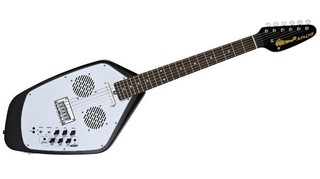 Vox have been around since the '50s and their vintage look has made them the Cadillac of the music world, so it should come as no surprise that their foray into travel guitars sees them remaining their classic Phantom and Teardrop guitars as travel-sized masterpieces. But that's not all. These beauties also contain a built in amplifier with 3" speaker, easy-to-access rhythm batters and an E-string tuner all built into the body. Plus it's got a headphone jack so you can entertain yourself for 26 hours if you've got six AA batteries. Now you just have to decide which color to get.
Martin Backpacker Acoustic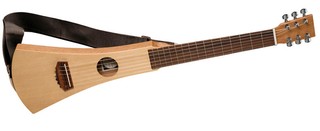 Available in both steel and nylon string versions, the Backpacker acoustic guitar is the gold standard for unplugged travel guitars and for great reason. The body shape may seem weird and unorthodox but it's actually remarkably playable and resonant, meaning that you can fingerpick to your heart's content in the middle of a campground without being drowned out by screaming kids or bloodthirsty bears. Additionally, it also features chrome tuners that will keep your guitar from sounding dissonant no matter what altitude your base camp is located at.
Traveler Guitar EG-2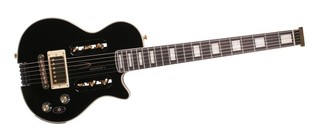 The name says it all with this one. While most guitar companies have transitioned from standard-sized guitars into the traveler world, Traveler Guitar specialize in short-scale axes (although we admit maybe they could have been a little more adventurous with their company name). They have a full line of acoustic and electric mini-axes but we suggest splurging for the EG-1 Custom which features a built in amp with distortion and an auxiliary input so you can jam along with your favorite albums. It also sports an E-Tuner and gold hardcore, making it one of the most functional and cool-looking axes on the market.
Daisy Rock Debutante Short Scale
Kids are picking up the guitar as they are younger and younger and Daisy Rock has done an amazing job of creating guitars for girls that sport a slimmer neck and lighter weight to appeal to burgeoning Brody Dalles. Their original Short Scale guitar has been responsible for countless girls being turned onto the instrument and although it kind of just looks like a giant flower it's remarkably easy to play and is a great introduction to the world of scales and chords—especially if the player in question is still waiting to go through her next growth spurt.
Taylor GS Mini Acoustic Guitar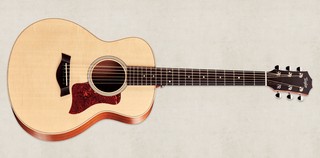 It may seem strange to spend $500 on a miniature guitar, but Taylor is one of the best names in acoustic guitars and they didn't cut any corners during their foray into this brave new world either. This little beast matches the design of the company's traditional instruments in a portable-size that will fit in the overhead bin of a plane and features Taylor's signature NT neck so it will stay in tune even if you hit turbulence. Plus you can brag that you finally own a Taylor without having to take out a loan, which is a nice bonus.
ESP F-JR Junior F Electric Guitar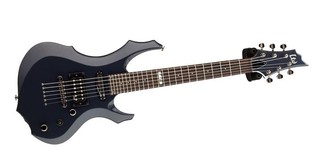 Mini-metalheads need love to and that's why the ESP F-JR Junior F exists. ESP is known for making signature axes for members of Metallica and Slayer and their foray into the small-sized arena features a double-cutaway body with 24 frets, humbuckler and single-coil pickups that you can toggle between and an adjustable bridge so you can lower the action for maximum shred. We're not sure if the dudes in Mini Kiss are familiar with this thing but we hope they've got their own ESP endorsement deal in the works.
Jonah Bayer likes to play mini guitars and use hotel soaps because they make him feel like a giant. Follow him on Twitter - @mynameisjonah