Vince Staples's Summertime in the LBC
The 21-year-old rapper is on the cusp of his highly anticipated debut 'Summertime '06.' How did a kid from a broken home who tangled gang life get to this moment?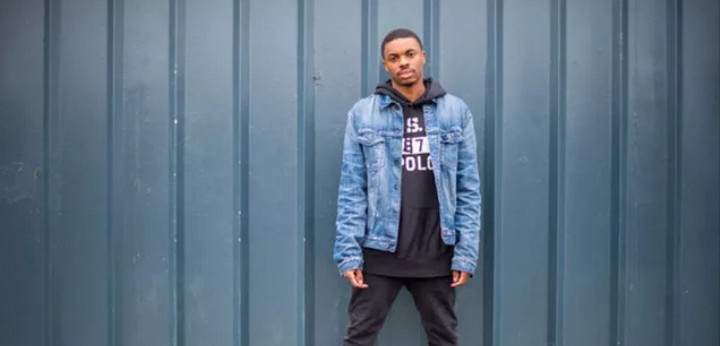 The 21-year-old rapper is on the cusp of his highly anticipated debut Summertime '06. How did a kid from a broken home who tangled gang life get to this moment? (Photo courtesy of the artist)
Vince Staples does not want to move. He'll tell you as much, but you shouldn't have to ask. Listen to one song. Read one interview. North Long Beach is home, where he knows everyone, where they know him. Check his social media accounts. The header photo on his Twitter is a picture of the street sign on the north side corner of Poppy St. and Obispo Ave.; his Instagram bio is a list of incarcerated compatriots from that same neighborhood, where he was once an active member of the 2N Crips. Moving to East Long Beach, where he pays for the apartment he shares with his mother and elder sister, was already a compromise. But commuting to the Def Jam offices and L.A. recording studios—both roughly 30 to 40 minute treks without traffic—has become increasingly untenable. He needs to be closer in order to finish his first major label LP, Summertime '06.
So it goes that on a recent Tuesday afternoon the 21-year-old Staples spends the beginning of our interview begrudgingly searching for L.A. apartments, his spidery frame hunched over his MacBook as he sits on a black leather couch inside of a Hollywood studio. Before any extended back-and-forth, he distractedly tells his engineer to play songs from the album, which he's been working on intermittently since October.
The first is "Señorita," a minimal and menacing track produced by Christian Rich that features Future on the hook and will serve as the first single. As ominous piano keys plink to Carpenter-esque effect, as hi-hats skitter with the speed of semi-automatic rounds, Staples is motionless save for scrolling and typing. Throughout the song, his aggressive and dynamic lyrics retread some of the same grim realities covered on his 2014 Def Jam EP, Hell Can Wait. The ethos is hunt or be hunted; die honorably for your set and be forever canonized after the curbside vigil. You feel as though you're with him on Artesia Blvd., watching as he acts and reacts with the kind of fatalism that stems from long clips, clipped lives, and closed caskets. Next, backed by sinister low-end on a song entitled "Birds and the Bees,"Staples traces his lineage along a timeline littered with ejected shells and alleyway homicides. It's as if Ancestry.com told him he was better off sitting in Ramona Park and sketching his own family tree than submitting DNA. During "Summertime," a rough reference track that features Staples crooning about a relationship in auto-tune, he finally begins to nod his head.
This initial lack of enthusiasm is due in part to Staples's apartment hunt, but it also speaks to the severity with which he views his work, the stakes of every song. "I take care of my whole family. I don't really have the opportunity to play with it, to have fun," he says. With a blue Yankee hat on his head and red Converse on his feet, the latter years removed from being considered Crip sacrilege, he sets his computer down. From here on, there's rarely a syllable where he breaks eye contact. "[Music has] been a responsibility for me ever since I can remember, since I really focused on it."
That focus has become increasingly clear over the past four years. Staples has released one mixtape annually, each subsequent project displaying a marked improvement from the last, each edging closer to a fully realized album. In addition to extensive U.S. touring, he's appeared on songs with everyone from Earl Sweatshirt and Mac Miller to Common and Dilated Peoples. Hell Can Wait, which was released on the heels of his still arresting 2014 mixtape Shyne Coldchain Vol. 2, peaked at number seven on Billboard's Rap Albums chart and received the coveted 'Best New Music' stamp from Pitchfork. Right now, in addition to recording, he's also nearing the end of an extended U.S. tour with Sweatshirt and Remy Banks. In the wake of the west coast gangster rap revival ushered in by L.A. rappers like Y.G. and Schoolboy Q, Staples is Long Beach's heir apparent. "He's the prince of Long Beach right now," says Joey Fatts, Staples's cousin and fellow rapper/Long Beach resident. "He's going to come for that crown pretty soon."
Despite his undying regional allegiance, Staples actually spent half of his childhood in Compton. His mother and father lived in Long Beach, but he attended Compton grade schools for their proximity to his grandparents, who often picked him up after the final bell. When at his parents' home, he usually remained inside. His mother worked long hours for Toyota while his father split time between jail stints selling and abusing narcotics. The former explains Staples's work ethic; the latter accounts for his avowed abstinence from drugs and alcohol.
Though his parents also fought frequently, both verbally and physically, Staples harbors no animus or resentment. If anything, he's remarkably sympathetic. "My parents never really did anything to hurt me or hinder me. When you don't know what to do, you try your best to do things that you feel will work."
Continued below.

As middle school came to a close, Staples began spending more time in Long Beach. Before long, he fell in line with his elder cousin, Joey Fatts, and joined the 2N Crips. When they weren't caught between crossfire, the cousins spent their time like most teenage boys: hanging at the mall (Lakewood Center or Long Beach Town Centre), going to movies, and talking to girls.
"[Vince was] very quiet. He was always observant," Fatts says of a younger Staples. "His whole thinking process was a lot different. I think that's why he didn't talk much. I think he didn't really feel that people was on the same shit that he was on."
In light of Fatts's words, Staples's ability to record the horrors he witnessed and enacted with such visceral and psychological detail makes sense. The near featureless Hell Can Wait is riddled with narratives that temper homicidal nihilism with penetrating insight. For evidence, see the beginning of his second verse on "65 Hunnid". He begins the story of a premeditated liquor store murder with the shooter's sudden and intense isolation; he ends by isolating the mentality that's kept gangbanging alive and funeral homes in business since the late 60s.
"You alone
Car full of niggas but you alone
It's time to show how much you love your homies
One nigga outside, two niggas up inside the store
One nigga gon' die, the other two can come along
Gloves with the disguise, bang the set before you blow
Don't stop 'til he drop
Don't shoot for the skies or shoot for his toes
I told you before
That niggas gotta die for this shit to survive
Is you with it or not? Get to knockin' then"
Yet Staples has never been conflicted about his gang affiliation. His mother, his father, and practically everyone he knew growing up had ties to the Crips. Joining was essentially birthright, the North Long Beach Bar Mitzvah.
"I didn't have no problem with it. I don't have a problem with it today. It ain't no downfall type shit. That's the culture where we come from," he explains. "Ain't nothing wrong with people going to the army, right?" His voice is soft; his body slouched on the forgiving couch cushions. But when he pauses, a palpable intensity weighs on the room. At times, it's as if he's saving his rage and frustration, that all the years of unsuccessfully explaining his affiliation to the ignorant and unsympathetic have been catalogued for the moment he enters the booth.
The culture Staples describes in his music and during our interview is still prevalent today. According to homicide data collected by the L.A. Times over the last 12 months, Long Beach is the 83rd most deadly neighborhood out of L.A. County's 270 neighborhoods. In February, NBC4 News reported a drive-by shooting on the 200 block of West 14th that left four people wounded and one victim in serious condition. Police said the shooting "appeared to be gang related." On April 6, Long Beach Press-Telegram reported that two men were wounded in shooting near the intersection of 8th Street and Gaviota Avenue. At the time of the report, the shooting was described as "a possible gang-related crime." Last week, the LBPT reported a non-injury shooting at a North Long Beach mobile home park. Three residences and several vehicles had been struck by gunfire. Again, the shooting was "possibly gang-related."
Though Staples is no longer an active member of 2N, he's staunchly unrepentant. His reasons are numerous, ranging from socioeconomics to a flawed judicial system. "There still ain't no money where we live at. You still can't get a job. You still are going to go to jail for 20 years for an accident if you 14-years-old. So why should we care?"
For the sake of comparison, he cites the total body counts of the police force (past and present), the military, the KKK, cigarette manufacturers, and more. To those who argue his music promotes the same end, that in order for it to remain relevant violence must continue to corrupt the community, Staples is deaf. The gunshots he heard when a friend was slain at only 14-years-old still ring in his ears.
"The police came at six o'clock in the morning when then nigga was already dead and the sun was out. The music is never going to change because the times are never going to change. People don't care, they just pretend they care."
His mother cared about him deeply, though. After a "really fucked up" incident in his early teens—I consider asking him to elaborate, but his thousand-yard stare says enough—she sent him to live with a relative in Atlanta for several months. "[That] was probably one of the best things she's ever done for me," he says. "A lot of my friends had just died or went to jail and I was cool with that being my fate."
When he returned to Long Beach, Staples and his mother remained at odds. Despite the continued familial turmoil, he'd gained some perspective in his time away. Though he received good grades throughout grade school, he knew a high school diploma wasn't going to help him. After dropping out, he gradually redirected the energy he would've expended on the block towards making music. While couch surfing between the homes of friends and extended family, he wound up at the in-home studio of Odd Future's Syd tha Kyd.
"He looked really young but he acted old," Syd says of her initial interactions with Staples. "And he was really funny. He was making everybody laugh."
This disarming sense of humor surfaces several times during our conversation in the studio. It's innate as much as it is learned, something he undoubtedly used to diffuse otherwise volatile situations and temper his more controversial ideas. At one point, Staples jokes that he wants to drive a tan Toyota Prius for the anonymity it might afford him. Then he claims that he wants to be cast alongside Tyrese in a Fast and Furious reboot. "Because I fuck with Tyrese since Baby Boy."
Still, Staples is most hilarious when taking shots at Clipper point guard Chris Paul. He's done so incessantly on Twitter the entire NBA season. Just mentioning the name of the State Farm brand ambassador is enough ammunition.
"Chris Paul has an argyle shoe and people on Twitter ask me to respect him. He doesn't respect himself. He put argyle on a basketball shoe. I just can't fuck with State Farm. If I hit somebody's car and they have State Farm I'm going to pull off just because they don't respect themselves enough to get appropriate insurance for their car."
While this wit endeared him to Syd tha Kyd and Earl Sweatshirt, his rhymes and determination proved greater binding factors. "Once he kept coming around that's when I knew," Syd says. "I was like, 'He's going to be dope.'"
Staples's weekly studio visits soon resulted in a feature on Sweatshirt's 2010 track "epaR". The feature was, at least in the beginning, both a blessing and curse. Fans and uninformed writers continually lumped him in with the then rapidly ascendant Odd Future camp. His name was out there, but he wasn't interested in becoming a member.
"He definitely didn't want to get put into our box," Syd says. "He knew he had an advantage for that reason."
Ultimately, the benefits of recording with and around the OF camp greatly outweighed a short spate of annoying interview questions. Staples met Michael Uzowuru, who produced his second mixtape, Winter in Prague, at Syd's house. Sweatshirt introduced him to Mac Miller, who produced the entirety of his 2013 mixtape, Stolen Youth.
Today, Staples claims all of this music was a prelude, something he did to bide time as he honed his craft and waited for bigger and better resources. "I ain't never made the music I wanted to make. That's what people don't understand about me," he says.
However, since linking up with his manager (Corey Smyth) and signing with Def Jam, he's entered a period of protracted artistic fulfillment. "The music I wanted to make this whole time was Hell Can Wait. Without Def Jam I wouldn't have been able to make that music. Literally. I feel like they've helped me more than anything has."
The progression from 2010 to the music he's making for Summertime '06 is immense. Where he once borrowed from Sweatshirt's slowed and dead-eyed monotone, he now moves effortlessly from one confident cadence to the next, his voice cutting through every beat like a hollow tip through a cotton bandana. Once solely inciting rhymes are now filled incisive commentary. For now, the record is scheduled to release on June 30. Featuring production solely from Christian Rich, No I.D., DJ Dahi, and Clams Casino, it will be light on guest appearances. The stories belong to Staples. Though they take place during the album's titular year, he insists these songs aren't written in past tense. Everything that happened to him is still happening. People still aren't paying attention. They still don't care.
"On the news you can hear about terrorism all day, you can hear about wars, you can hear about how many people are dying in other places and you'll understand it, but you never really get it until a 9/11 happens or until you see someone from ISIS cutting someone's head off. This music is that to me. This is watching someone get their head cut off."
For some Long Beach residents, Staples and his music have already inspired a small but noticeable cultural shift. Fatts, who claims he traded gangbanging for a rap career after attending one of Staples's early shows, has seen that change firsthand.
"He speaks to us and he's giving everybody in my hood a voice. My homies are really going to school now," Fatts says. "I'm talking about [dudes with] tattoos on their face, looking crazy in class, but they're trying to do something with themselves now because of the possible outcome. It's all because of Vince. It's a domino effect."
Whether those dominoes continue to fall remains to be seen. Staples's music could either serve as a cautionary tale or an instruction manual. It's a debate that hasn't died since gangster rap's inception. When looking at the history of the sub-genre, finding tangible proof of the former can be disheartening. It's been 27 years since N.W.A.'s Straight Outta Compton and, according to the L.A. Times, Compton is still the 16th most deadly neighborhood in L.A. County. Yet Staples's devotion to Long Beach, his desire to buy a home there despite all of the adversity he faced, could mark the beginning of a new era, one where rappers become pillars of their communities instead of fleeing to gated ones.
"I want niggas to not have to move. Why do you have to leave when you make some money?" he says at one point. As the pitch of his voice rises, it's clear that he's never considered the alternative. "Motherfuckers run from where they come from. I ain't going to run from where I come from."
When our interview ends, Staples politely says goodbye and heads off to sit in on a conference call regarding Summertime '06. He hasn't found an apartment in L.A., but he will. It's not something he has to do. It's something he needs to do—for the album, for himself and his city, for the future.
Max Bell is a Los Angeles based writer who writes for LA Weekly, XXL, and more. Follow him on Twitter.